"A Tale of Two Eldons" is the 9th episode in Season 5 of The Next Step and the 143rd episode overall. It aired on July 28, 2017.
Synopsis
"TNS West gets their tenth and final dancer. Unbeknownst to Emily and Michelle, Eldon agrees to choreograph for both studios. Jacquie and Lola battle over a solo."[1]
Plot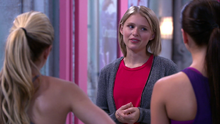 Emily oversees TNS East's rehearsal of their dance battle routine as Michelle oversees TNS West's rehearsal of theirs. While Emily prides herself in the technicality of her routine and Michelle prides herself in the flashiness of hers, the two realize that their routines are missing the very style their opposing team has, especially since Kate will be choosing the winning team. Emily and Michelle simultaneously realize that Eldon is the perfect choice to fix their predicaments.
In Neutral Grounds, Emily and Michelle insult each other about the other's routine, both secretly thinking they have an edge because they asked Eldon to choreograph. Michelle realizes that she needs to find her tenth dancer to compete against Emily.
Elliot, a dancer who e-mailed Michelle about the team's open spot, arrives to audition. Michelle admits that she is not optimistic about him auditioning, as all the previous auditions she has seen have been disappointing, but is pleasantly surprised when Elliot performs a near-flawless contemporary routine, especially since he would be the only technical male dancer on her team. Elliot confesses that he has been dancing since the age of three. Michelle immediately makes Elliot a member of her team.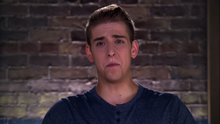 Eldon enters Studio 1 and meets with Emily ahead of their rehearsal. Since he has ten minutes to kill, he goes to Neutral Grounds. There, Michelle approaches Eldon, glad that he is there early as she had to move their rehearsal to earlier in the day. Eldon realizes that he cannot let Emily or Michelle know that he is choreographing for the other at the same time.
Michelle introduces Elliot to his teammates, sure that he will get along with them. When Michelle leaves, Elliot introduces himself personally to each dancer, but candidly admits that he won't remember their names. He is also very unresponsive to Ozzy's handshake. When Elliot learns that Kingston learned how to dance in his basement, Elliot is not receptive to having to dance on the same team as him. His teammates are astounded by his poor attitude. Michelle returns, wondering why Eldon is not in the studio yet. Eldon is in Studio 1, watching the girls of TNS East freestyle, as he wants one of them to have a solo section. Eldon gets distracted by multiple text messages from Michelle and leaves after hurriedly announcing that Lola will be the soloist. Jacquie is angry about the decision, believing that she danced better than Lola.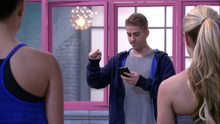 Eldon finally arrives to Studio A, and almost instantly leaves again. When Eldon returns to Studio 1, Richelle is overseeing TNS East's rehearsal. He merely tells the team to brainstorm some more ideas before hurriedly returning to Studio A again. Eldon continues to switch between the two studios and becomes increasingly confused. In Studio 1, Eldon tells Lola to step forward; however, when she does, he is clearly confused. After he asks Jacquie to clarify her name, it dawns on him that he confused her with Lola, and he reveals that he meant to pick Jacquie for the solo. Lola is left incredibly embarrassed that she doesn't have the solo after all, and exits the studio in tears. Jacquie confesses that while she wanted the solo, she didn't want to get it this way.
Piper struggles to lead TNS West in rehearsal, as since Eldon has hardly been there, no one is certain what the choreography is. Elliot puts his hand up to ask Piper a question, only to ask why "the squirt" is in the front row. As the other dancers show their confusion, he then refers to the dancer he is talking about as "Fozzy" and "Fuzzy", until Henry grimly confirms that he means Ozzy. Elliot suggests that Piper move Kingston (who he dubs a mere "basement dancer") and Ozzy (who he misnames as Fozzy again) to the back and himself to the front. Piper, not knowing what to do, calls a break. Meanwhile, Jacquie finds Lola in the locker room and comforts her.
Eldon is finally able to relax in Neutral Grounds, but is confronted by an unimpressed Michelle and Emily, who have figured out what he has been doing. Not knowing how to respond, Eldon runs away. Michelle and Emily find themselves complimenting the other for thinking to get Eldon to choreograph for them, but abruptly stop and part ways when they realize that they are being nice to each other.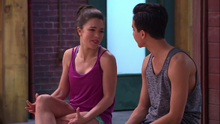 Piper approaches Elliot, hoping to clear the air about his bad attitude. She tells Elliot that TNS West is inclusive and special, like a unicorn, and that is why they work so well together; Elliot, piggybacking off the analogy, says that it's no wonder that Michelle chose a "child" to be dance captain. Elliot confesses that the team needs a lot more work than he thought, and that it's a good thing he is there. He then tells Piper that sometimes dead wood needs to be cut in order to win, then leaves her to sit alone in shock. Piper confesses that she doesn't see how they can work with Elliot, and asserts that he has got to go.
Trivia
The opening sequence has changed to add Heather.
Elliot started dancing when he was three.
Heather and Elliot have filled the final two spots on TNS West, meaning they now have a full team.
Continuity
Errors
Emily claps back to Michelle criticizing her routine by saying that she cannot do contemporary; in fact, Michelle is a contemporary dancer, and is arguably a far superior one to Emily.
When running between studios, Eldon asks where Jacquie is, implying that he knows what she looks like; this contradicts the scene where he gets Jacquie confused with Lola.

However, since it is implied that he directly mixed up Lola and Jacquie, Eldon could have simply assumed that Lola's name was Jacquie; this would explain why he asks where she is, as Lola is not in Studio A any more than Jacquie is.

Elliot tells Michelle that he does not do hugs twice, but does not object whatsoever to Eldon's suggested group hug and appears to take part in it willingly.
Behind the Scenes
Cultural References
The title of this episode alludes to both a song called "A Tale of Two Cities" by J. Cole and the classic novel A Tale of Two Cities by Charles Dickens.
Cast
Main
Recurring
Absent
Featured music
Featured dances
Quotes
Main article: A Tale of Two Eldons/Quotes
Aftershow
Main article: A Tale of Two Eldons/Aftershow
Gallery
"Look at that painting!"

To view the A Tale of Two Eldons gallery, click here.
References
↑ TV Listings Grid, TV Guide and TV Schedule, Where to Watch TV Shows - Screener. Zap2It. Retrieved on June 11, 2017.
Community content is available under
CC-BY-SA
unless otherwise noted.