"
Alfie is so charming. He's definitely gonna break some hearts if he makes the team.
"

— Riley, "Previously on" segment in "Heads Will Roll"
Click here to see more quotes.

Prince Alfred "Alfie" of Switzerland is the prince of Switzerland.[3]
Alfie competes at Internationals, where Riley catches his eye. Alfie travels to The Next Step Dance Studio from Switzerland and becomes a member of A-Troupe.[4]
Alfie falls hard and fast for Riley, despite the fact that she is dating James, and eventually becomes her boyfriend. It is Riley leaving Alfie for James that causes Alfie to return to Switzerland.[5] With some convincing, Alfie dances with A-Troupe in the finals at Regionals.[6]
Biography
Before the show
Alfie was born in a palace in Bern, Switzerland to the king and queen of the country, making him prince.[3]
Alfie learned how to play the guitar and was technically trained in dance, rehearsing in his private studio.
Unwilling to face his duties as prince, Alfie ran away from home on several occasions. During one of these rendezvous, he worked in a café in New York for 3 months, then ran away to a sheep farm in Australia.[3]
Alfie is the male soloist for his team at Internationals. He is captivated by The Next Step's blindfolded routine and duet. Riley particularly catches his eye.[4]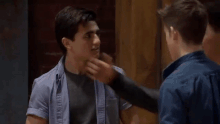 Alfie arrives at The Next Step with the intention of auditioning. Alfie is ecstatic to meet Riley,[4] but is surprised to discover that her duet partner from Internationals, James, is also her boyfriend.[4]
Alfie makes it onto A-Troupe,[7] but his time at the studio seems as though it is coming to an end when the ambassador of Switzerland arrives and orders him to return home to his kingdom. But, with Riley's help, Alfie is able to stay at the studio.[3]
As Alfie spends more time with Riley, his feelings for her grow. He eventually confesses his love for Riley, but is asked to remain her friend despite his feelings being reciprocated.[8] Regardless, Alfie continues to pursue Riley. He seeks advice from Henry about his feelings; although Henry advises him not to act upon his feelings for Riley, he is not dissuaded. Alfie sings a love song to Riley and kisses her.[9]
Alfie notices that Riley has begun avoiding him and that Piper appears to be very distant,[10] which Alfie eventually finds out is because Piper saw him kiss Riley.[11]
Despite wanting to remain professional about the qualifer duet, he is unable to do so with Piper's behaviour. Eventually, Piper is taken off of the duet[12] and is replaced with Noah. Although, Noah decides that he is not fit to do the duet, leaving Alfie partner-less.[13] James eventually becomes Alfie's partner, which angers him. When he and James tie with another team at the qualifier, Alfie is fervent about performing the tie-breaking solo. Nonetheless, he is ecstatic when Skylar performs the solo and wins.[14]
To celebrate the team's victory, Alfie asks Riley out on a date. He sets up the date in Studio A, equipped with caviar and a professional violinist. He is disappointed when Riley runs out of the studio, cutting the date short. After surprising advice from Piper, Alfie realizes that Riley acted the way she did because she was reminded of her date with James. To make it up to her, Alfie resorts to having a makeshift date with Riley in the Lounge which successfully ends in a kiss.[5]
Alfie begins to notice he and Riley have lost they spark they once possessed and proposes that they go on a trip together. Alfie asks Riley to meet him at the airport, where he waits for three hours without her showing up. Alfie realizes that their relationship is over and, heartbroken, retreats back to Switzerland without telling a soul.[1] Alfie refuses to return when Cassie and Henry tell him to, but is finally convinced by James, who convinces him in person.[15][16] Alfie arrives at Regionals in time for the finals, and is disappointed when the team loses despite his decision to return.[6]
At the end of Regionals, Alfie comforts Amy about her broken heart.[6]
Alfie has left The Next Step Dance Studio.[17]
Personality
Alfie is a charismatic leader, possibly due to years of addressing his citizens as a prince. Alfie is very persuasive and influential; he is able to captivate and audience and persuade them to listen to his message, evident when he dissuades his peers from ganging up on Riley on two occasions.[18][19]
At face value, Alfie appears to be comforting and loyal, but he often comes off as clingy and stubborn. Alfie continuously pursues Riley despite meeting rejection after rejection, and despite knowing that Riley is already in a monogamous relationship. It is possible that this stems from Alfie's royal upbringing; he is so used to getting everything that he wants as prince, that the idea of not receiving all that his heart desires is unfathomable.
Alfie tends to run away from his problems rather than face them head-on, since, as revealed by the Swiss ambassador, Alfie has run away from home on several occasions.[3]
Physical appearance
Characteristics
Alfie is relatively short and brawny. He has dark hair, dark eyes, and tan skin.
Attire
Alfie's outfits are quite simple, usually consisting of block colours and little design.
Abilities
Dancing
Acro: Alfie performs acro quite often on the show; he has even created his own acro move, known as the Monkey Flip.[20] He tumbles a lot and can perform advanced moves such as front tucks.
Artistic
Singing: Alfie has sung on many occasions.
Guitar: Alfie can play the guitar.
Languages
French: Alfie is fluent in French.[5]
Swiss German: Swiss German is Alfie's native language.
Relationships
Main article: Alfred/Relationships
Appearances
Dances
Solos
Duets
Trios
Group dances
Trivia
Quotes
Main article: Alfie/Quotes
Gallery
"Look at that painting!"

To view the Alfred gallery, click here.
References
↑ 1.0 1.1 "Bold As Love." Wikia. Retrieved on May 20, 2017.
↑ "Shake It Off." Wikia. Retrieved on February 4, 2018.
↑ 4.0 4.1 4.2 4.3 "One More Time." Wikia. Retrieved on February 15, 2016.
↑ 5.0 5.1 5.2 "Nobody's Perfect." Wikia. Retrieved on December 17, 2016.
↑ 6.0 6.1 6.2 "A Change Is Gonna Come." Wikia. Retrieved on May 20, 2017.
↑ "Welcome to the Jungle." Wikia. Retrieved on March 6, 2016.
↑ "Love Will Tear Us Apart." Wikia. Retrieved on May 27, 2016.
↑ 9.0 9.1 "Heat of the Moment." Wikia. Retrieved on July 21, 2016.
↑ "Kiss and Tell." Wikia. Retrieved on October 19, 2016.
↑ "Rumour Has It." Wikia. Retrieved on October 21, 2016.
↑ "Karma Police." Wikia. Retrieved on November 26, 2016.
↑ "The Edge of Glory." Wikia. Retrieved on May 20, 2017.
↑ "Livin' on a Prayer." Wikia. Retrieved on May 20, 2017.
↑ "The New Regime." Wikia. Retrieved on May 26, 2017.
↑ "On the Rocks." Wikia. Retrieved on April 25, 2016.
↑ "Nobody's Fault but Mine." Wikia. Retrieved on October 24, 2016.
↑ "Dancing with Myself." Wikia. Retrieved on April 30, 2016.
↑ 21.0 21.1 "Heads Will Roll." Wikia. Retrieved on October 24, 2016.
Community content is available under
CC-BY-SA
unless otherwise noted.