Amanda develops a series of relationships throughout the show.
Relatives
Amanda's mother
Amanda's mother is never seen, but she is mentioned by Amanda. Amanda speaks with a mixture of annoyance and fondness when referring to her compulsion of making pierogies.[1]
Cooper
Cooper is Amanda's younger cousin. Amanda appears to have an amicable relationship with Cooper. Cooper acts as Amanda's confidant, as Amanda has told him almost everything there is to know about The Next Step Dance Studio. When Cooper arrives at the studio, Amanda is wary of Cooper snooping around the studio, but ultimately allows it, knowing how excited he is to be there.[2]
Shipley
Shipley is Amanda's puppy. Amanda has deemed her puppy "cute" and Michelle has called Shipley "precious".[3]
Snuffy
Snuffy is Amanda's cat. It is unknown how Amanda feels about her cat.
Friends
Giselle

While a mole at The Next Step Dance Studio, Amanda befriends Giselle. Amanda auditions for the Nationals duet with Giselle.[4] Amanda also prepares a trio with her and Thalia for Nationals,[5] and competes in a trio competition with her as well.[6]
Giselle becomes one of Amanda's closest friends over time, which leads Amanda to feel betrayed when Giselle replaces her in a trio with Max.[7]
Amanda accompanies Giselle to auditions for a world touring dance company and, although Giselle gets the spot and she doesn't, Amanda is congratulatory of Giselle.[8] Amanda assures Giselle that she will miss her while she is gone and that she loves her.[9]
Amanda is eventually met with the opportunity to tour with Giselle, and the idea to tour with her friend is so enticing that she considers missing Regionals finals to do so.[10]
Although she eventually decides against going on the tour,[11] the opportunity to go on tour with Giselle presents itself again in the future and she takes it.[12]
Michelle
Amanda is impressed by Michelle's skills when she seemingly auditions for Elite Dance Academy.[13]
When she tries to audition for The Next Step Dance Studio as an undercover mole, she is met with the most kindness from Michelle, who trusts her without consolation. Of course, this causes Michelle to be the coldest to her when her true nature is revealed. Even when Amanda has a heel-face turn of heart, Michelle does not initially trust her.
Amanda is angry when she learns that Lucien and Tess sabotaged Michelle so that she won't be able to dance in the solo round at Nationals. Amanda hopes that Michelle will return and is ecstatic when she does, even though she beats her in the round. Amanda apologizes to Michelle "for everything" upon Michelle's win and is congratulatory of her victory.[14]
As time progresses, Michelle becomes Amanda's close friend and, ultimately, best friend.
Amanda feels betrayed when Michelle replaces her in the finals routine at Regionals, leaving the status of her relationship with her unknown.[11]
Riley
Amanda becomes acquainted with Riley when she arrives at The Next Step Dance Studio, but makes no genuine attempt to initiate a friendship, as she is only there as a mole. Although, upon Amanda's change of heart, Riley becomes Amanda's friend. Eventually, Riley becomes one of Amanda's closest friends, whom she regularly confides in. Amanda comes to consider Riley her best friend.
Amanda feels betrayed with Riley chooses Michelle over her to dance in the finals routine at Absolute Dance Regionals and begins to consider that maybe she and Riley were never truly best friends at all.[11]
Emily
Amanda initially pretends to like Emily and be impressed by her dancing; she ultimately lets her become a member of Elite Dance Academy.[15] Although, Emily's admission onto the team is really just a part of her ploy to sabotage The Next Step Dance Studio.[16] At Absolute Dance Regionals, Amanda antagonizes her to the point that she runs away near tears.[17]
While at The Next Step Dance Studio as a mole, Amanda uses Emily in her plan to bring down the studio. It is not until she is at Absolute Dance Nationals that Amanda begins to feel remorse for her actions to Emily. Amanda feels horrible about Emily's injury,[18] so much so that she decides to dance in place of her in the team's final routine.[19]
It can be assumed that Emily is at least Amanda's acquaintance at this point.
Lucien
Main article: Lucien
Amanda has a close almost father-daughter relationship with Lucien while Dance Captain at Elite Dance Academy. Making Lucien proud appears to be important to, so much show that she even spies on The Next Step Dance Studio to make him happy.
Although, Amanda eventually discovers that Lucien does not care about her, so much as she cares about victory; upon learning that Lucien got Tess to "take care" of Michelle so she would be unable to perform her solo, Amanda realizes Lucien does not have enough faith in her to think that she could win on her own accord.[14] This, mixed with him scoffing at her placing third in the female solo category leads Amanda to willfully defy Lucien by dancing in the finals with The Next Step.[19]
While Amanda does not respect Lucien as much as she used to, she does not hate him. When hearing if his ploy to get Elite at Internationals, Amanda quite kindly urges Lucien to stop scheming.[20]
Tess
It is revealed in Season 2 that Amanda and Tess are close at Elite Dance Academy. Tess is often an integral part of Amanda's schemes.
It is unlikely that Amanda and Tess' relationship was a true, healthy friendship. When Amanda is to face Tess in the dance battle for a spot on the Internationals team, she confesses that she and Tess had been "at it," implying that their relationship had envy at its core.[21]
After Amanda leaves Elite, she is still civil toward Tess, albeit far from as close to her as she once was.
Thalia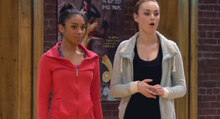 While a mole at The Next Step Dance Studio, Amanda befriends Thalia. Amanda prepares a trio with her and Giselle for Nationals,[5] and competes in a trio competition with her as well.[6]
Thalia becomes one of Amanda's closest friends over time, which leads Amanda to feel betrayed when Giselle replaces her in a trio with Max.[7]
This being said, the current relationship status of Amanda and Thalia is unknown. Since Thalia's departure from the studio, Amanda has not contacted Thalia at all.
Love interests
Noah
While rehearsing in the Rehearsal Room, Amanda permits Noah to practice his music, which Amanda finds herself impressed by. After come coercing, she provides back-up vocals for Noah's song. When the song's production ends, Amanda hugs Noah in a surge of inexplicable happiness; she swiftly departs upon Noah's inquiry as to why she hugged him since she doesn't have an answer. Upon seeing Eldon, James, and West perform for her to her and Noah's song on Noah's accord, Amanda realizes that she likes Noah.[22]
Amanda finds herself nervous around Noah, particularly odd since nobody makes her nervous. Upon his request, Amanda helps Noah pick an outfit for his family gathering, during which she is visibly distracted by Noah's muscles. Amanda's feelings for Noah only grow.[23]
Amanda decides she wants to tell Noah that she likes him as motivation for the qualifier, but is unable to get the words out. She is extremely concerned when Noah struggles during the routine, especially since he failed a move that she knows he can do. Although, when she tries to console Noah, he tells her to leave, leaving her to believe that they are not as close as she thought they were.[24]
Amanda is delighted when Noah confesses to her that he "really, really" likes her, but is concerned about his alleged back issues. Nonetheless, she promises to keep his back problem a secret. Though, Amanda begins questioning Noah's feelings for her when Noah uses his likeness for Amanda as a cover-up for his injury.[25] Amanda confronts him about this and is assured that Noah's feelings for her are genuine, which is validated by his compliments for her in his peer review.[26]
Despite her peers being questionable of her relationship with Noah, Amanda is confident in her relationship with him and confesses that "[they] work together, and that's all that matters."[27]
Amanda's concern for Noah's back intensifies. While at the hospital with him, she is brought to tears for fear of his well-being.[28] Is is then that she admits to Noah why she likes him:
"Noah, the reason why I like you so much is because you're crazy."
"What?"
"In a good way. You're always trying to find the fun in life. You look at the world like one big amusement park."
"I'll get you on all the rides."
"I need someone like you in my life to remind me how glorious it can be. You make yourself better. You make the team better. Noah, you make me better."
Amanda misses duet tryouts just to be with Noah at the hospital for his subsequent operation. It is here that Amanda almost kisses Noah; much to Amanda's chagrin, Noah postpones the kiss to after his surgery.[29]
While Noah is in the hospital, Amanda regularly calls him to check up on him and worries about him immensely. While talking to Theo, who Noah asked to try and ease Amanda's nerves, Amanda even admits that her favourite thing about Noah is "everything."[30]
Amanda eventually visits Noah at the hospital, where she inadvertently dotes on him, resulting in Noah ordering her to leave. She is hurt by Noah's demand, but comes to understand it is Noah's pride that caused him to act out, and makes up with him.[31] On Noah's last day at the hospital, she finally kisses him.[32]
Amanda is stunned when Noah tells her he loves her and does not say it back, as she wants to be sure that she loves him when she tells him. She decides that when she is ready to tell him she loves him, she will wink as a signal.[33] Amanda eventually tells Noah she loves him.[34]
Despite how well Amanda's relationship with Noah seems to be going, the relationship ends for an undisclosed reason[35] and, following Noah's distraught nature following their breakup, it can be assumed that Amanda broke up with Noah as opposed to Noah breaking up with her.
James
James is Amanda's former boyfriend. The extent of the relationship is unknown, although Amanda fondly greets him when he visits Elite Dance Academy.[16] Now, they are at least acquaintances. Amanda has also shown on multiple occasions that she is happy that James and Riley are together.[36][37]
References