Click here to see more quotes.

Beth is a contemporary dancer who is a former member of B-Troupe.
Beth is introduced as James' ex-girlfriend who is still crazy about him. Throughout the series, Beth's main purpose is to pursue James to no avail, until she finally lets go of him.[1]
Biography
Before the show
Beth joined The Next Step Dance Studio as a J-Troupe member.[2] Beth later joined in B-Troupe and dated James.
Beth auditions for A-Troupe with the intention of getting back together with James. She does not qualify onto the team due to falling during her audition.[3] Beth auditions for A-Troupe again when a spot is opened, but does not make it.[4]
Beth pursues James throughout the dance season, even as he dates Riley. She travels to Regionals, where she tells James that she loves him before the finals routine. She is alarmed at the site of James kissing Riley upon the team's win.[5]
After not making it onto A-Troupe again, Beth is left upset. Consequently, she is granted the chance to compete in a duet competition, with Charlie as her partner. After Charlie bails, James becomes Beth's partner.[6]
Beth initially struggles with the duet choreography and spends more and more time with James, worrying Riley but she eventually gets the hang of it. While practising with James one day, she kisses him, but despite James' plan of keeping it a secret, Riley saw it happen.[7] Despite her disappointment, she understands James' need to quit the duet to fix things with Riley.[8]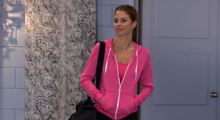 While James trying to make up to Riley Beth walks in just as it looks like Riley's about to forgive him. Unfortunately seeing Beth made it worse and ended in Riley breaking up with James. Beth comforts James about the break-up and assures him that she understands if he no longer wants to compete at the competition. Although, she is elated when he decides to compete anyway and treats him to pizza.[8]
While waiting to compete at the duet competition, Beth encourages a nervous James and places second with him in the competition.[9]
Beth resumes a romantic relationship with James, during which she even gets a shirt that reads "I'm With James" to signify their rekindles relationship. Beth is heartbroken to eventually learn from Hunter that James is completing a list of items to get back together with Riley, the current task being to find a four leaf-clover. Beth finds the coveted clover for James and assures him that, while she loves him, she knows that he loves Riley more, and finally lets James go.[1]
Beth is ecstatic to be paired with Stephanie for a duet, having grown closer to her in B-Troupe. Beth persuades Stephanie get her nails done with her and tries to get her to do other activities, none of which include dance. Although, as soon as Beth is confronted about Stephanie's wish to have a great duet, Beth readily complies.[10]
Personality
Beth, although perky and well-meaning, is extremely annoying and idiotic. She finds illogical things comedic, such as Charlie and Zach's "caveman" dance[11] and James's story about his uncle Manny.[7] Despite being incredibly friendly and loving, she does not seem to understand boundaries and her care often borders on obsession. She is very superficial and cares about fashion and shopping above most other things.
One of Beth's worst qualities seems to be her hopeless delusion. She is unable to take hints despite how obvious they are, as seen when she misunderstands James' continuous attempts to break up with her.
Physical appearance
Characteristics
Beth has long dark hair, olive skin, and blue eyes which are occasionally accented with blue eyeshadow.
Attire
While dancing, Beth usually wears a vibrant top and shorts.
Beth's casual wear is only shown briefly during the time in which she is dating James, which is almost exclusively an "I'm with James" t-shirt with jeans.
Relationships
Main article: Beth/Relationships
Appearances
Dances
Trivia
Quotes
Main article: Beth/Quotes
External links
Gallery
"Look at that painting!"

To view the Beth gallery, click here.
References
↑ 1.0 1.1 1.2 "Heartbreaker." Wikia. Retrieved on August 27, 2015.
↑ "Don't Stop the Party." Wikia. Retrieved on December 19, 2015.
↑ "Get the Party Started." Wikia. Retrieved on August 28, 2017.
↑ "Winner Takes All." Wikia. Retrieved on August 27, 2015.
↑ "The Girl is Mine." Wikia. Retrieved on February 14, 2016.
↑ 7.0 7.1 "It Takes Two." Wikia. Retrieved on August 27, 2015.
↑ 8.0 8.1 "What'll I Do." Wikia. Retrieved on August 27, 2015.
↑ "Never Enough." Wikia. Retrieved on August 27, 2015.
↑ "Today I'm Getting Over You." Wikia. Retrieved on October 11, 2015.
↑ "Everybody Dance Now." Wikia. Retrieved on August 27, 2015.
Community content is available under
CC-BY-SA
unless otherwise noted.