"
I was at the airport, and I knew I had to follow my heart, and my heart led me here.
"

— Riley
Click here to see more quotes.

"Bold As Love" is the 34th episode in Season 4 of The Next Step and the 128th episode overall. It aired on March 31, 2017.
Synopsis
"Eldon, West and James compete in the finals at the Bangers and Mashups International Hip Hip Competition."[1]
Plot
Realising they need more fun in their lives, Alfie asks Riley to meet him at the airport with her passport and her bags packed for a few days. Riley is shocked at the suggestion and Alfie leaves her to process it after kissing her on the cheek. Riley realizes that this would be a huge step in their relationship, but decides that maybe she needs to take a leap of faith.
The final round is taking place at the Bangers & Mashups International Hip-Hop Extravaganza. Eldon, West, and James, albeit to a lesser extent, are thrilled to be dancing in the prestigious competition's final round. James confesses that he is trying to forget about Riley and focus on the competition for the sake of his best friends. Lindsey Russell calls their competitors, Fuego Fuego Hip-Hop Academy to the stage then calls them onto the stage afterward after James, West, and Eldon share a group cheer. As the boys walk up the ramp, James realizes that by the end of the day they'll either be hip-hop champions or empty-handed.
Michelle approaches Riley in her office where she is packing a bag for her trip with Alfie. Riley tells Michelle as much, which proves to take Michelle aback, although she assures Michelle that she and Amanda will take care of everything in her absence. As Riley exits, she confesses that she is done thinking about what she wants and will let her heart decide.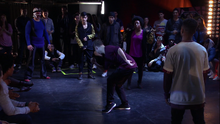 The first round of the finals of Bangers & Mashups is about to begin. Lindsey explains that the dance-off is not over until all three dancers from one of the teams are eliminated. Eldon is to battle first; if he wins, he gets to battle the next member of the team, but if he loses he will be eliminated and West will have to dance. The first round commences, with the female dancer from Fuego Fuego dancing first. The round is called "moves and grooves," meaning that no tricking, gymnastics, or acro can be performed. Thalia watches on from the audience in support of the boys. When the female dancer, Avril, finishes her skillful freestyling, Eldon performs. Although Eldon leaves it all out of the dance floor, he loses to the Avril and is eliminated. James grows worried about their chances. Round two, "bouncing," commences, with Avril dancing first again. Despite Avril's consistently good dancing, West clearly outdoes her and easily wins the round. The third round is "waving" in which a dancer moves their body as though it is water. The third round commences with one of the male dancers from Fuego Fuego who proves to be impressive. When he finishes, West performs exceptionally well, which all comes to together with a move in which he turns his back to his competitor, puts his arms around them, and slides downward. The boys and the crowd all seem sure that West was the winner of the round, but the Masked Man is left unhappy; he disqualifies West for what he deems "illegal touching", much to the chagrin of everybody but the members of Fuego Fuego. James realizes that the fate of the team is now all up to him.
At the airport with the Swiss ambassador, Alfie is wearing a suit and open-necked shirt, and paces while holding a bouquet of flowers, still waiting for Riley. He convinces himself that she must be stuck in traffic — despite having waited for an hour already. Alfie confesses that he confused by Riley's tardiness.
Back at the competition, the next round of breaking ensues. Despite his heartbreak, James manages to win the round. After James' victory, The Masked Man announces that there are no more rules whatsoever. Although, he also announces that the remaining competitors will dance over and over again until one of them reaches three victories. James confesses that he is nervous about the situation.
After Santana concludes his dance, James starts dancing. While James is dancing he confesses that while he wants to win he's not sure if his heart is in it. James dances well, but not his best. After James concludes his dance, Lindsey turns the decision over to the Masked Man, who confirms that the winner of round one is Santana. West confesses that since James is down one to zero, he has make the next battle count. Santana starts dancing. which James is noticeably intimidated by. After Santana finishes, James takes the floor. While James is dancing he confesses that normally while he dances he can dig deep down and find something to propel him to do his best, but it's not the case this time, as he claims he has nothing left to fight for. James even messes up the landing to a flip he is used to doing. After James finishes his dance, The Masked Man confirms that the winner is, once again, Santana. After announcing the winner, The Masked Man mentions that if Fuego Fuego wins the next round, they win the whole thing. James confesses that he doesn't know how he can win.
Meanwhile, Alfie is still at the airport. He asks the Swiss ambassador what time it is and she reveals that it's been eleven minutes since the last time he asked. Alfie confesses that he doesn't know what is taking Riley so long.
Back at Bangers and Mashups, James is telling Eldon and West that he completely messed up the flip, though West and Eldon try to convince him that it was "smooth." As the conversation unfolds, Riley is seen walking up the entrance ramp. West draws James' attention to her; James notices Riley and she instantly greets him with a hug. Riley frantically tells James that she has and always will love him, but before Riley can finish her sentence James kisses her. Riley confesses that James has her heart, and he always will. Riley wishes James good luck before taking a seat next to Thalia. James claims that since Riley is now here, he can finally win the competition.
Back at the airport, Alfie confesses that he would wait forever if he knew Riley was coming, but he knows that they're over, and wonders why she would do something like that to him. The Swiss ambassador tells Alfie that the jet is waiting. Alfie sadly gets up, gives Riley's bouquet to a random lady and then follows the ambassador to the plane. Alfie confesses that not all princes live happily ever after. Meanwhile, Santana is dancing. West confesses that James can't afford to make any mistakes. When the other dancer concludes, James starts dancing, now at his best; he is deemed the winner. After Lindsey says it's time for round four, Santana starts the round again. James confesses that he can tell Fuego Fuego wants to win just as bad as him. Riley claims that this is where she is meant to be, with James. While James is dancing, he confesses that while his body is tired, whenever he looks at Riley, he is urged to do the best he can do. James finishes dancing and wins once more. Lindsey reminds everybody that they're at a tie; whoever wins this next round, wins the competition.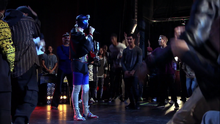 The final dance-off commences with Santana dancing. Upon his conclusion, James dances for the last time. Riley confesses that James is unstoppable. When James concludes his dance, the trophy is handed to the Masked Man. Ultimately, the Masked Man confirms that the winner is The Next Step. Lindsey hands James the trophy and everyone celebrates. James confesses he feels like the king of the world, but the best part is that he gets to celebrate with his queen. James and Riley share a kiss.
Trivia
James and Riley are back together.
Cultural References
The title of this episode refers to a song of the same name by Jimi Hendrix.
Cast
Main
Recurring
Guest
Absent
Featured music
"I'll get to you when I get to you!" - The missing information in this section of the article is to be added.
Transcript
Main article: Bold As Love/Transcript
Quotes
Main article: Bold As Love/Quotes
Aftershow
Main article: Bold As Love/Aftershow
Gallery
"Look at that painting!"

To view the Bold As Love gallery, click here.
References
↑ TV Listings Grid, TV Guide and TV Schedule, Where to Watch TV Shows - Screener. Zap2It (January 27, 2017). Retrieved on January 27, 2017.
Community content is available under
CC-BY-SA
unless otherwise noted.