"Brave New World" is the 12th episode in Season 5 of The Next Step and the 146th episode overall. It aired on October 20, 2017.
Synopsis
"Kingston and Ozzy discover that Elliot has a secret; LaTroy is given the chance of a lifetime; Noah and Jacquie's relationship is tested."[1]
Plot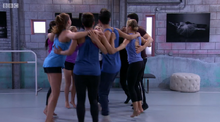 TNS East celebrating their victory against TNS West in Studio 1, during which several dancers confess their excitement. Elliot is notably commended by his peers and deemed the reason for their win and Elliot deems his new teammates much closer to his level than his former teammates (albeit, not entirely at his level). As the celebration continues, Michelle traipses sadly through into Studio A and considers disbanding the team.
Emily warns the dancers about the difficulty of Regionals and announces that, in order to qualify for Regionals, they must post a dance video online for a panel of judges. With that aside, Emily inquires about the box that is in the room and Elliot reveals it to be full of team jackets that he bought for each dancer. Elliot confesses that he must be on good terms with A-Troupe, as he cannot afford to get kicked off of another team. In Neutral Grounds, Ozzy, Noah, and Kingston sulk about their loss at the dance battle. Jacquie approaches them, with Ozzy taking note of her new jacket from Elliot, and invites Noah to go out with her and other A-Troupers. Noah claims he is busy before departing, leaving Jacquie upset that the one person she wants to celebrate with doesn't want to.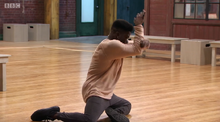 In an attempt to release his tension, LaTroy performs a solo in Studio A in which he is a musical composer who brings the music to life. Just as he is nearing the conclusion of the dance, J-Troupe enters and one member of the troupe rudely informs LaTroy that the space has been booked by Emily for their rehearsal and urges him out. As LaTroy collects his belongings, Sloane arrives and informs LaTroy that she is no longer Luther Brown's assistant, since she is now a dancer on the tour, and offers her former job to LaTroy. LaTroy's elation is cut short when he considers Michelle's possible reaction to his decision.
Amy and Piper sit in silence in Neutral Grounds with the former wanting to speak about Regionals and the latter not wanting to. Sloane arrives, much to their happiness. Sloane congratulates Amy about her going to Regionals and Piper lies that she is okay with them speaking about the competition. As Amy and Sloane discuss the competition, Piper retreats to Heather at the till where they both wallow in their continued sadness, Heather even admitting that she has gotten all of her orders wrong that day as a result of her mood.
LaTroy enters Michelle's office and tells her about the news. Michelle wholeheartedly supports his decision, assuring him that he hasn't let anyone down whereas she has. LaTroy dissuades her of this self-piteous jargon, citing Michelle as giving them an opportunity to try at going to Regionals. Michelle and LaTroy share a final hug as Michelle silently laments about LaTroy's departure.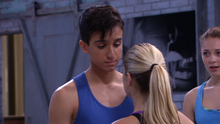 Richelle is running the dancers through the choreography. As Richelle advises Zara to have less flourish in her movement, Elliot credits Zara and suggests that the dance is lacking flourish, much to the others' shock. Richelle consequently lectures Elliot about respecting the dance captain, but is impressed by his similar attitude and subsequent merited suggestions to the dance.
Noah is in Studio A collecting his belongings when Jacquie enters and asks if he is okay. Noah angrily responds that the best day of her life was the worst day of his, but Jacquie reminds Noah that he willingly walked away from A-Troupe. Noah angrily tells Jacquie that she will be going to Regionals and Nationals and will have a professional dance career afterwards, whereas he will be a recreational dancer for the rest of his life. Noah claims that he can't celebrate with her, as he will just bring her down, and leaves. In Neutral Grounds, Kingston and Ozzy are predicting how Elliot got the vast amount of money to purchase all of the jackets. Elliot enters and is immediately approached and interrogated by Kingston and Ozzy. Elliot reveals that he got the money from his parents and accidentally leaves behind his credit card when he leaves. Heather gives the credit card to Kingston and Ozzy to return to Elliot. As the two examine the card, they notice something for which they immediately leave to consult the internet.
Sloane and LaTroy are preparing to leave when Henry approaches and asks LaTroy if he was going to leave without a formal goodbye. Subsequently, the three perform a final dance. Henry confesses his sadness about LaTroy leaving. After the dance concludes, Henry hugs LaTroy and Sloane and leaves. LaTroy confesses that the things that he will miss most about the studio are the friendships he had with the dancers. In Neutral Grounds Noah sits, frustrated with what happened with Jacquie. Jacquie enters, symbolically removes her jacket, and tells Noah that she is there for him and is not going to leave. The two take one another's hand, Noah confessing that he is with the girl of his dreams.
Kingston and Ozzy frantically search for Michelle and present her with Elliot's credit card when they find her, pointing out the fact that Elliot's first name is William and his middle name is Elliot. Kingston informs Michelle that "William" is a former Broadway dancer. Michelle confesses that professional dancers are disallowed from being on competitive teams, meaning that Emily's win at the battle doesn't count. Michelle confesses that this changes everything.
Trivia
Continunity
Cultural references
The title of the episode refers to Aldous Huxley's novel of the same name.
Cast
Main
Recurring
Absent
Featured music
Featured dances
Quotes
Main article: Brave New World/Quotes
Aftershow
Main article: Brave New World/Aftershow
Gallery
"Look at that painting!"

To view the Brave New World gallery, click here.
References
↑ TV Listings Grid, TV Guide and TV Schedule, Where to Watch TV Shows - Screener. Zap2It. Retrieved on September 16, 2017.
↑ THE NEXT STEP on Twitter: "This scene between LaTroy and the J-Trouper was entirely improvised. The kid came at LaTroy WAY HARDER than we expected." Twitter (Oct. 20, 2017). Retrieved on October 21, 2017.
Community content is available under
CC-BY-SA
unless otherwise noted.