Click here to see more quotes.

Chloe is a professional ballet dancer at La Ballet de la Reine.
Chloe is initially a B-Troupe member who strives to join A-Troupe and be a member of the E-Girls. Chloe eventually gets her wish, although she cannot enjoy all of the perks because she works two jobs since her father's unemployment.[2] Chloe keeps her job a secret from her wealthier for fear of ridicule and accusations of lacking commitment. Chloe's secret eventually comes out when she has to bow out of attending Regionals due to monetary restrictions, but is ultimately able to go with help from her friends.[3]
After making it back onto A-Troupe the following dance season, Chloe gets a job as a teacher for Baby Ballet to pay for her dancing expenses.
Chloe auditions for La Ballet de la Reine's The Nutcracker with West for fun and is shocked when she actually gets accepted into the company.[4] Chloe struggles with choosing between the company and Internationals, but ultimately chooses the former.[5]
Biography
Before the show
Chloe started dancing at The Next Step when she was six.[6]
Chloe was in B-Troupe a year before the series. During this time, she befriended the E-Girls.[6] Chloe dreamed of becoming a part of the group.
Chloe is excited to join E-Girls when she gets into A-Troupe. Although, she is unable to experience all of the benefits because of her financial difficulties; her father lost his job forcing Chloe to work two jobs in order in order to pay for dance and other expenses.[2]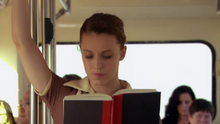 Due to her jobs, Chloe constantly arrives to class late and finds excuses to leave early. Although she is consistently berated with questions about her whereabouts, she refuses to tell anyone about her job for fear of seeming uncommitted. She eventually tells Michelle about her jobs when she is spotted by her with her work uniform for Southside Johnny's. She makes Michelle promise not to tell anyone.[7]
Chloe begins to get picked on by Emily, of which only gets worse as time progresses. As a result, she is approached by Michelle, Riley, James, West, and Daniel with the secret routine to dethrone Emily as Dance Captain. Chloe is infuriated by the routine, but is told by Michelle to keep it a secret since she is keeping her secret.[8] Chloe eventually joins the routine.[9] Chloe is ecstatic when the routine works to promote Michelle and demote Emily, believing that the future looks much brighter.[10]
With Regionals on the horizon, Chloe's financial issues boil over and she is forced to quit A-Troupe. To her horror, all of the members of A-Troupe enter Southside Johnny's while she is working. She believes that they are there to ridicule her, especially since each member merely orders a drink, but comes to realize her peers' true intentions when she receives a $50 tip from each member. With these tips, Chloe is able to pay for the expenses of Regionals and re-joins A-Troupe.[3]
After making it into A-Troupe for the second year, Chloe is granted a job teaching Baby Ballet classes. She is initially opposed to the occupation due to her fear of children, but eventually warms up to Margie, one of her students.Chloe is also trusted with the key to the lockbox in Kate's office that holds the studio's money.[11]
When the the studio's lockbox goes missing, Chloe is suspended from the studio indefinitely despite not having committed the crime.[12] When Chloe learns that Emily has been suspended from the studio for allegedly framing her, Chloe finds the situation to be fishy. Moments later, Chloe spots Amanda paying for a smoothie with the dollar bill that Margie drew a smiley face on, which she knows came from the lockbox. Chloe realizes that Amanda is the culprit and Chloe's suspension is lifted.[13]
After beating Jen in a dance battle, Chloe makes it onto the Internationals team.[14]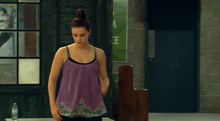 Chloe assists West with his ballet in preparation for his audition for La Ballet de la Reine's The Nutcracker. Upon realizing how nervous West is for the audition, Chloe agrees to accompany him. She has fun during the audition, but does not expect to get into the studio. Thus, she is astounded to discover that she made it into the ballet company.[4] Despite the incredible opportunity, Chloe is met with a dilemma: the tour takes place during Internationals.
Chloe has trouble choosing between Internationals and joining La Ballet de la Reine. She initially decides against joining the ballet company, but is convinced of otherwise by West and Margie, and eventually accepts her position with the company. In celebration of her decision, she dances with Margie in the studio for the last time. While dancing with Margie, Chloe witnesses her vanish into a cloud of sparkles, causing Chloe to wonder if Margie was real at all.[5]
"I'll get to you when I get to you!" - The missing information in this section of the article is to be added.
Personality
Chloe is quiet, shy, and kind. Her meekness allows to be a pushover who strives too hard to please others in the earlier seasons. At this time, she lacks much individuality and simply goes with whatever she is told, despite it sometimes being the wrong thing to do. She cares a lot about what other people think of her, especially in terms of her wealth and dedication, exemplified by how adamant she is about nobody finding out about her financial issues.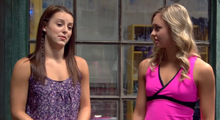 Chloe is determined, hard-working and occasionally motivational, aspects of her personality which shine through as the series progresses. She becomes more independent and confident, especially with the help of Margie. She becomes less ashamed of her economic status and begins to care less about the opinions of others. She is able to stand up for what she believes in, as opposed to merely sitting on the sidelines. Chloe is also clever, as she is able to deduce that Amanda stole the money from the studio when nobody else can.[13]
While Chloe is friendly, she suffers from pedophobia, which results in her wariness of youngsters.
Physical appearance
Characteristics
Chloe has straight auburn hair. She has light skin and hazel eyes.
Attire
In the studio, Chloe's tops alternate between purple, blue, and turquoise. As for her bottoms, she usually wears black tights, but is occasionally seen in grey shorts. When Chloe has a job at Southside Johnny's, she is often seen in her work uniform: a plain brown dress with a cream, fringed collar. Otherwise, her street wear is very similar to that of her dance wear. One of her differing outfits is a turquoise blouse and white paisley shorts.
Abilities
Dancing
Hip-hop: Hip-hop is not Chloe's strong style. While dancing in a hip-hop trio, Shantel confesses that she is clearly at a lower level than those she is dancing with. Although, West confesses that she is bringing out her "inner West," implying that he believes her to be good.[17]
Lyrical: Chloe often incorporates lyrical into her dances. She is proficient at it.
Relationships
Main article: Chloe/Relationships
Appearances
Trivia
Quotes
Main article: Chloe/Quotes
Gallery
"Look at that painting!"

To view the Chloe gallery, click here.
References
Community content is available under
CC-BY-SA
unless otherwise noted.