This article is about the episode. You may be looking for the song. You can find the disambiguation page here.
Click here to see more quotes.

"Coming Home?" is the 1st episode in Season 3 of The Next Step and the 65th episode overall. It premiered on March 16, 2015.
Synopsis
With The Next Step having been bought, the dancers are faced with the possibility of being unable to dance at Internationals.
Plot
A-Troupe is dancing in Studio A reminiscing about their Absolute Dance Nationals, all except for Emily, who's resting her knee, and Michelle, who is in Madison, Wisconsin because her parents are getting a divorce and her mum is looking for a place to live. Despite their elation at their win, the dancers are faced with the unfortunate reality that they are being evicted from the studio.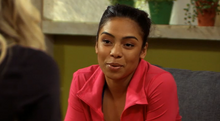 Later, Amanda, Michelle, Thalia, and Eldon are in the newly-renamed coffee shop, Hidalgo's, which replaced Culture Shock due to Culture Shock's bankruptcy and new ownership. Thalia asks Michelle how the house-hunting went with her mum and she admits that it didn't go too well, and that the whole divorce is driving her crazy. As the others try to comfort her, Tess and Shantel approach Amanda, trying and failing to convince her to leave the studio and return to Elite. The other dancers confess that they are still wary of Amanda.
James and Riley are walking through the park. James attempts to speak Spanish since he has been working on it, but ends up telling Riley that she looks like a potato. Suddenly, Luke — the lead vocalist/guitarist in a band in which James plays drums — tells him that they have practice. James leaves, but tells Riley she has to come with him to Kathy's house later. Meanwhile, at Hidalgo's, Kate and Phoebe are waiting for the new owner of the building in order to convince them to let the team stay at the studio at least for the year so that they can practice for Internationals. Lucien shows up to meet Phoebe and Kate, revealing that he bought the building and is the owner.
In the Music Room, James and Luke are practising their music. Hunter, Eldon, and West enter the room and dance to their music. West confesses that the four of them hardly hang out anymore, as James is always with the band.
In Studio A, Kate reveals to A-Troupe that Lucien bought the building and is forcing them to merge with Elite for Internationals. Just then, Phoebe enters with a letter from the Internationals board which reveals that Internationals will be held in Miami and that there is also an exchange student program, meaning that a dancer from The Next Step can go to Sweden and a dancer will come and temporarily join The Next Step. Michelle reminds the team that they shouldn't be too excited as they might not even be able to go.
James and Riley are at Kathy's house where Kathy reveals that she is getting married. James and Kathy begin to discuss seating arrangements. Riley finds the scenario incredibly strange.
Emily is sitting in the studio when Richelle enters and asks her how her knee is. She then asks to know everything about Nationals. Eventually, Richelle implies that Emily's knee will not heal and that her captaincy will come to an end, as well as the fact that she will be unable to dance at Internationals, before leaving. Emily is certain that she will remain Dance Captain and will be dancing at Internationals, though. Back at Kathy's house, James and her are going over the seating arrangements for the wedding and it is taking quite some time, much to Riley's disbelief. Kate, Phoebe, and Michelle are trying to find a studio for The Next Step to practice at, but no studios are willing to let The Next Step practice because Lucien already persuaded them not to accept. Phoebe admits merging is the only way to solve their predicament, and Kate and Michelle sadly agree.
Emily is practicing on the ballet barre so she can try to put more pressure on her knee, when West enters. The two converse and eventually realize that they can't date, as there is too much stuff going on at the moment, but that they will still remain friends.
Riley has fallen asleep on the sofa at Kathy's house, and James is still working on the seating arrangement. Riley confesses that the arrangement is brilliant, despite being confused by the whole process prior to the revelation.
Later, Lucien confronts Kate and Phoebe and tells them to make a choice, since he already gave them a one-week extension to stay in the building. Kate confesses that there is no way around it; Lucien has won.
Trivia
Continuity
Errors
Phoebe says that it is always important to have a Plan B in case Plan A falls through, although she says that it is bad to use a back-up plan in "What You Waiting For?"
Cultural references
Cast
Main
Recurring
Absent
Featured music
Featured dances
Quotes
Main article: Coming Home?/Quotes
Aftershow
Main article: Coming Home?/Aftershow
Gallery
"Look at that painting!"

To view the Coming Home? gallery, click here.