"
If you were a cup of water, you'd be empty!
"
Click here to see more quotes.

"Dancing in the Street" is the 23rd episode in Season 1 of The Next Step and the 23rd episode overall. It premiered on November 15, 2013.
Synopsis
When A-Troupe gets themselves into a dance battle with the street crew, Seeds, the team finds out that West was a former member.
Plot
Tiffany, West, James, and Eldon are dancing at the park for fun. After West performs a flip off of a tree upon the others' encouragement, he immediately runs away, confusing the others. As a few members of Seeds appear soon after, West confesses that he is hiding from them. Seeds stands off with Tiffany, West, James, and Eldon, calling their moves "punky." Tiffany asks the crew who they are and upon hearing their name, they instantly laugh, and James makes a quip about how the shortest member hasn't even sprouted yet. After a member tries to intimidate the dancers with a few moves, Marcel challenges the three to a dance battle which they happily agree to. After the Seeds members leave, West comes out of hiding, confessing that the situation is not good.
In Squeezed, Emily is retelling a story to Riley; both reflect about now nice it is that Emily has returned. Riley, as to relieve the studio of drama, tells Emily about Eldon and Michelle's duet, which Emily seems to be fine with. The two soon leave to get back to practice. In Studio A, Tiffany and James retell the story of their encounter with Seeds and reveal that they are battling them, immediately inciting worry in West, which James believes to be suspicious. Michelle decides that the troupe should vote on whether or not to compete, silently appalling Emily who believes that Michelle should make the executive decision as Dance Captain. Kate and Chris enter, and receive word of the dance battle; Chris loves the idea, while Kate believes it to be reckless. Michelle proposes the vote once more; the dancers vote, with Emily, Kate, Michelle, West, and Eldon being the only individuals against the battle, meaning that the troupe will take part.
Emily approaches Stephanie, who confesses that she still doesn't trust Emily. Emily apologizes to Stephanie, but Stephanie remains unresponsive. Emily then tells Stephanie that at Elite Dance Academy, her nickname was Burps because she once drank too much soda and couldn't hold it in. She goes on to tell Stephanie that she really misses her and Stephanie agrees that she feels the same way. Stephanie confesses that she won't be Emily's lap dog anymore, although agrees to come over to Emily's house that night; the two resume their friendship.
James tells the troupe that Seeds is on their way to the studio. Marcel and the members from before arrive; Marcel decides that the dance battle will take place on the streets, and Tiffany asserts that she will pick the music. An unassuming West enters the studio from Kate's office as the Seeds members turn to leave, and Marcel instantly greets him. Giselle questions their relationship, and Marcel reveals that West is a part of their troupe.
A-Troupe is shocked at finding out that West is with Seeds. Kate and Chris storm in and West hesitantly explains that he was still in Seeds while in B-Troupe and was dancing with both troupes. West is forced to pick a troupe and chooses A-Troupe, creating instant hostility between he and Marcel.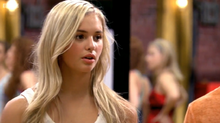 Michelle and the rest of A-Troupe regroup. A-Troupe instantly begins arguing about whether they should rehearse their Regionals routine or the one for the dance battle; Michelle struggles with controlling the group, so Emily, after butchering the dolphin tail, suggests that they do the dance battle routine for two hours and the Regionals routine for one. Emily then pulls Michelle aside and apologizes for overstepping her boundaries, although Michelle dismisses the concern and thanks her for the input.
Eldon approaches Michelle to talk about their relationship; despite Michelle still having feelings for Eldon, she tells him that she can no longer speak to him about the topic.
The dance battle ensues, with both Seeds and A-Troupe giving it their all. As the battle progresses, A-Troupe grows wary, realizing that they underestimated Seeds. Tiffany and Stephanie attempts to flip Michelle and fail after Michelle stumbles; a Seeds member performs a flip that none of the guys in A-Troupe can do, and soon enough, Seeds crowds the dance floor and wins the battle. Marcel approaches West and tells him that he'll see him at Regionals, shocking West since Seeds has never before attended the event.
The next day at the studio, the team remains down about their loss. Emily prods Michelle to say something to the troupe to encourage them, but when she doesn't, Emily steps in. Emily tells the team that she is glad that they lost to Seeds because she knows exactly what she needs to do at Regionals. She also asserts that the team will win Regionals and Nationals, and kick Seeds' butt. With the team newly-encouraged, Emily offers to buy everybody juice. As the team departs, Michelle pulls Emily aside and asks her to be her co-captain, Emily not knowing what to say.
Trivia
Production Errors
Continuity
Errors
Cultural References
The title refers to a song of the same name by David Bowie and Mick Jagger.
Cast
Main
Recurring
Absent
Featured music
Featured dances
Quotes
Main article: Dancing in the Street/Quotes
Aftershow
Main article: Dancing in the Street/Aftershow
Gallery
"Look at that painting!"

To view the Dancing in the Street gallery, click here.