"
He can be completely goofy and awkward and weird one minute, and then the next minute, he's this amazingly passionate dancer.
"

— Thalia, in "Can't Fight This Feeling."
Click here to see more quotes.

Eldon is a professional choreographer and head choreographer of AcroNation, formerly on A-Troupe.
Eldon is long-term member of A-Troupe, even considered the best dancer at the The Next Step Dance Studio for a time.
Eldon decides that he needs to move on after the team's Internationals win.[2]
Biography
Before the show
Eldon joined The Next Step when he was five,[Note 2] and met Emily, who he became infatuated with.[3] Two years later, James joined the studio and he became his best friend.[4]
Eldon was a member of Baby Ballet,[5] then J-Troupe. He eventually joined A-Troupe.
Eldon once worked at a pet store, but was fired for eating the free samples.[6]
Eldon remains hopelessly infatuated with Emily who, despite his delusions, does not reciprocate his feelings. After a particularly hostile rejection from Emily, Eldon is approached by Michelle about a secret routine to overthrow Emily as dance captain.[7]
Despite Eldon's anger at Emily for embarrassing him, Eldon rejects joining the group, not know if he can purposely hurt her. Nonetheless, he votes for Michelle over Emily for dance captaincy, deciding that he does need to put Emily behind him.[7]
Eldon sees a new side of Emily while helping her learn choreography and is angry for her when she is placed in the back of the routine, knowing that she she is not a back row dancer.[8] While comforting her, Emily kisses him and assures her that they can switch spots in the routine.[9]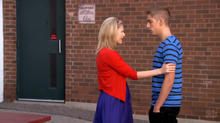 Eldon worries that Emily moving to Elite Dance Academy will ruin their newly acquired relationship, but is assured that he and Emily will remain together.[10]
After becoming Michelle's duet partner and spending more time with her, rather than with Emily, Eldon finds himself developing feelings for Michelle. Eventually, Eldon assures Michelle that he will break up with Emily to be with her, which will be easy since she is at another studio. Although, his plans are halted when Emily spontaneously returns to The Next Step.[11]
Eldon tries to approach Michelle countless times about their relationship, but is ignored. When Michelle finally tells him that she wants to be with him, he lies that he no longer likes her.[12]
At Regionals, Eldon grows closer to Michelle again and promises that after the competition he will break up with Emily and begin dating her. Before the final routine, Eldon is questioned by Emily about where his heart lies, and is forced to reveal the truth and break up with her.[13]
Eldon is elated when the team wins the event.[13]
Eldon agrees to keep his relationship with Michelle a secret, but Emily publicly reveals that they are a couple, squashing his intent.[14] Eldon grows wary of Hunter, who Michelle had feelings for while dancing with him in Madison, which fails to subside when he also makes it onto A-Troupe. Eldon agrees to his eventual proposition to a dance battle over Michelle, sure that he will win. Although, he loses,[15] and subsequently avoids Michelle. When confronted about his coldness by Michelle, Eldon breaks up with her.[3]
Eldon decides refocus on Nationals, especially being the team's male soloist for the event.[16] Eldon is angry when he loses the solo to Hunter after a video them competing in the dance battle surfaces, and feels betrayed to discover that Michelle is responsible for showing the video to Kate in the first place.[17]
Eldon is initially humoured by Hunter's quest for his friendship. After shoving Hunter's peace offering of a chocolate cake into his face[18] and winning his solo back from him,[19] Eldon also becomes Michelle's friend, helping her with her female solo.[20]
After Amanda leaves the studio, Eldon becomes a part of a newly constructed small group. Around this time, he realizes that he is bad with relationships, and James proposes that he doesn't date until he can do 30 pirouettes.[21]
At Nationals, Eldon must face Daniel in the solo round, made all the more important in that Daniel leaves the studio in the first place because Eldon has the solo over him. Eldon easily wins the round[22] and also wins the small group round with his group members.[23]
After realizing that Thalia also believes in sweet spots, he shows her his favourite sweet spot on the Nationals stage, and makes her promise not to tell anybody else.[24]
Eldon is elated when the team wins the competition.[25]
Upon learning that there is a possibility of him facing a member of his own team in the dance battles against Elite, Eldon decisively quits A-Troupe. He quickly rejoins the team after learning that Daniel will be competing in the competition.[26] Ironically, Eldon is forced to face Hunter in the dance battle. He wins and, while happy that he has secured a spot on the Internationals team, is sad to have defeated his new friend.[27]
Eldon falls for Thalia but, despite her reciprocated feelings, is unable to date her due to his agreement with James. Eldon attempts to spend time with Thalia through clandestine means that evade the rules of the agreement, but is eventually unable to speak to Thalia at all.[28]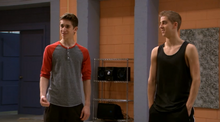 Eldon is made the male soloist for Internationals and cockily accepts Noah challenge for the title. Although Eldon wins, he is pleasantly surprised by Noah's prowess and dances with him.[29]
Eldon loses his lucky quarter[30] and his replacement pound in the Everglades.[31] With the loss of this coin, Eldon fears for his prospects in the male solo round. Despite Thalia's encouragement, Eldon loses to Kyle, much to his chagrin.[32]
As the competition continues, Eldon grows immensely suspicious of Bartek as he befriends Thalia. He fears that in addition to the loss of his coin and title of Mister Internationals Soloist, that he will lose Thalia.[33] Eldon is delegated as the team's representative for a turning competition of which will decide how much time his team has to rehearse their five person dance to new music. Eldon is nervous to compete until James revises the agreement so that he can date Thalia if he wins the competition. Eldon wins and is embraced by his now girlfriend. Nonetheless, Eldon remains wary of Bartek. [34]
Eldon is elated when the team wins the competition, but fears what the future will hold.[35]
Eldon is heartbroken over Thalia moving to Poland, believing it is so she can be with Bartek.[36] Amidst this heartbreak, Eldon wonders if he should return to A-Troupe.[36] James helps him come to the decision that his time in A-Troupe has come to an end and he tearfully leaves the studio.[2]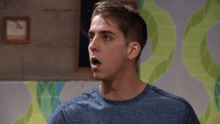 Wishing to move on, Eldon attempts to apply for a job at Java Junction, made impossible when West discredits him in front of his potential employer.[6] He is met with pleas from both West and James to accompany them in England for the Bangers & Mashups International Hip-Hop Extravaganza. He is initially wary of going but decides to attend the competition after doing 31 pirouettes.[6]
Eldon is left speechless when he receives a text from Thalia telling him that she will be visiting him. When Thalia assures him that she actually went to Poland to explore her heritage and that she loves him, Eldon is so shocked that he faints 3 times. When he comes to, he immediately assures Thalia that he loves her too.[37]
Eldon is elated to win Bangers & Mashups.[38]
Eldon attends the dance-a-thon.[39]
Now a professional choreographer,[40] Eldon agrees to choreograph for both Michelle and Emily, albeit at different times. Although, after failing to read Michelle's e-mail rescheduling their rehearsal, Eldon is forced to choreograph for both of them simultaneously. His resulting confusion results in embarrassing Lola, and eventually angering Michelle and Emily.[41]
"I'll get to you when I get to you!" - The missing information in this section of the article is to be added.
Eldon attends The Next Step Dance Studio 30th anniversary Christmas party, he is designated as the choreographer of the Nutcracker dance.
In Piper's alternate reality, Eldon becomes a full-time DJ under the name of Electric Eldon.[42]
Emily hires Eldon to choreograph Lily and Kingston's Nationals duet. Upon seeing Lily and Kingston fighting he forces them to resolve their differences. Although the resolution of Lily and Kingston's fight leads to them being too soft and nice to each other and ultimately ruining the dance. In an attempt to reignite the fire in the duet, Eldon creates a fight between the two dancers which results in a much better dance.[43]
Personality
Eldon is initially clingy and entitled, as he continuously asks Emily out for years and becomes angry with her continuous rejection. He is not the brightest of people, in fact, is hardly able to construct logical notions independently. Sometimes, with this idiocy being so theatrical and often being paired with his awkwardness, it verges on comedy. Eldon is also immature and naive, shown through his failed relationships with Michelle and Emily. Nonetheless, he remains desirable by girls.
Eldon is a dedicated — if not obsessive — dancer, as he admits that he watches videos of dance by night, trains and perfects it by day and then performs it.[9] This expertise mixed with his extensive classical training causes him to occasionally be patronizing, evident in the way he condescends Hunter, West, and Noah about their dancing. Although, he able to acknowledge prowess and talent.
Eldon has wildly conflicting spiritual beliefs. He appears to follow an esoteric form of religion due to his belief in sweet spots, although, this could merely be a byproduct of his superstition; before major competitions he does not wash his socks for three weeks,[44] drinks a specific beverage, wears a specific shirt, carries a proposed lucky orange, and carries a proposed lucky coin before losing it. Although, Eldon believes in an "alligator god" which largely mirrors the ancient Egyptian's belief in the god, Sobek, a spirituality that is not correlated to his aforementioned beliefs in the slightest.
Physical appearance
Characteristics
Eldon has blond hair, which grows slightly darker with time. Eldon has green eyes, and fair skin.
Attire
Eldon usually wears blue, but begins wearing a wider range of colours with time. His wardrobe is comfortable and casual. When dancing, Eldon normally wears a blue undershirt with black shorts.
Abilities
Dancing
While a member of A-Troupe, Eldon is considered the best dancer in the studio. He also been dubbed as the best dancer in the world by West.[6]
Other
Artistic
Harmonica: Eldon can effectively play the harmonica.[30]
Intellectual
Languages: Eldon can say "thank you" in 15 different languages.[46]
Relationships
Main article: Eldon/Relationships
Appearances
Dances
Solos
Duets
Trios
Group dances
Trivia
Quotes
Main article: Eldon/Quotes
Gallery
"Look at that painting!"

To view the Eldon gallery, click here.
Notes
↑ It can be added together that Emily is sixteen years old in Season 2. In "Never Enough," it is revealed that Emily is the same age as Eldon, meaning that Eldon is also 16.
References
Community content is available under
CC-BY-SA
unless otherwise noted.