Eldon has a series of relationships.
Friends
Hunter
Although Hunter is now one of Eldon's best friends, this is not always so. [1]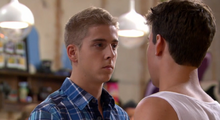 Eldon initially deems Hunter an acceptable guy upon first impression, but becomes threatened by him after learning about his history with Michelle.[2] Fearing that his relationship with his girlfriend will suffer because of Hunter, Eldon participates in a dance battle against him for Michelle's hand, of which he loses, decimating Eldon's self-esteem and upsetting him about having to break up with Michelle.[3][3] In wake of having to desert his girlfriend[4] and eventually losing his Nationals solo to Hunter,[5] Eldon's hatred for Hunter escalates.
Eldon is humoured by Hunter's eventual attempt at a truce, but is weakened by Hunter having baked a double-layered chocolate fudge cake cake for him. After getting a laugh from slamming a cake in Hunter's face, Eldon considers a friendship with him on the grounds that they compete against each other for the solo.[6] After Eldon wins the dance-off, thus re-gaining the solo, Eldon agrees to his friendship.[7] From there, Hunter becomes a very close friend to Eldon.
Eldon is devastated about having to compete against Hunter for a spot on the Internationals team, and even more so when he wins, taking Hunter off of the team.[8] Eldon is especially saddened that Hunter is returning to Madison after having just recently become his friend.[9]
James
James is easily Eldon's best friend, who has known since he was seven.
Eldon's friendship with James is exceptionally solid and he has never been in in a genuine fight with him that isn't solved within minutes.
Enemies
Bartek
Eldon is intimidated by Bartek when he watches him rehearse a routine at Internationals, which escalates into derision after seeing him warm up to Thalia.[10] Eldon comes to fear that Thalia will even gain feelings for Bartek.
In Eldon's mind, his greatest fear has come into fruition when Thalia leaves The Next Step Dance Studio to attend Bartek's studio in Poland[11], although, he discovers that his belief stems from mere paranoia, as Thalia actually moves to reconnect with her heritage.[12]
While Bartek has comically teased Eldon,[13] it appears as though he actually likes him, making Eldon's dislike for him all the more one-sided, irrational, and rooted in paranoia. In fact, it seems that Eldon's distaste for him remains, despite his suspicions having since been proven untrue.
Love Interests
Emily

Eldon's deep-seated infatuation for Emily over a decade, having harboured these feelings since he was five. Despite his delusions, Emily does not reciprocate any of these feelings for most of the time he possesses this crush, but this not not deter him from actively and dramatically pursuing her. It appears as though getting Emily to like him is Eldon's primary goal while he is crushing on her, even claiming that he works to improve his dancing so that Emily will respect him more.[14]
After taking James' advice to act purposely sullen, Eldon finally goes on a date with Emily, much to his excitement, but grows visibly frustrated to realize that her feelings for him have not wavered.[15] Eldon continues to pursue Emily, culminating in a grand, failed public gesture involving a boom box and large cue cards asking for her to be his girlfriend. Eldon is humiliated by her subsequent blatant rejection and decides that perhaps he needs to finally put her behind him.[16]
Although, Eldon comes to develop a genuine bond with Emily after learning about her inability to perform difficult choreography and through helping her with the auditions for line placement.[17] On behalf of her, he is irate when she is placed in the back row and is the only one who is there to comfort her. After Emily kisses him, he is left in a state of euphoria, finally winning the affection from her that he has wanted for so many years.[18]
Eldon expresses his concern to Emily about the state of their relationship upon her transfer to Elite Dance Academy and, despite Emily's reassurance,[19] it begins to disintegrate. Despite Emily's now inarguable interest in him, Eldon finds himself drifting away from Emily due to her continued crankiness about her struggles at Elite as well as her physical absence, and gains feelings for Michelle. Eldon is wary of breaking up with Emily, but inadvertently becomes distant toward her and closer to Michelle. When confronted about this behaviour by Emily, Eldon initially tries to avoid the topic, but eventually admits that he wants to be with Michelle as opposed to her, thus ending their relationship.[20]
Eldon remains romantically disinterested in Emily, but eventually becomes her friend, later even choreographing for her team.[21]
Michelle
Eldon initially views Michelle only as a friend, but develops feelings for her in Emily's absence, as he spends more time with her rehearsing a duet. He assures Michelle that he will break up with Emily to be with her, but remains hesitant. He finally decides he will go forth with his promise at Regionals, but is forced to do so on Emily's terms, as she confronts him about their relationship.[22]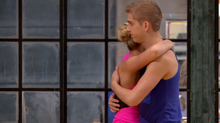 Eldon is content with his relationship with Michelle, but grows concerned upon Hunter's arrival. Eldon accepts Hunter's proposal to a dance battle for Michelle, of which he loses, meaning that Eldon must break up with her.[23] Eldon is conflicted about keeping his word, caring deeply about Michelle and not wanting to end his relationship with her. Although, he eventually follows through and breaks up with Michelle without giving her an explanation. [4]
Eldon eventually becomes frustrated Michelle's continuous attempts at civility and, ultimately, angry with her when she discovers that she her actions are responsible for the loss of his Nationals solo.[5] Although, Eldon eventually makes up with Michelle and becomes her friend.[24]
Thalia
Eldon is friendly with Thalia during her initial dance season on A-Troupe. Upon learning that Thalia also believes in sweet spots at Nationals, Eldon directs Thalia to his sweet spot on the stage and makes her promise to keep the secret between them.[25]
Eldon continues to grow closer to Thalia and, after she makes it onto the Internationals team with him, tells her that he would have been bothered if she did not make the team.[26] Eldon's development of romantic feelings for Thalia becomes apparent, of which Noah is even aware, culminating in Eldon confessing to Thalia that he likes her in response to her saying such to him.[27]
Despite Eldon's strong feelings for Thalia and his wish for them to start dating, Eldon holds off on initiating a relationship due to the 30 pirouettes agreement he has made with James. It becomes harder to hold this secret from Thalia and he eventually reveals the truth,[28] upon which his quest to perform 30 pirouttes becomes all the more fervent. Eldon tries to work around the agreement several times in order to spend time with Thalia, but is forbidden from communicating with her after writing her a love letter.[29] The agreement is revised so that Eldon can date Thalia if he wins a round at Internationals and, after coming out victorious, Eldon commences his long-awaited relationship with Thalia shortly after which he shares his first kiss with her.[13]
Eldon becomes heartbroken by Thalia's departure to Poland, wrongfully believing that she left to be with Bartek.[11] Eldon struggles to get over Thalia, incessantly referencing her in conversation and attempting to forget about her by indulging in chocolate. He is set into a frenzy when he receives a text from Thalia claiming that she will be visiting him in London and fails to assume normalcy in her presence. Eldon realizes that Thalia only left to reconnect with her heritage and is so elated by Thalia's proclamation of love that he literally faints. When he comes to, he immediately assures Thalia that he loves her too and shares a kiss with her.[12]
References