"I think Kate and Chris's dance is great for two old people."

This article needs to be updated. This page is currently out of date and needs to be infused with recent information.
Emily
has a series of
relationships
.
Relatives
Riley
Riley is Emily's younger sister who Emily cares dearly for and regularly dotes on. It is Emily's deep affection for Riley is what causes her to feel betrayed by Riley's apparent subordination, especially in favour of newcomer Michelle. Emily kicks Riley out of E-Girls, which is the initial mark of their deteriorating relationship, but is visibly shaken by the doing so.[1]
Although Emily is upset about the team voting her out as dance captain, Riley's vote is the one that affects her the most.[2] Emily has a hard time forgiving Riley for dethroning her as dance captain, even going as far as assuring her that she is no longer her sister.[3] Although, Emily does eventually forgive Riley and their relationship becomes stronger.[4]
Riley is the only person who Emily confides in about Amanda being a double agent, and trusts Riley enough for her to be the only person in on her plan to turn the team against her and foil Amanda's plan.[5]
When Riley struggles studio head, Emily goes out of her way to help Riley, and helps them get to Regionals.[6]
Matty
Matty is Emily's younger brother.[7]
Neutral
Amanda
Emily is treated quite harshly by Amanda during her short time at Elite Dance Academy. When Emily begins to think that Amanda is finally recognizing her as an asset to the team, she discovers that Amanda is actually planning to kick her out right before Regionals.[8] At the competition, Emily is regularly teased by Amanda, which visibly upsets her, once causing her to storm away from her teammates almost in tears.[9] Emily gets her taste of sweet revenge when she wins Regionals with her team, and therefore proves to Amanda that she is actually a valuable dancer.[10]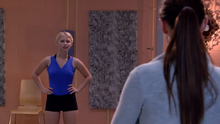 Emily is unwavering in her adamant wariness of Amanda when she joins The Next Step Dance Studio and outrightly tells Amanda that she doesn't trust her.[11] Emily's suspicions are proven right when she overhears Amanda discussing her plan to destroy the studio with Lucien. Emily takes it onto herself to try and squash Amanda's agenda, even turning the entire team against her in the process.[12] Emily's temporary status as a pariah among her peers only intensifies her dislike for Amanda.
Although, when she is unable to dance in the finals at Nationals due sustaining a knee injury, Emily is the only member of the team who in unequivocally for Amanda filling in for her in the routine.[13] It is presumed that after this occurrence, Emily at least considers Amanda her acquaintance, as the two appear friendly to each other after the Nationals win.
Michelle
Emily has a constantly changing relationship with Michelle.
Due to jealousy, Emily erroneously hates Michelle upon her arrival to the studio.[14] Emily does everything in her power to make Michelle feel unwelcome and even attempts to push her out of the studio altogether. Emily's hatred for Michelle intensifies once she takes her title of dance captain.[2]
After Emily goes through a change of heart, she begins to finally see eye to eye with Michelle and accepts her offer of co-captaincy.[15] While at Regionals, Emily even says on air that she and Michelle are friends.[9] Although, this friendship dissipates when Eldon breaks up with Emily to be with Michelle.[10]
Despite Michelle dating her ex-boyfriend whom she very much wishes to resume her relationship with, Emily does not hate Michelle nearly as much as she does leading up to Regionals. In fact, as time progresses, Emily does not appear to even be that angry at Michelle. Emily even actively participates in the flash mob to get her to return to the studio.[16]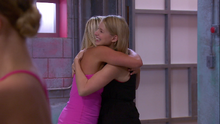 When Riley struggles as studio head, it is Michelle that she receives a call from for help.[6] This implies that her relationship with Michelle is very much in tact, since there is an undeniable level of trust present. After the studio's Regionals loss, Emily appears exceptionally friendly with Michelle, regularly embracing her upon greeting. Emily even assures Michelle that she will make her a featured dancer on her team for the coming competition.[17]
This friendliness dissipates once more when Michelle breaks off from Emily's troupe in order to create her own rival team.[18] Emily becomes increasingly frustrated with Michelle's opposition to her team especially since, in her eyes, her team far outmatches Michelle. Nonetheless, she provides Michelle with a cheque to improve her team, under the claim that she wants a fair competition between the troupes.[19]. Eventually, the two rival teams come together as one, and Emily and Michelle become co-studio heads of the Next Step.
"I'll get to you when I get to you!" - The missing information in this section of the article is to be added.
Richelle
Although Emily meets Richelle's impudence with discipline and lambasting when she is her mentor, Emily confesses that Richelle is a lot like her.[20]
Emily regularly advises Richelle and attempts to mold her into the dance captain she believes she will one day be. When Richelle becomes a member of her troupe, Emily happily gives her the title.[21]
Friends
Giselle
Giselle is Emily's friend.
Giselle is one of Emily's top E-Girls before she has to kick her out, whom she even nicknames "Ellie." Emily is the first to console Giselle when she is demoted from A-Troupe to B-Troupe and promises that she will get her back onto the team. Emily appears to be saddened about kicking Giselle out of E-Girls, but does it as to uphold the rules as group leader.[22]
James
Emily is initially quite indifferent to James, even while he is dating her sister, Riley. The only feeling she over does show for him are of annoyance and distaste for his immaturity.
Although, Emily is forced to become closer to James as a part of a list for James to get Riley back. Emily is hesitant, seeing as James hurt her sister, but is appreciative of James' uncharacteristic effort. Emily bonds with James and reveals to him that the "best dancer" ribbon Riley possesses is actually hers, a secret that even Riley doesn't know. By the end of the session, Emily admits that James is her friend.[23]
Stephanie
Stephanie has been Emily's best friend for years.
Emily regularly uses Stephanie in her plans and schemes and relies on her more that any of her other E-Girls. Stephanie is the last member of E-Girls that stands by Emily when the group seemingly disbands and follows her in her lackadaisical attitude toward Michelle's rule.[3]
Emily temporarily loses Stephanie's friendship when she attends Elite Dance Academy without her, although, Emily manages to make Stephanie forgive her by recalling an embarrassing nickname that her former teammates attributed to her.[24]
Emily takes Stephanie with her to the doctor to check her knee and confides in Stephanie that her knee is not healed, but forces her not to tell anyone. Emily feels betrayed when Stephanie tells Riley about her unhealed injury, causing her to be unable to dance for the team. When Emily next sees Stephanie after the beans are spilled, Emily greets her with:
"
Oh my goodness, I was actually looking for you. I have a few dreams I would like to destroy, and I was wondering if you could help me.
"

Although Emily initially seems quite unforgiving of Stephanie revealing her secret,[25] it is presumed that Emily eventually forgives her, as the next time she is seen with Stephanie, they are friendly once more, with Emily urging her to audition for A-Troupe.[26]
Love interests
Bobby G
Emily dated Bobby G in the second grade.[27]
Eldon
Although Eldon has had a crush on Emily for around a decade, Emily initially does not reciprocate his feelings in the least and is quite derided by his attempts of romance. But, after going too far in rejecting Eldon, Emily feels genuine contrite for hurting him for the first time.[28] She begins to develop feelings for Eldon as he appears to be less and less interested in her and confesses that she feels as though she is losing something she never knew she had.[2]
Emily bonds with Eldon when he helps her with the choreography for the auditions for line placements,[29] and is consoled by him when she is placed in the back row.[30] At this time, Emily kisses Eldon. Emily commences a romantic relationship with Eldon, during which she confides in him as she struggles at Elite Dance Academy and finds solace in his presence. Unbeknowst to her, her distance from Eldon is what causes him to lose interest in her. Once she returns to The Next Step Dance Studio, Emily becomes suspicious of Eldon's closeness to Michelle and eventually asks him to come clean about his feelings. Emily is heartbroken when she discovers that Eldon wants to be with Michelle and that he is breaking up with her to pursue this relationship.[10]
Emily misses Eldon and actively tries to pursue him in a plan designed by Hunter. Although, Emily eventually gets over Eldon and finds contentment in simply being his friend.[31]
Hunter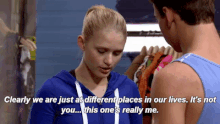 Hunter is initially nothing more that Emily's partner in crime in her pursuit to resume her relationship with Eldon. But, as time progresses and the plan begins to work in Hunter's favour, Emily realizes that she has developed feelings for Hunter. She is ecstatic when these feelings are returned, and commences a romantic relationship with him.[32]
Emily is forced to break-up with Hunter by Amanda in order to gain her trust so that she can foil her plan. Emily is unwilling to do so, but eventually follows through.[33]
West
Emily is shocked to discover that West places money in books at Culture Shock in order to brighten customers' days,[34] and begins hanging out with him upon seeing this new side of him.[35]
Emily is shocked when West asks her out at the semi-finals of Nationals, but confesses that she isn't against the idea of going on a date with him.[13]
Although, any potential date with West is thrown down the drain when she injures her knee. Having too much going on in her life, Emily decides to simply remain friends with West.[36]
Michelle (possibly)
In Season 6, from the prom night in Twinkle Toes, and their couple-like banter, Emily and Michelle may have a relationship, or the beginnings of a relationship.
References