"
East vs West
" is the sixth episode in
Season 5
of The Next Step. It aired on May 23, 2017.
Synopsis
Amanda returns to help Noah grow closer to Richelle. TNS East go head to head with TNS West.
Plot
Noah and Richelle are performing their duet in Studio East. Richelle confesses that she is growing closer to Noah by second. Emily enters and confesses that Richelle and Noah have so much chemistry together.
Michelle is in her office, when Piper enters. Michelle approaches Piper and asks to speak to her. Piper accepts and Michelle offers her the position as Dance Captain, which Piper excitedly accepts to.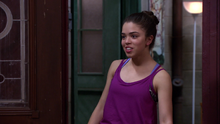 Piper enters Michelle's office, and finds a letter on her desk. Shortly after, Michelle enters and greets Piper. Piper tells Michelle that there is a letter on her desk, and urges her to open it. Michelle opens it, and says that there is a competition called 'Ready for Regionals?' where three dancers from each studio will perform a trio to prepare for Regionals. Piper and Michelle realize that only one troupe can compete, meaning they have to compete with TNS East.
Noah is sitting in Neutral Grounds, waiting for Richelle to arrive. Suddenly, Amanda walks in and spots him. Amanda approaches Noah, and sits opposite him. Noah is happy to see Amanda, and Noah starts talking about that he has feelings for Richelle, but needs some help to boost their relationship off. Amanda offers to help Noah, then she is thanked by him.
Emily enters her office, and finds a letter on top of her computer, and it reads what Michelle's said. Emily tells the dancers. Emily asks the dancers to get into threes, and auditions will begin in an hour. Amanda forces Noah to get in a trio with Richelle, so he does. Noah and Richelle ask Lola to join their trio, and she accepts. Meanwhile, Amy refuses to join Sloane and Henry's trio, and they replace her with Jacquie, meaning Amy will be an alternate.
On TNS West, Michelle is telling the dancers about the 'Ready for Regionals?' competition. She puts Piper, LaTroy and Kingston in one trio, and Ozzy, Josh and Heather in another. Therefore, making Elliot and alternate. Michelle confesses that she needs to beat Emily.
trivia
The Next Step will be attending a competition called 'Ready for Regionals?' in order to prepare for Regionals.
Elliot is an alternate for TNS West.
Cast
Main
Recurring
Featured Dances
See more
For the collective works of the author, go here.