"
I can't believe this is happening.
"

— Piper
Click here to see more quotes.
Let's Battle
is the 3rd episode in
Season 5
of The Next Step. It was officially aired on May 6, 2017.
Synopsis
Riley says goodbye, while Emily holds the A-Troupe auditions. Michelle competes for the opportunity of a lifetime.
Plot
Riley is packing away her things in her office, when Emily enters. Riley then storms out of the office, saying to Emily that she gave up being Studio Head as she thought no one cared about her, but after hearing Piper and Cassie speaking, she changed her mind, and leaves.
Emily gathers A-Troupe together, and tells them that Riley has left The Next Step, much to their disappointment. Richelle confesses that The Next Step will be weird without the original dancers like Riley, Michelle and Amanda.
Michelle is on the wings getting ready to audition for the Miss Absolute Dance Soloist company. She confesses that her Nationals solo will be her audition.
Emily is holding auditions, and the auditionees begin performing there solos.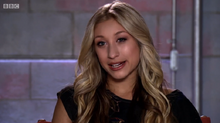 Michelle takes to the stage to perform her solo, while performing the scenes are flash backing to her performing her solo at Nationals. Michelle says that she is doing 100x better than at Nationals, but it also makes her miss A-Troupe and The Next Step as this is where she first performed this solo.
Emily reveals that the new A-Troupe is: Amy, Noah, Richelle, Sloane, Lola, Kingston, Heather, Jacquie, Henry, Elliot.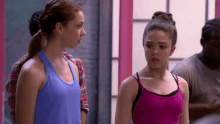 Michelle is seen crying and the states that her solo lost the audition, and she does not know what to do next. Michelle enters Neutral Grounds, and sees a deeply upset Piper and LaTroy, Piper tells Michelle that she and LaTroy were cut from A-Troupe. Michelle asks Piper and LaTroy to follow her into Studio A. Michelle blasts into Studio A, and orders Emily to let the three join A-Troupe. Emily refuses, and Michelle storms out saying that she will create her own troupe.
Trivia
Cast
Main
Recurring
Featured Dances
See more
For the collective works of the author, go here.