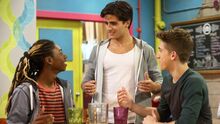 TNSD
Alfie returns to The Next Step Dance studio and he notices that his two friends Noah & Henry are stressed out about TNSEAST And TNSWEST So Alfie walks out of Java.
Alfie in Talking heads says 'The Next Step needs another Troupe a friendly troupe So I am going to form TNSD' Alfie holds a meeting in Studio B,

AUDITIONS IN B STUDIO FOR TNSD
Alfie waits for Piper, Skylar, Henry, and Noah.
"Everyone Thanks for meeting me here This is TNSD My new troupe" said Alfie, Alfie had became the new studio head of TNSD, Piper done some hip hop tricks, Skylar worked on a solo and Noah and Henry were sliding around.
"YOU ARE ALL Now Part of TNSD this troupe must have 100% of your attention" said Alfie.
Trivia
Alfie Becomes Studio head of TNSD In Studio B
Noah & Henry stresses out about TNSWEST And TNSEAST
TNSD Is formed in Studio B
Members of TNSD is - Skylar, Piper, Henry, Noah,