Michelle enters her office with a disappointed look on her face as Kate has decided to appoint a new studio head.
Thalia walks into her office aka Michelle's Old office and she welcomes the dancers, Finn, Davis, Jacquie and Finn were doing duets. "Right everybody I am Miss Thalia and I will be your Studio Head this year so What I want everybody to work on is their duets". said Thalia, Thalia walks into the office to talk to West and Daniel about changing a few moves to their choreography that they currently teach at the studio.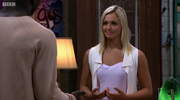 Latroy enters the office, "Michelle the team are wondering what is going on and why Thalia is saying she's the new Studio Head of The Next Step?" asked Latroy, "It's because it is the truth Latroy after Richelle Injury Miss Kate has had to think a lot about the studio's future and sadly It was us two to blame we should of known about her injury so I am leaving the studio". said Michelle. "This place won't be the same". said Latroy, Latroy had returned from working with Luther brown. Finn and Jacquie were dancing in Studio 1, Noah watches he was getting jealous of the two of them spending time togeather.