"
Lucien: I have evil for lunch.
Phoebe: You shouldn't be eating that.
"
Click here to see more quotes.
"Game, Set, and Match" is the 2nd episode in Season 3 of The Next Step and the 66th episode overall. It premiered on March 16, 2015.
Synopsis
As a final resort, A-Troupe must compete against Elite Dance Academy, and even each other, for a spot on the Internationals team.
Plot
Lucien explains the terms of the competition: the names of twelve dancers from both Elite and The Next Step will be put in a hat (one of his, naturally) with two names being drawn at a time. Those two dancers must then go head to head with the winner earning a spot on the Internationals team, meaning that two members from the same studio may be candidates to compete against one another. He also says that if seven or more of The Next Step dancers win, Phoebe and Kate can keep the studio and Lucien will leave; but if such a scenario happens with Elite, Kate and Phoebe must go. Kate and Lucien shake on it, as there is no other option.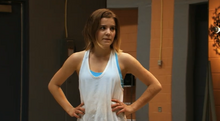 Riley and James are working on a new duet to be performed at his aunt Kathy's wedding. The duet is also acting as a way to distract them from the drama that is taking place within the studio. At the latter, Riley receives a text telling her and James that Kate needs them to return to the studio. When they arrive, Kate tells the dancers about the terms of the merge (but not about the ownership of the studio), and Eldon quits.
Daniel encounters Lucien at the park. Daniel confesses that he blew his Juilliard audition and that he is no longer a part of Superstar Dance because he quit to rehearse for his audition. Lucien promises Daniel a spot on the Internationals team as long as he does whatever he says.
Eldon is dancing to clear his head when Thalia enters and helps him by choosing a song for him to dance to. Thalia confesses that she is disappointed that he left the team, as the two of them had been getting a lot closer as of late and she was hoping that she could get to know him better. Eldon also admits that although he will not return to the studio, he does enjoy having Thalia around.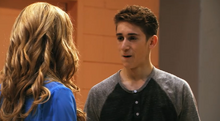 A-Troupe is at Hidalgo's conferring about what they have to do. Amanda and Chloe try to keep the team positive, but since Michelle still doesn't trust Amanda Michelle asks her if she knew anything about what Lucien was going to do. Amanda says that she didn't, but understands why Michelle would ask such a question. The team agrees that they cannot fight and need to stick together, as well as try to get Eldon back. James tells the team he will talk to him. Meanwhile, Richelle and Noah are dancing in the Music Room. Richelle confesses that they are the two best J-Troupe dancers and that she knows they will be on A-Troupe soon. Kate approaches Noah and tells him that she would like him to move up to compete for a chance on the Internationals team to which he enthusiastically agrees. Richelle is instantly jealous.
In Studio A, Emily is speaking with Michelle and tells her that she will be ready for Internationals, although Emily is secretly skeptical, as she is unsure if her knee is healed.
Amanda is dancing alone and confesses that she feels as though she doesn't belong anywhere and that the drama keeps following her despite her newly good intentions. Shantel and Tess approach Amanda again about coming back to Elite, but Amanda refuses. Michelle, overhearing the conversation, finally trusts her. As Eldon is packing up his personal items, James approaches him about returning to the team. James tells Eldon that he will dance as hard as he can, no matter who he is up against and that Eldon needs to "grow up." The assertion causes Eldon to halt, but he merely says that he can't and leaves. James admits that it seems as though they have lost Eldon for good.
Amanda enters the Music Room and confronts Lucien, Tess, and Shantel, telling them that she is no longer a part of Elite and that they should stop scheming against The Next Step. Lucien confesses that it's time to deploy Daniel in the plan to destroy the studio.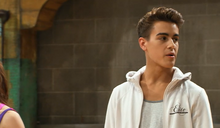 Daniel enters Studio A wearing an Elite jacket, and reveals that he will be competing as a member of Elite; this saddens
Giselle
and angers the other members of the studio. James begins laughing then, much to Riley's confusion, and claims that he knows how to get Eldon back. He texts Eldon (who is sitting at Hidalgo's) about the scenario. Eldon immediately rushes back to the studio at the knowledge that Daniel is back.
Trivia
Continuity
Eldon initially quits because he doesn't want to dance against another member of The Next Step Dance Studio, which he ultimately is forced to do in "Let the Games Begin."
James's persistent ideal of dancing as hard as he can no matter who he faces is tested in "The Fallout."
As said by Emily, she goes to the doctor for her knee in the following episode.
Errors
Shantel was technically never Amanda's co-captain at Elite, considering that she is new to the show as of Season 3, far after Amanda left Elite.
Cultural references
The title refers to a song by 20syl, entitled "Game Set & Match."
Cast
Main
Recurring
Featured music
Featured dances
Quotes
Main article: Game, Set, and Match/Quotes
Aftershow
Main article: Game, Set and Match/Aftershow
Gallery
"Look at that painting!"

To view the Game, Set, and Match gallery, click here.
References