"
I say we re-choreograph the Regionals routine; make it so good, make it better.
"
Click here to see more quotes.

"Get It Together" is the 12th episode in Season 1 of The Next Step and the 12th episode overall. It first aired on May 24, 2013.
Synopsis
Michelle secretly choreographs a new routine for Regionals.
Plot
Michelle, James, and Riley are at Squeezed, talking about Michelle overthrowing Emily as Dance Captain. Michelle suggests that they re-choreograph a better Regionals routine and then show it to Kate. Meanwhile, Emily is forced to apologize to Chloe when she is threatened by Chris and Kate to lose her captaincy.
Daniel confronts Chloe about her aloofness at Squeezed with West and Giselle and she quickly changes the topic, making Daniel suspicious. Emily enters Squeezed as Giselle leaves and apologizes to Chloe, surprising the present dancers. Chloe accepts her apology, although Emily reveals in Talking Heads that her apology isn't sincere and she just wants to keep her captaincy. Meanwhile, James, Michelle, and Riley are working on a routine in Studio B. In Studio A, Chris asks A-Troupe where James, Riley, and Michelle are and Eldon reveals that he saw them in Studio B. As Chris leaves, Emily reveals her curiosity at what they are doing. Wishing to get information, Emily asks Eldon if he wants to get some water and interrogates him, although he doesn't know anything. Meanwhile, Chris walks into Studio B and tells the three dancers to return to Studio A, but is thankfully still unaware of their secret routine. The entirety of the dancers rehearse their Regionals routine and many of them confess that they do not like routine while a few still stand by it. After practicing the routine, Emily confesses that James, Riley, and Michelle seem particularly lazy and uncommitted. The three return to Studio B to do their routine when West walks in on them. Hastily, the three decide they should show West their routine.
The trio shows their unfinished routine to West and he perfectly guesses what they are trying to do. Thankfully, he says that he loves it and joins them. In Studio A, Tiffany is trying to help Stephanie with her acting as she is visibly struggling.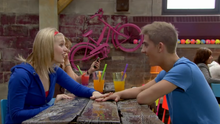 At Squeezed, Emily is speaking with Eldon. Emily admits that their relationship is still non-existent, although she hates him less than she used to and that he's a bit cute. Michelle enters, sees Emily's hand on Eldon's, and is instantly bothered, but isn't sure why. Eldon is thrilled at Emily touching his hand, as he sees it as a sign of her starting to like him. Riley, James, and Michelle are in Studio B once more. West performs their secret knock and enters. To the three's horror, West reveals that he told somebody about the dance.
The person West told is Daniel. He tells them he will join under the condition that he keeps his solo to which the dancers agree. Meanwhile, Stephanie is acting out different emotions with the help of Tiffany. As Stephanie pretends to cry, Kate walks in and believes she is genuinely upset, which encourages Stephanie. Kate leaves with her to go to her acting audition.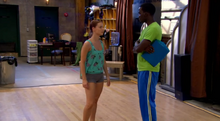 Daniel, West, Michelle, Riley, and James are having fun at Squeezed until they realize that their group needs at least one more person to make it even. Michelle realizes they are missing rehearsal and the group rushes to Studio A. Emily grows more suspicious as she sees them arrive late. As rehearsal begins, Chloe suggests to Chris that they incorporate a new move into the routine. Overhearing, Emily asks to see the move. After seeing it, Emily instantly refuses as it is her routine and not Chloe's. At this, Michelle and the other four members of her group decide they should ask Chloe to be in the dance.
Kate enters the studio with Stephanie and is greeted by Tiffany. When Kate leaves to answer a phone call, Tiffany asks Stephanie how the audition went. Kate calls Stephanie and Tiffany into her office, then. Kate gives the phone to Stephanie who reveals that she has an agent when the call ends. Meanwhile, Daniel, West, Riley, Michelle, and James are performing their secret routine to Chloe. Chloe is visibly impressed with the dance, so Michelle tells her what the routine is for. Chloe is instantly angered and refuses to take part before leaving. The group is left worrying that she will tell Emily.
Trivia
Cultural references
The title reference is to the song by Beastie Boys.
Cast
Main
Featured music
"I'll get to you when I get to you!" - The missing information in this section of the article is to be added.
Featured dances
Quotes
Main article: Get It Together/Quotes
Aftershow
Main article: Get It Together/Aftershow
Gallery
"Look at that painting!"

To view the Get It Together gallery, click here.