Giselle has a series of relationships.
Relatives
Mel
Mel is Giselle's uncle. Giselle appears to be quite close to Mel, as she asks him to take part in a prank she and her friends pose against the boys of A-Troupe. Additionally, Giselle dances with Mel before he has to return to his duties as police officer.[1]
Neutral
Daniel
Daniel is initially Giselle's best friend who Giselle mentors when she is five years old. Giselle wishes to dance with Daniel on A-Troupe and feels as though she has failed him when she is demoted to B-Troupe.[2]
Giselle is ecstatic to return to A-Troupe, as it means that she can finally dance with Daniel. Giselle, wishing to make her mark on the troupe, is adamant about performing the helicopter lift with him, seeing as he is the one she trusts the most to execute the move properly with. Giselle is distraught when the lift ends in Daniel's injury and is there to console him.[3]
Giselle is hurt when Daniel leaves The Next Step Dance Studio without telling her[4] and even more hurt and confused when Daniel ignores her at Nationals. Although, Giselle immediately forgives Daniel when he apologizes to her about his behaviour and is immensely congratulatory of him when he is offered a shot at attending Juilliard.[5]
When Daniel returns to the studio, Giselle races toward him into an embrace because she is so happy to see him. She feels betrayed beyond reason to discover that he has become a member of Elite Dance Academy, even though she feels sorry for the failure that he has faced.[6] Giselle is forced to compete against Daniel and beats him with ease.[7] Subsequently, Giselle's relationship with Daniel becomes virtually non-existent, as she feels she cannot trust him.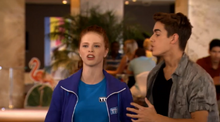 When Giselle is approached by Daniel at Internationals, Giselle refuses to even listen to him and effectively silences him by angrily yelling:
"
I'm never gonna trust you again, don't you get it? You wasted a flight here. Just go home, Daniel!
"
Click here to see more quotes.
Nonetheless, Giselle opens the e-mail that Daniel sends her, implying that she has not rejected Daniel entirely. She is pleasantly surprised when Daniel's e-mail effectively fires Lucien as judge for the finals and confesses that "Maybe there's hope for everybody." While this statement leads one to believe that Giselle is open to possibly resuming her relationship with Daniel in the future, she never interacts with him again.[8]
Friends
Amanda
Giselle befriends Amanda when she becomes a member of A-Troupe, even taking part in a trio with her and Thalia.[9] Giselle is upset to discover Amanda's betrayal of the team,[10] but resumes friendship with her when she has a change of heart.
Giselle auditions for a tour with Amanda and is saddened when she makes it onto the team and Amanda doesn't.[11] When Giselle visits Amanda before the tour starts, Giselle assures her that she loves her.[12] When a spot opens up on the tour and Amanda is chosen to fill it, Giselle personally tells Amanda about the news.[13]
Thalia
Giselle befriends Thalia when she becomes a member of A-Troupe. When James and Riley struggle with their duet, Giselle even decides to make a fake duet with Thalia to motivate them.[14]
Thalia becomes one of Giselle's best friends.
West
Giselle becomes close to West through a series of competitions.[15] Ever since, West has been one of Giselle's closest friends, attributed to their similar personalities.
Enemies
Shantel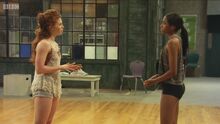 Giselle is willing to get to know Shantel when she becomes a member of A-Troupe as well as her partner for a duet. But, much to Giselle's chagrin, Shantel has no intention of being friendly with her. Giselle becomes frustrated with Shantel's superiority complex and her wish to have a perfect routine as opposed to getting to know her. Giselle performs the duet as a solo after Shantel refuses to perform the "messy" routine, but is still met with her needless critique. Giselle is astonished by Shantel's behaviour and confesses that, not only is she done with Shantel, but that she doesn't think Shantel will ever fit in at The Next Step Dance Studio.[16]
Despite Giselle's adamant dislike for Shantel, she still admires her ability to give instruction to the dancers in her group when Giselle goes to head to head with her for the position of dance captain. Giselle is unimpressed by Shantel's anger and subsequent quitting of the team when Giselle becomes dance captain, but unsurprised.[17]
Love interests
Theo
Giselle confesses that she has a crush on Theo while watching him perform at A-Troupe's party. Giselle is flattered when Theo asks to dance with her and happily accepts the offer.[18]
Nevertheless, nothing has become of Giselle's relationship with Theo. In fact, after the party, Giselle never speaks to Theo again.
References