Click here to see more quotes.

"Go West, Young Michelle" is the 2nd episode of Season 5 of The Next Step and the 136th episode. It aired on June 2, 2017.
Synopsis
"Michelle makes a surprising announcement that tears the studio in two, and as Emily puts her new A-Troupe to work, dancers struggle to adapt to her new strict philosophy."[1]
Plot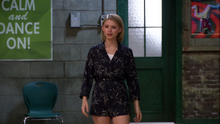 Michelle dances in Studio A, feeling at home. Michelle confesses that while she is on A-Troupe, it doesn't feel like the same studio anymore, and decides she needs to move on. As Michelle dances, Emily enters, loving Michelle's dancing but confused as to why she is not in Studio 1. When Michelle finishes, Emily compliments her but asks her why she is in Studio A, since it's for recreational dancers. Michelle tells Emily she is quitting A-Troupe and will be the studio head of TNS West in Studio A. Emily asserts that Kate would never allow this, but Kate enters to reveal that she has already agreed. Kate, believing competition to bring out the best in one another, makes Michelle head of TNS West and Emily head of TNS East. When Kate leaves, Emily assures Michelle she is way over her head, while Michelle warns Emily that she will have some serious competition ahead of her.
Amy knocks Emily's office door and asks if there is an open spot since Michelle's absence. Amy confesses that she needs to be on A-Troupe because her mother does not know she was cut. Emily tells Amy that she is correct, but that the spot has already been filled by Josh. Amy asks Emily why she would pick Josh since she is a stronger dancer, but Emily asks Amy if she was the one who practiced at 7:00, asked for technical help, and booked a private session with Daniel, since that is what Josh did. Emily tells Amy that she is a lovely dancer, but not nearly mature enough to go to Regionals. Amy leaves, not knowing how she will tell her mom that she was cut from A-Troupe.
Emily welcomes Josh to the other members of TNS East. Meanwhile, Michelle greets the members of B-Troupe and tells them she will be starting a competitive troupe. Back in Studio 1, Emily assures the dancers that they are the best. Amy asks Michelle what she has to offer that is better than B-Troupe, but Michelle tells the dancers that she is offering them an opportunity to dance competitively as some of the best dancers the studio has ever seen. Emily tells her dancers to remember that there are many other people vying for their spots and coming for them as a team. Michelle tells the B-Troupers that she wants them to take their shot at Regionals. Emily tells her dancers that they will take Regionals, Nationals, and Internationals. Michelle tells the B-Troupers that they have passion, creativity, and heart and should join TNS West. Michelle finally asks who wants to join her troupe. Ozzy is the first to join, followed by LaTroy, Henry, other unnamed dancers and, finally, Amy. Michelle confesses that they are currently three dancers short of a full team but that, when they do get all the dancers needed, they will take Emily's team down.
Under Daniel's guidance, the members of TNS East work on their first Regionals routine. Piper struggles with the acro in the choreography, since it is not her strong suit. Daniel stops Piper and asks her why her front walkover looks like a cartwheel, but Piper assures Daniel she is practicing her acro. Meanwhile, Amy enters Michelle's called meeting. Michelle announces West as TNS West's choreographer. While all of the members are excited, Amy can't help but think of Daniel's superior technique. Michelle notices Amy's expression and asks her what's wrong, to which Amy lies that she is just concerned about not having enough dancers. Michelle assures Amy that there are plenty of dancers to choose from at the studio. Just then, Richelle enters the studio and tells Michelle that Emily has warned her that if she steals another one of her dancers, she will regret it. Michelle is confused, although Richelle clarifies that her troupe appears to be full of former B-Troupers. Furthermore, Richelle reveals that any members of Michelle's troupe are blacklisted from Emily's. Michelle wonders where to get more dancers and Amy hopes choosing Michelle's troupe wasn't a mistake.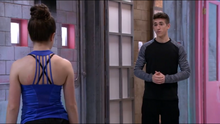 Piper continues to practice the acro choreography. Noah enters the studio and notices Piper struggling. When Noah inquires as to how Piper is doing, Piper admits that she cannot do a front walkover and will probably never be able to. Noah suggests that they just change the choreography in favour of Piper doing a double attitude for the same number of counts. Piper feels a bit more encouraged.
Noah tells his fellow dancers that he has changed the choreography, which Piper demonstrates, confusing Jacquie. As the dancers perform the new choreography, Daniel and Emily arrive and angrily inquire about the new dance. Piper admits that Noah changed the choreography because of her. Emily asks Daniel to make the choreography right and ushers Noah to her office, leaving Piper feeling guilty. In her office, Emily admonishes Noah since she doesn't believe making the choreography easier makes Piper a better dancer in the long run. Noah tries to explain that Piper was really struggling, but Emily tells him to stop; Emily tells Noah that she has faith in Piper, while he doesn't and only hindered her progress. Noah realizes that Emily is right and is dismissed. Emily confesses that while the dancers may see her as tough, she does everything for a thought out reason.
Seeing as Emily never let him audition, Ozzy performs his solo in Studio A. While Ozzy has studied all of the styles, he confesses his strongest one to be
hip-hop
. Ozzy confesses that he began dancing at four, as a friend was doing it as well. Eventually, all of his fellow dancers materialize and watch him dance. Ozzy is met with applause once he finishes. Afterward, West leads the dancers in some dancing. As they dance, a boy with dark skin and curly black hair enters on a hoverboard, confusing LaTroy. Soon enough, all of the dancers have stopped dancing, confused at the boy's arrival. Michelle asks West who the boy is and, surely enough, he is a dancer named
Kingston
who West brought in.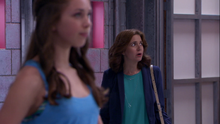 West introduces Kingston as a dancer he found online. Kingston lies that he has danced at some of the best studios, but in reality he learned everything he knows from the internet. Michelle orders Kingston off his hoverboard and asks him to dance for them. Kingston dances, impressing his peers, Michelle, and West. Eventually, everybody dances with Kingston. The troupe is left needing only two more dancers. As the free-styling continues, the members of TNS East practice at the
ballet
barre
. At the end of rehearsal, Daniel assures Piper that she is improving. As TNS East exits the studio, Amy sneaks in and subsequently positions herself at the barre. Just then, Amy's mom enters the studio, enamored by the space's beauty. Amy's mom asks Amy how her first day on A-Troupe was, to which Amy replies positively in a clipped manner. Amy confesses that she cannot find it within herself to tell her mom the truth. Amy tells her mom that she is hungry and tired, and that they should get going. Amy's mom tells Amy that the studio is where they belong as they exit, with Amy glancing back at the studio one last time.
Trivia
Continuity
The purple and black tank top Lola wears and the black shorts Piper wears are identical to those worn by Riley in Season 2.
West references never attending a dance studio before he joins The Next Step.
Cultural references
The title of the episode alludes to a song called "Go West, Young Man" by Michael W. Smith.
Cast
Main
Recurring
Featured music
Featured dances
Quotes
Main article: Go West, Young Michelle/Quotes
Aftershow
Main article: Go West, Young Michelle/Aftershow
Gallery
"Look at that painting!"

To view the Go West, Young Michelle gallery, click here.
References
↑ TV Listings Grid, TV Guide and TV Schedule, Where to Watch TV Shows - Screener. Zap2It (May 3, 2017). Retrieved on May 3, 2017.
Community content is available under
CC-BY-SA
unless otherwise noted.