"
As I'm watching these new dancers, I'm realizing no one's spot is safe on A-Troupe.
"

— Riley
Click here to see more quotes.

"Heads Will Roll" is the 3rd episode in Season 4 of The Next Step and the 97th episode overall. It aired on February 26, 2016.
Synopsis
In the second round of auditions, a guest choreographer challenges the auditioners with an unorthodox method of teaching.
Plot
Michelle tells Kate that she has to let Amanda audition for A-Troupe, as Amanda was auditioning for a professional dance tour which is why she missed A-Troupe auditions, angering Kate rather than appeasing her as she believes it to be a "distinct lack of commitment." Amanda rebukes by telling Kate that she was never committed to her, as she made her an alternate and sent her to Sweden. Regardless, Kate tells her that she can dance at the studio, just not in A-Troupe, meaning that she is destined for a year in B-Troupe. Amanda storms out, confessing that she thought there couldn't be anything worse than being an alternate, but that she was wrong.
Riley, Amanda, and Michelle sit in Java Junction, all shocked at Kate's verdict. Michelle apologizes to Amanda for telling Kate about the professional dance company and Amanda forgives her, then states that she thinks that she is cursed and that it is probably best for her not to be on A-Troupe. Amanda abruptly departs and Michelle expresses how badly she feels for Amanda; while Riley concurs, she tells Michelle that she needs to focus on her audition.
Kate greets the auditioners in Studio A and introduces her guest choreographer, Stephanie. The dancers cheer, after which Stephanie begins to teach the choreography, confessing that she has mixed emotions since she is leaving for Los Angeles after the auditions.
Stephanie begins teaching hip-hop choreography, which is really challenging. As the dancers are about to disperse, Stephanie decides for them to do improv exercises, in which she will order the dancers to do actions that they will have to act out. The process is extremely odd, causing Skylar to express her distaste to Cierra who tells her that because of their pact, she needs to comply. After the final group finishes the exercise, Stephanie confesses that they better bring it for the choreography round.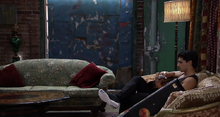 Noah is rehearsing in the Rehearsal Room with most of his fellow auditioners, when Henry enters and converses with Noah. Henry dubs Noah as a confident guy, and Noah commends Henry on his calmness. Henry assures Noah that while he is calm, Noah shouldn't fight being nervous if that is his thing. Suddenly, Noah and Henry hear a noise from behind the door, which leads to the Lounge. Followed by the rest of the dancers, the two enter the room and find Alfie playing the guitar. As Noah and Henry sit across from him, the rest of the dancers standing at the edges of the room, Alfie reveals that he plays his guitar before every big audition to calm himself. Alfie resumes playing his guitar, and sings as well. After his performance, Noah and Henry state their new-found calmness.
Amanda and Giselle meet in Java Junction and embrace. They sit together, and Amanda asks Giselle how the tour is; after some coercing, Giselle admits that it is great. Having heard about Amanda's predicament, Giselle tells Amanda to fight for A-Troupe. The two hug once more, and tell each other that they love one another. In Studio A, the first group, with Michelle and Henry, performs their choreography; Michelle states how much she wants to be in A-Troupe, and Henry confesses that he is still high on adrenaline from Stephanie's previous exercise. The next group, with Noah and Alfie, performs; both Noah and Alfie confess that they feel confident in their dancing. The third group, with Cierra and Skylar takes the floor; during the dance, Cierra begins to stumble, having forgotten the choreography because she was so focused on her sister, surprising Stephanie and Kate, and worrying Skylar. Cierra confesses that she has to make up for her blunder in the freestyle round.
But, come freestyle, and Cierra is the only dancer who stumbles. Kate tells the dancers that she will go deliberate, and the rest of the dancers celebrate, except for Skylar and Cierra. While Cierra is tearful at ruining the the opportunity to be on A-Troupe with her sister, Skylar is bitter, stating that her sister ruined her chance.
Riley and Michelle recuperate in the Lounge, and Stephanie tearfully enters, about to leave for the airport. The three hug, and Stephanie thanks the two for the best years of her life. She takes her suitcase and begins to depart, but stops and turns to wave goodbye to her friends; when Riley and Michelle wave back, Stephanie leaves for good. Michelle tells Riley that The Next Step is never going to be the same, to which Riley agrees, but also states that it excites her, as one chapter just closed and another one is about to open.
Trivia
Continuity
Noah covers his eyes during his solo, referencing his enhanced spacial awareness.
Errors
In the "Previously on The Next Step" segment of the episode, Riley says "Alfie is so charming. He's definitely gonna break some hearts if he makes the team", a statement that has never been made in previous episodes.
Cultural references
The title of the episode refers to a song by Yeah Yeah Yeahs of the same name.
Cast
Main
Recurring
Featured music
Transcript
Main article: Heads Will Roll/Transcript
Quotes
Main article: Heads Will Roll/Quotes
Aftershow
Main article: Heads Will Roll/Aftershow
Gallery
"Look at that painting!"

To view the Heads Will Roll gallery, click here.