This article is about the character. You may be looking for the episode. You can find the disambiguation page here.

Heather is a college student, and an acro and contemporary dancer formerly on A-Troupe.[1]
Initially, Heather is a top dancer at Dance Extreme, competing at both the qualifier[2] and as a featured dancer at Regionals.[3][4][5]
The cost of dance eventually becomes too much for her parents, so Heather is forced to quit dance.[6] While working at Neutral Grounds, Heather is asked to join TNS West,[6] which she is eventually able to do with the help of a scholarship fund.[7]
Biography
Before the show
Heather joined Dance Extreme.
Heather watches The Next Step Dance Studio win Internationals.[6]
As member of Dance Extreme, Heather performs in the winning trio at the qualifier for Regionals.[2] At Regionals, she performs in the freestyle solo round for her studio and initially loses. However, when Sloane is disqualified, Heather automatically becomes the new victor, taking her studio to the quartet round.[3] She also performs in the quartet round,[4] leading the team to the semi-finals, where the team loses against Gemini Dance Studio.[5]
After quitting dance because her parents are unable to afford it any longer, Heather applies for a job at Neutral Grounds[8] and gets it.[9] Despite both Piper and Michelle recognizing her, she still refuses to acknowledge her past dance life.[8][9]
Heather is put off by Ozzy's attempt at flirting, but becomes more understanding when Henry explains that Ozzy is trying to help him get over his ex-girlfriend. Thinking Henry needs a girl's perspective, Heather listens to Henry's predicament.[10]
Heather accompanies Henry to Studio A. When she is left alone in the studio, Heather does a flip, and confesses that even though she can no longer dance, she will always be a dancer.[10]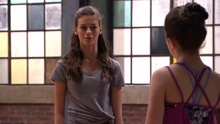 Heather is embarrassed when Piper and Amy see her dancing before her shift. She continuously refuses to tell Piper about her experiences with dance when she urges her to, but eventually agrees to dance in Studio A. Heather reveals to Piper that due to her big family, her parents were no longer able to pay for her dance and she had to quit.[6]
Heather is angry to learn about the dance-a-thon, since it means that everybody now knows about her monetary insecurities. Although, when Piper is no longer able to compete, Heather agrees to take her place. She ends up tying with Henry for first place and decides to join TNS West.[7][11]
Heather is left devastated about TNS West's loss in the dance battle and later joins the newly merged A-Troupe.[12]
Heather listens to Lola's concerns about an injured dancer. After wrongly deducing that Lola is the injured dancer, Heather reveals this to Michelle, despite it being untrue.[13]
Heather is elated when the team qualifies for Regionals.[14]
Heather has a hard time deciding whether or not to leave The Next Step for college. Upon the arrival of Miss Angela and the new dancers, she is criticised for slouching and shouted at by Angela for being moody. At the end of the day, Heather decides to leave The Next Step due to Miss Angela's changes, despite knowing that she will miss her friends.[1]
Personality
Heather is quite snarky and cynical. She is quick to mentally insult those she deems worthy of them, deeming her interviewer a "moron" for mispronouncing "pirouette" and claiming that Elliot's attitude "stinks."[11] However, she is able to hold herself back from voicing these sentiments aloud, as seen when she plays along with the interviewer.[8] Heather is also secretive, refusing to acknowledge that she used to dance to those who ask, even lying to cover up her past for a long period of time.
However, Heather is extremely empathetic. This is shown when she gives Amy a free drink because she looks sad, which is especially a testament of this virtue when considering that Heather has monetary struggles.[10][6] Heather is also a great listener, willingly listening to Henry's problems and providing advice.[10]
Physical appearance
Characteristics
Heather has light skin and blue eyes. Her hair is long, brown, and straight. Heather is tall and thin, with long legs. Heather wears braces.
Attire
Heather is usually seen in her Neutral Grounds uniform when not dancing, which consists of a grey t-shirt with the store logo and black leggings. When dancing, she wears an olive green or purple tank top with shorts. On occasion, she wears leggings.
Abilities
Dancing
Acro: Acro is one of Heather's dominant styles. Heather is a proficient acro dancer, for which she has been commended multiple times. Her proficiency in acro is part of the reason for Sloane's anxiety in facing her in the solo round at Absolute Dance Regionals.[3] Her lines after also been commended by Michelle.[7]
Contemporary: Contemporary is another of Heather's main styles of dance, which she is very proficient in.
Relationships
Main article: Heather/Relationships
Appearances
Dances
Quotes
Main article: Heather/Quotes
Gallery
"Look at that painting!"

To view the Heather gallery, click here.
References
Community content is available under
CC-BY-SA
unless otherwise noted.