"
Everything that has led up to this moment has been so amazing and unforgettable.
"
Click here to see more quotes.

"How It Ends" is the 30th episode in Season 3 of The Next Step and the 94th episode overall. It is the Season 3 finale. It aired on December 11, 2015.
Synopsis
The Next Step battles against Stockholm Dance Theatre in the final round of Internationals.
Plot
Kate orders Lucien to leave the stage immediately. He complies, but only so that he can look at his judge's table. In Talking Heads, Kate expresses her concern about Lucien being a judge, since it is the final day of Internationals, with the final round being against Stockholm Dansteatre. Kate tells the team to rehearse and leaves to speak to the Internationals board about disqualifying Lucien as a judge.
Riley is rehearsing the finals routine in the Orange Blossom Room when James enters. James mentions that he was looking for her everywhere and asks her if there is something wrong. She says in Talking Heads that she knows that James wants her to accept the fact that he is just going to focus on the band, but that she is afraid of things changing between them and tells James as much. James diverts from the topic at hand and tells Riley that he got her something, that something being natural spring mountain water, reminiscent of when the two were only preparing for Regionals. Riley remembers the moment and thinks about how things have changed since then, and James assures Riley that changes will happen, but that she cannot be mad at such a fact. Riley understands and confesses that she can't wait to see where she and James are when he brings her mountain water again.
Daniel, now in Miami, has been following Internationals online and after finding out that Lucien is a judge, wants to prevent him from negating The Next Step. After spotting Giselle, he rushes towards her and tries to apologize and explain himself, although Giselle screams at him, asserting that he wasted a plane ride as he ruined their friendship and she will never forgive him. She rushes away and Daniel looks on, hurt, but determined to help the team for her.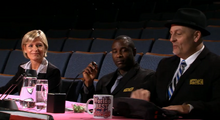 Lucien arrives at the judges' table where the two other judges are already sitting, bringing with him a mug bearing the slogan World's Best Judge, and helps himself to a bowl of mints on the table. Meanwhile, backstage, Kate is trying to persuade the Internationals official to get rid of Lucien, trying and failing to explain to her that Lucien attempted to take over her studio. Michelle and Giselle watch the argument and while doing so, Giselle receives an urgent e-mail from Daniel on her phone with a video attached to it. Giselle and Michelle show the video to Kate who elatedly passes it to the official, seeing it proves that Lucien is unfit to be a judge. The Internationals official watches the video and vows to show it to Sweden's coach. The coach watches the video, which shows Lucien explaining his plan of demolishing the studio to Tess and Daniel, and the coach is appalled by Lucien's behaviour, believing that Lucien should have been screened more carefully. The official vows to have him removed immediately, much to Kate's excitement. Giselle confesses that maybe there is hope for everyone. At the judges' table, Lucien is testing his microphone by saying "Zero" (the amount of points he plans to give The Next Step, naturally) when the Internationals official angrily approaches him and tells him about the video footage. Lucien pretends that he was framed but, due to the concrete evidence, he is pulled out of his seat by security guards and taken away.
The Next Step performs their finals routine to "Empire." The concept is that everyone on the team is a puppet, except for West who is the puppet master. Some members contemplate in Talking Heads about how far they've come, how prestigious Internationals is, and how what they are doing now was merely a childhood dream before. Kate says that it is nice to see them all dance together, because she knows that some members will not be coming back the following year. Ashley Leggat and Chuck Anderson are blown away by their performance and even Stockholm Dansteatre offers a polite round of applause.
Stockholm Dans Teater performs their routine to "Clouds Will Roll" in which the dancers are depicted as Nordic gods. Thalia is amazed by how ethereal they look, and her fellow dancers are especially intimidated because Sweden still has their five-point advantage. When they finish their routine, The Next Step takes to stage to await the judges' verdict. It is revealed that The Next Step has 97 points and Stockholm Dansteatre has 92 points but, due to their 5 point advantage, the teams have tied. This is a shocking moment, especially since this is the first time in Internationals history that a tie has occurred. To break the tie, both teams must perform a duet, meaning that whether or not The Next Step wins is all up to James and Riley.
Kyle and Madie from the Swedish team perform their duet. As they dance, Riley pulls James aside and tearfully tells James that this is their last dance together, since he'll be in the band the next year. James assures Riley that they just have to dance their best. Kyle and Maddie complete their duet to a standing ovation. Overwhelmed, Riley and James take the stage to perform their last dance. The concept of their dance is that there is a magnetic force between James and Riley and that, no matter what, will keep them together. Their fellow dancers reflect on how in love the two look as they dance, as well as how magical it is. Riley and James end their performance to a standing ovation, with Ashley Leggat speechless, as she has never seen two dancers have so much chemistry. Riley and James, and Maddie and Kyle wait on-stage for the results. After deliberation, The Next Step is deemed the champion for the first time ever. A series of other characters are seen reacting to the win: B-Troupe and Phoebe celebrate in Studio A; Chloe, standing in La Ballet de la Reine, looks happy; Hunter fist pumps the air as he watches in the hallway at school; Emily silently cheers as she sits on the couch at home; and Daniel smiles before leaving the back of the auditorium. Back on-stage, Riley and James kiss, and the rest of the dancers take the stage to celebrate with their new trophy. Aside, Eldon asks Riley what happens next, since the team has now won everything. Riley replies that, for the first time in her life, she doesn't know.
Trivia
Continuity
Cultural references
The title refers to a song of the same name by DeVotchKa.
Cast
Main
Recurring
Addyson Devan as a Swedish
Alex Servos as a Swedish dancer
Alyssa Trask as a Swedish dancer 
Andrew Dragert as a Swedish dancer
Jamie O'Leary as Tess (video footage only)
Karly Monaghan as a Swedish dancer 
Kyle Clarke as Kyle
Maddie Tainsh as Maddie
Madie Kuepfer as a Swedish dancer
Madison MacGregor as a Swedish dancer
Rachel Riley as Gabi
Sten Eirik as the Swedish coach 
Ty Forhan as a Swedish dancer 
Guest
Featured music
Featured dances
Quotes
Main article: How It Ends/Quotes
Aftershow
Main article: How It Ends/Aftershow
Gallery
"Look at that painting!"

To view the How It Ends gallery, click here.
Community content is available under
CC-BY-SA
unless otherwise noted.