"
I have the wow factor. I'm what people pay money to see.
"

— in "Ready to Start"
Click here to see more quotes.

Hunter is a breakdancer from Madison, Wisconsin, formerly on A-Troupe.
Hunter danced with Michelle at their studio before she moved away. Shortly afterward, Hunter's family is relocated and Hunter joins The Next Step Dance Studio intending to commence a relationship with Michelle.[1] He auditions for A-Troupe through The Challenge and makes it, remaining on the team until The Next Step's win at Nationals.
When A-Troupe and Elite Dance Academy face off with dance battles for a place on the Internationals team, Hunter is pitted against Eldon. Despite a strong performance, Hunter loses,[2] and he subsequently returns to Madison.
Biography
Before the show
Hunter was born in Madison, Wisconsin.
Hunter began attending a dance studio, where he developed requited romantic feelings for Michelle.[1] Hunter performed a duet with her before she moved away.[3]
Hunter arrives at The Next Step Dance Studio upon his father's early relocation, with the intention of starting a relationship with Michelle. When Hunter discovers that Michelle is dating Eldon, he hatches a plan with Emily to get her back,[1] which is officially set into motion after he makes it onto A-Troupe.[4]
Hunter challenges Eldon to a dance battle, after which the loser has to back off of Michelle, and wins.[5]
When a video of Hunter's dance battle with Eldon surfaces, Hunter obtains Eldon's Nationals solo via a close vote, which creates further tension between him and the other boys.[6]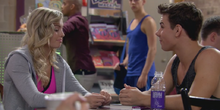 With Eldon and Michelle having broken up,[7] Hunter asks Michelle out on a date, which she accepts. He is unimpressed when all she can talk about on the date is Eldon and comes to realize that he actually likes Emily, not Michelle.[8] Hunter later acts on these newly discovered feelings by kissing Emily.[8]
Hunter immediately tells Michelle that he wants to be with Emily when he discovers that she saw him kiss her, but assures her that he will be there for her as a friend.[9] He is left guilty when Michelle leaves the studio, feeling as though he is partially responsible for her departure.[10] Nonetheless, Hunter initiates a relationship with Emily which he believes to be going smoothly. He is heartbroken when Emily breaks up with him seemingly out of nowhere.[11]
Hunter works to become friends with Eldon and the other boys. West is the first that Hunter is welcomed by, after Hunter shows him how to execute the head slide. Hunter bakes a chocolate cake for Eldon, which he gets shoved into his face, and promises to take part in a dance battle against Eldon for the Nationals solo. After Hunter loses, thus giving Eldon back the solo, he becomes his friend.[12] Hunter earns James' friendship after successfully getting Beth off of his back.[12] Upon these new friendships, Hunter becomes a part of a Nationals small group with the boys,[13] a round that he helps them win at the competition.[14]
Hunter is forced to face Eldon in the dance battle for a spot on the Internationals team.[2] Although he is confident, Eldon beats him.[2] No longer a part of A-Troupe, Hunter says goodbye to the studio and his friends[15] and returns to Madison, Wisconsin.[16]
Hunter is happy for his former team when they win Internationals.[17]
Personality
Hunter is a very determined and confident person, shown in his pursuit of Michelle. Although, this pursuit also exemplifies an inability to take rejection and a tendency to believe he is obligated to certain things, in this case, Michelle's love. Mixed with this is a sense of selfishness, as Hunter never once considers Michelle or Eldon's feelings while carrying out his agenda.
Nonetheless, Hunter is a humourous individual who is ultimately remorseful for his actions, as seen in the way he tries to and succeeds in gaining the boys' friendships.[12][11] He is extremely helpful, as seen through his assisting Emily in her attempt to get Eldon back and in assisting James with more than one item on his list.[11][18]
Physical appearance
Characteristics
Hunter has fair skin, dark brown eyes and dark brown hair, which is in a static short style so it is perfectly shaped for properly executing head slides. He has been described as cute by both Emily[1] and Becca[6], although James begs to differ, deeming him "hideous".[6]
Attire
Hunter's dance wear consists of a t-shirt or muscle tee in light blue, grey, black, or purple, paired with sweatpants.
Outside of the studio, Hunter's attire remains casual, consisting of jeans and loose tops.
Abilities
Dancing
Breakdance: Hunter's main style is breakdance. His signature move, the head slide, is a breakdance move.
Hip-hop: Hunter is proficient at hip-hop.
Acro: Hunter is proficient at acro, although it is not his strongest style when compared to his male peers.
Other
Hockey: If Hunter was not a dancer, he would be a hockey player, implying that he is proficient at the sport.
Relationships
Main article: Hunter/Relationships
Appearances
Trivia
Cite error: <ref> tags exist, but no <references/> tag was found
Community content is available under
CC-BY-SA
unless otherwise noted.