Click here to see more quotes.

"I'm Your Captain" is the 8th episode in Season 3 of The Next Step and the 72nd overall. It was first aired on March 24, 2015.
Synopsis
The Next Step needs to declare a Dance Captain as Internationals approach.
Plot
Michelle is waiting in Kate's office. When Kate arrives, Michelle denounces her captaincy, believing that she cannot be there for the team as a Dance Captain, considering all of the things that are taking place in her personal life.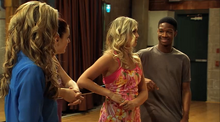 Kate approaches A-Troupe with a letter from the Internationals board. The letter reads that they must declare a Dance Captain. The team believes this is easy, as Michelle is their captain, but Michelle reveals the truth. Kate, therefore, makes the executive decision of choosing Giselle as the new Dance Captain. However, Shantel expresses her want to be Dance Captain as well. Kate decides that both Giselle and Shantel will choreograph trios, and the winning dance will determine the new Dance Captain. Shantel must choreograph a contemporary piece, with Noah, Thalia, and West and Giselle must choreograph a hip-hop piece with Max, Eldon, and Chloe. Shantel's group stays in Studio A, while Giselle and her group go to the Music Room.
James goes to his Uncle Enzo's warehouse because he needs to find a suit for his Aunt Kathy's wedding, but is uncertain if he will find a suit that he likes. Back at the studio, Giselle is working with Max, Eldon and Chloe. When they begin thinking of ideas for their dance, Giselle finds it hard to speak over them, as they are essentially choreographing the dance themselves. She begins to lose confidence in herself and exits the room.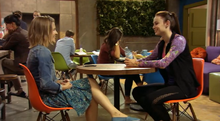 At Uncle Enzo's, James is trying on various suits. Unfortunately, the suits are even worse that he expected. So, in desperation, he texts Riley "S.N.S." Meanwhile at Hidalgo's, Riley receives the text from James. She is confused, because she is familiar to using the term "S.N.S." with solely Emily as it means "Sister Needs Sister." Nonetheless, she assumes that it's urgent and leaves to meet him.
Giselle walks into Studio A to see how Shantel's dance is going. She is surprised to see that it is going well, as she expected it to be going poorly. She believes that Shantel will make the better Dance Captain, considering that her group members are actually taking directions from her. That is, until she bumps into Michelle in the hall. Giselle tells Michelle about how nobody in her group is listening to her ideas. Michelle gives Giselle a few pieces of helpful advice, leaving Giselle newly motivated and appreciative. She goes back to her group, now knowing that she can be a good Dance Captain.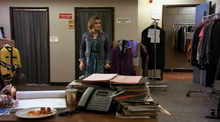 Riley enters the suit warehouse and finds James. He reveals that when he texted her saying "S.N.S.", he meant "Seriously Need Suit" and not "Sister Needs Sister". Riley tells Enzo that she can help James find a nice suit. Meanwhile, when Giselle enters the room where Max, Chloe and Eldon are fooling around, she immediately starts to direct them. She has a well thought out plan and the others appreciate her for it. At Enzo's shop, Riley helps James find the perfect suit and they are both happy. Then, Uncle Enzo tells Riley that she needs to find a dress. She is uncertain at first, but when she finds one, she is content.
The competition is about to commence. First, Shantel's group dances. Michelle notices that Shantel's group is doing well, but they are lacking something: creativity; she realizes that Shantel's dance is too safe. However, when Giselle's group goes, Michelle thinks that it is amazing because the participates are taking risks. Once they finish competing, Kate tells Michelle to choose the new Dance Captain. Michelle chooses Giselle because she sees that Giselle includes everyone's ideas, and would be a better Dance Captain for Internationals. However, Shantel gets offended because she thinks Michelle chose Giselle over her because Giselle is her friend. Shantel leaves angrily and quits The Next Step.
Riley, while walking home with James, receives a text that reveals that there is a vacancy in A-Troupe. She shows James who seems strangely nonchalant about the topic. In Talking Heads, James says that: "This is not good."
Trivia
Cultural references
The title refers to a song of the same name by Grand Funk Railroad.
Cast
Main
Recurring
Absent
Featured music
Featured dances
Quotes
Main article: I'm Your Captain/Quotes
Aftershow
Main article: I'm Your Captain/Aftershow
Gallery
"Look at that painting!"

To view the I'm Your Captain gallery, click here.