Click here to see more quotes.

"It Takes Two" is the 7th episode of Season 2 of The Next Step and the 37th overall. It aired on March 28, 2014.
Synopsis
Solos and duets competitors are chosen for Nationals, where each round is an elimination.
Plot
James tells Riley a "legendary" story about his uncle Manny falling off his motorcycle after popping a wheelie, and his aunt Carla hopping on the motorcycle as it continued to run. Riley doesn't believe the story and ends up being confused; however, Kate (who has already heard the story) thinks it's hilarious. Kate approaches A-Troupe with the rules about Nationals, since they are far different from Regionals. As opposed to all group dances, there are six rounds: male soloist, small group (with three to six dancers), duets, female soloist, and then two group performances (with ten dancers each). It is an elimination competition, meaning that if the team loses one round, the team is cut. Kate then tells them she'd like to focus on solos and duets first. Chloe suggests that Michelle and Eldon perform the duet, and although Michelle and the rest of A-Troupe is thrilled at the idea, Eldon is not.
Eldon is alone in Culture Shock lamenting over his situation. James enters and is told that Eldon lost the dance battle, shocking him. James tells Eldon that he just isn't good at dating, as every time he does it he loses confidence. Eldon agrees and decides to focus on Nationals, not girls. Michelle enters then (and James leaves) and asks Eldon why he doesn't want to do the duet with her. Eldon tells her that he has to focus on his own dancing, and then leaves the bar.
In Studio A, Kate asks the dancers what they want to audition for. Eldon voices his want to audition for male soloist, upsetting Michelle further. West is about to voice his interest too, but James tells him to back off to boost Eldon's confidence. Daniel steps forward and although James protests - which he misinterprets James' protest as a lack of support, he asks to audition. To Kate's dismay, nobody wishes to audition for female soloist. Hunter asks Michelle to do the duet with him and she hesitantly accepts. Kate pulls Michelle into her office.
Giselle and Chloe enter Culture Shock and Chloe discovers that Margie is there. Margie tells Chloe to audition for the solo and to be more confident. Chloe decides to follow her advice.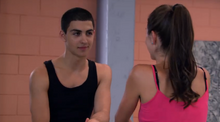 In Studio B, James tells Beth the previous story about his aunt and uncle. James is happy albeit surprised, when Beth finds it funny and voices how legendary it is, as Riley didn't agree at all. In her office, Kate inquires about Michelle not wishing to do the solo, despite being Miss Nationals Soloist the before. After some convincing, Michelle decides to do it. Chloe comes in just then and tells Kate she'd like to audition as well. Later, it is revealed that the duos auditioning will be: Giselle and Amanda, Thalia and West, and James and Riley. Despite Michelle having wanted to do the duet with Hunter before, she suddenly bails, upsetting him. Emily decides to do the duet with Hunter instead, which Michelle finds odd.
Duet auditions commence. As West and Thalia perform, West does not land a flip properly and wonders if it'll cost them. The other duets go smoothly. After duet auditions, solo auditions commence. Afterwards, Kate and Phoebe leave to confer. James leaves then, as he has to rehearse with Beth. Riley confesses that she isn't too crazy about them rehearsing together, as she has mixed feelings about Beth, but that she still trusts James.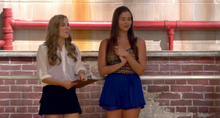 Kate and Phoebe announce the winners for the solos and the duet. The male solo is given to Eldon (angering Daniel), the female solo is given to Michelle, and the duet is given to James and Riley. Excited to tell James about them doing the duet, Riley runs over to the Music Room. As she approaches the studio, James and Beth are dancing their routine. During the dance, a move causes Beth to get close to James and Beth kisses James just as Riley enters. She is left in tears and runs away, questioning her relationship with James.
Trivia
Cultural references
The title refers to a song of the same name by Rob Base and DJ Ez Rock.
Cast
Main
Recurring
Featured music
"I'll get to you when I get to you!" - The missing information in this section of the article is to be added.
Featured dances
Quotes
Main article: It Takes Two/Quotes
Aftershow
Main article: It Takes Two/Aftershow
Gallery
"Look at that painting!"

To view the It Takes Two gallery, click here.