"
Riley: ... there's one more thing I need you to do.
James: What's that?
Riley: Get Michelle back.
"
Click here to see more quotes.
"Just Dance" is the 25th episode in Season 2 of The Next Step, and the 55th episode overall. It aired on November 7, 2014.
Synopsis
The real Amanda is exposed. Meanwhile, James tries to persuade a dancer to return to the studio.
Plot
The episode begins where the previous left off, Riley being told by Emily that their plan backfired and that she is suspended from the studio. Riley vows to get some insight from Chloe, although Emily doubts it'll change anything. Riley meets with Chloe is Culture Shock, and Chloe admits that she finds the predicament very suspicious. Just then, Amanda and Stephanie enter and proceed to buy juice. When Stephanie asks Amanda why there is a kid's drawing on on her money, Amanda merely dismisses the inquiry. Chloe recalls that Margie drew on the money before it was stolen. They go and ask the cashier for the $5 bill (giving change for it, of course), as Chloe thinks she can prove Amanda is lying.
Amanda enters Studio A where the rest of A-Troupe (minus James) is waiting. Upon seeing Emily, Amanda asks why she is there, and Chloe and Riley relay the story they told Kate about Amanda stealing the money. Amanda finally admits that she is still Dance Captain at Elite and that the only reason she is there is to make sure that they do not get to Nationals; she has seemed to have prevailed as, after her departure, they only have nine dancers. Emily admits to the troupe that she knew about Amanda this entire time and that she was merely acting mean because she didn't have proof to tell the truth about her. The team apologizes to Emily and they make up.
The dancers are saddened, as they realize that they cannot go to Nationals. James, blissfully unaware of the predicament, happily enters with his certificate from the first aid course because he is now done with the list; Riley reveals what has happened. Having gone to all that trouble, not to mention having put up with Mr. Abernathy possibly for nothing, James crumples his first aid certificate into a ball, and throws it; it hits Giselle on the back of her shoulder, and she throws it back at James, which he claims could have resulted in a contusion.
At the mall, Amanda meets with Lucien and Tess and tells them what has happened. Meanwhile, Emily talks to Riley about how upset she feels that she had to: isolate herself from the others dancers, break up with Hunter, and almost get herself and Chloe kicked out, but that Amanda still came out on top. Riley tells her to be positive because she has a knight in shining armour who can help them.
Kate is on the phone with the Nationals board. She tells A-Troupe that someone called the Nationals board and told them that they are down to nine dancers, meaning that if they don't get another dancer soon, they will have to forfeit. Riley adds a new item on her now completed list, that James must get Michelle to come back to A-Troupe.
James interrupts Michelle's art class only to be sent away by the teacher, so he tells her to meet him at lunch.
In Culture Shock, Emily is reading a book when she sees West putting dollar bills in books. She asks him what he is doing and he tells her that everybody needs a bit of magic, and although it may not be much, when people purchase the book and find the money it brightens their day. Emily admits that she has never seen this side of him.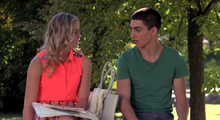 James and Michelle are eating pizza together, and James pretends that he needs to return a horrible pair of pants his mum bought him, so Michelle agrees to go to the mall with him.
At the mall, Michelle notices that James doesn't have the pants in question; when she asks, James says he is wearing them, a comment which leaves Michelle puzzled. They continue walking and suddenly Michelle finds herself greeted with a flash mob of dancers. There are dancers everywhere Michelle turns, and finally the dancers from The Next Step, along with Kate, appear and start dancing. James asks Michelle if she will come back to A-Troupe and Michelle tells them she will. Everyone cheers as the dancers from The Next Step welcome Michelle back, while Riley kisses James for completing the final — and most important — item on her list. They are now officially together.
Trivia
Errors
Behind the Scenes
Many dancers in the flash mob have appeared on the show on other occasions. These include:
Cultural References
The title refers to a song of the same name by Lady Gaga.
Cast
 Main
Recurring
B-Troupe
J-Troupe
Flash Mob
Adam Lopapa as a flash mob dancer
Akira Uchida as a flash mob dancer
Alexandra Crenian as a flash mob dancer
Alyssa Trask as a flash mob dancer
Antonella Martinelli as a National Ballet dancer
Apolonia Velasquez as a flash mob dancer
Brett van Sickle as a National Ballet dancer
Briana Andrade-Gomes as a flash mob dancer
Corey Gorewicz as a flash mob dancer
Dani Jazzar as a flash mob dancer
Gabriella Sundar Singh as a flash mob dancer 
Jane Johanson as a flash mob dancer
J.J. Moore as a flash mob dancer
Jordan Setacci as a flash mob dancer
Leon Blackwood as a flash mob dancer
Macie Yott as Lily
Marc Cardarelli as a flash mob dancer
Melinda Smythe as Morgan
Melissa Mitro as a flash mob dancer
Michel Issa Rubio as a flash mob dancer
Miles Faber as a flash mob dancer
Ofilio Portillo as a flash mob dancer
Omar Forrest as a flash mob dancer
Roshan Amendra as a flash mob dancer
Sal Figliomeni as a flash mob dancer
Shale Wagman as an unnamed dancer
Stephen Findlay as a flash mob dancer
Vanessa Cobham as a flash mob dancer
Other
Absent
Featured music
Featured dances
Quotes
Main article: Just Dance/Quotes
Aftershow
Main article: Just Dance/Aftershow
Gallery
"Look at that painting!"

To view the Just Dance gallery, click here.
References
↑ Make a Plan to Love Me. Wikia. Retrieved on May 29, 2020.
Community content is available under
CC-BY-SA
unless otherwise noted.