"It's a tree, just like this one."
"Mmm—that's broccoli."

This image or image(s) on this article need to be replaced or added. The image in the infobox needs to be replaced with an image of Kate from "A-Troupe Escape".
Click here to see more quotes.

Kate is the former owner and studio head of The Next Step Dance Studio. She is currently a dance competition judge.
Kate took over The Next Step when her mother, Cathy, retired. During her time as studio head, she sees The Next Step win Regionals (for the second and third time), Nationals and Internationals for the first time.
After Internationals, Kate temporarily leaves to judge a dance competition in the United Kingdom, naming Riley as studio head in her absence.
After The Next Step's loss at the following Regionals, Kate renovates the studio and appoints Emily as the new studio head. She later makes Michelle Emily's co-head, but fires them both after they fail to acknowledge an injured dancer.
Kate hires Angela on probation, but is convinced not to raise her to co-owner status when she realises that the dancers dislike her. By this time, Kate cannot afford to run the studio anymore, and sells it to a stranger.
When her mother owned the studio, Kate was a member of A-Troupe, and was briefly dance captain.
Biography
Before the show
Kate started dancing when she was three.[3] Kate was a dancer in A-Troupe at The Next Step Dance Studio while her mom was the owner. She was also once dance captain until she injured herself and lost the position.[4] She performed in the small group round at the 7th annual Absolute Dance Nationals competition, but lost the round, sending her team home.[5]
Kate received a business administrative degree.[3] Later, Kate became owner of The Next Step after her mother retired from the position.[2]
Kate is sure that A-Troupe will win Regionals. She is shocked to discover that her dancers are unhappy at the studio because of Emily, and learns that a secret Regionals routine was created behind Emily's back.[6] She asks to see the routine, after which a vote for whether the dance captain will be Emily or Michelle will take place.[6] Kate sympathizes with Emily when she is demoted, since she also once lost her dance captaincy.[4] Kate is irate when she discovers that Stephanie and Emily left the studio for Elite Dance Academy without telling her,[7] and even more so when Stephanie has the audacity to ask to rejoin the troupe.[8] After some deliberation with the team, Kate allows Michelle to let Stephanie rejoin.[8]
Kate feels immensely guilty when Chloe tells her that she can no longer be on A-Troupe due to financial issues, since she had been so hard on her before.[9] When A-Troupe pulls a few strings and Chloe is able to return, Kate is assured of the team's togetherness.[9]
Kate is ecstatic to see her team perform at Regionals, especially when they beat her rival, Lucien's team and win the entire competition for the first time in years.[10]
Kate is saddened when Chris informs her that he will be leaving the studio to become co-owner of Superstar Dance Academy.[11] After she bids him farewell, Kate enlists her sister, Phoebe, as the new head choreographer.[12] In lieu of Chloe's past financial problems, Kate grants her a job as a teacher of Baby Ballet classes, and entrusts her with taking care of the studio's money.[13]
Kate allows Amanda to audition for the studio upon Michelle's request, and grows to like her.[12] In fact, when Emily's disposition begins to mirror the one that she harbored the previous year, Kate takes away Emily's captaincy and grants it to Amanda.[14] Kate calls out Chloe when the money goes missing, and also suspends Emily, believing that she was actually behind the theft.[15] She feels guilty when she discovers that Amanda was behind everything.[16]
At Nationals, Kate is met with Lucien and his team against all odds.[17] When Emily injures her knee in the semi-final round Kate is devastated,[18] and contacts a physiotherapist for assistance.[19] When Kate discovers that Emily's injury will prevent her from dancing in the finals, Kate tells the team that they have to forfeit.[19] As she is about to tell Sandra this, Amanda arrives[19] and announces that she will be taking Emily's spot.[20] Kate initially wishes for a team vote as to whether or not Amanda should dance, but after assurance from Emily, Kate permits Amanda to dance in the finals.[20] She is over-the-moon when the team wins Nationals for the first time.[20] Fresh off the win, Kate returns to the studio with Chloe and Giselle, only to find an eviction notice on the door.[20] With a week left in the studio, Kate begins to back up the items in the studio with Riley, James, and West.[20] As Kate is packing up, Lucien enters her office, and proposes that Elite and The Next Step merge for Internationals, appalling Kate.[20]
Kate is infuriated when she she finds out that Lucien is the one who bought the building.[21] Realizing that there is no time to find another studio, she eventually agrees to Lucien's terms.[22] After a lengthy series of dance battles with only a minimal amount of losses, Kate wins her side of the bargain and is able to keep the studio.[23]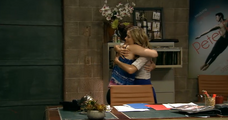 Kate is sad but congratulatory when Chloe tells her that she will be leaving the studio to attend La Ballet de la Reine.[24] Kate chooses Amanda to go on the exchange program to Sweden when Ella arrives.[25] When Amanda suggests that West goes on the trip instead of her, Kate tells Amanda that she needs the strongest dancers at the studio, which is why she is an alternate.[25]
Kate is furious when Riley and Ella break the Nationals trophy, [26] although, she finds the prank that Riley and Ella pull on A-Troupe in which they must learn how to square dance to be funny.[27]
Kate picks Thalia, Eldon, Michelle, Stephanie, and Cierra to perform the five-person dance at Internationals.[28] When the group does not construct an International-level routine because of Michelle's tardiness, she grants the position to Riley, James, Giselle, Max, and West instead.[28] Fed up with Michelle, Kate makes her the second alternate for Internationals.[28]
When Kate tries to register the studio at the Internationals venue with Giselle, she becomes anxious after discovering that James did not sign his form, which could result in the team's disqualification.[29] It seems as though all hope is lost, until James hurriedly enters the venue right before closing and is able to sign the form.[29]
She is angered when Lucien becomes an Internationals judge,[30] but is elated when video evidence of his bias against the studio is discovered, causing him to be fired.[30] She is even happier when The Next Step wins Internationals for the first time.[31]
Kate reveals that Phoebe has left the studio to be with the turtles and tortoises in the Galapagos Islands.[32] She is heartbroken when she has to say goodbye to West and Eldon, although she knows that they are doing what is best for them.[32][33]
Kate refuses to let Amanda join A-Troupe after she misses her audition for an audition for a professional dance company, despite rebuke from both Amanda and Michelle.[34]
Due to the Next Step's success at Internationals, Kate is offered a job as a judge in a dance competition in the United Kingdom. Consequently, she grants Riley the position of studio head.[35]
After returning to The Next Step Dance Studio, Kate decides to expand it by building a new studio in the pre-existing studio's east wing.[36] Off-screen, Kate elects Emily as studio head.
Kate agrees to Michelle and Emily heading TNS West and TNS East respectively, believing competition to bring out the best in people.[37]
Kate discovers that only one team from the studio can compete at Regionals and holds a dance battle between the teams.[38] With Riley and James' help, Kate deems TNS East the victor.[39] Although, Kate is astounded by the fighting she later witnesses between the teams and, thinking that the dancers have forgotten their love for dance, disallows the studio from competing at Regionals at all.[40] Although, she reverts her judgment after seeing the teams work together as a newly unified A-Troupe.[41]
Kate is appalled at Richelle's hospitalization and chastises Emily and Michelle for letting an injured dancer perform in the qualifier video. Not wanting studio heads who do not put the safety of their dancers above all else, Kate decides that she needs to make a lot of changes to how the studio is run.[42]
Kate fires Emily and Michelle, and subsequently closes The Next Step for three weeks, promising the dancers "big changes".[43]
"I'll get to you when I get to you!" - The missing information in this section of the article is to be added.
"I'll get to you when I get to you!" - The missing information in this section of the article is to be added.
Kate returns to The Next Step to attend the 30th anniversary Christmas party. She is overjoyed to see all the A-Troupe alumni return.[44]
Personality
Kate is very well-respected by the members of the studio, with most referring to her as "Miss Kate." If any member of The Next Step is experiencing problems and needs to confide in Kate, her office door is always open to them. Although she deeply cares about the success of the studio and the dancers in it, she can be impulsive and quick to judge without hearing all sides of a present scenario. She favours the impartiality of voting and dance battles, as those are typically how she makes decisions among the members of the studio. Despite this, it can be seen that Kate has favourite dancers whom she treats in a preferential manner, and equally, dancers who are not her favourites whom she sometimes treats with disdain.[25]
Physical appearance
Characteristics
Kate has a light complexion and light eyes. Unlike her older sister, Phoebe, Kate is quite short and has blonde hair.
Attire
Kate usually wears a blouse and a mini-skirt, but occasionally wears pants and a blazer.
Relationships
Main article: Kate/Relationships
Appearances
Trivia
Quotes
Main article: Kate/Quotes
Gallery
"Look at that painting!"

To view the Kate gallery, click here.
References
Community content is available under
CC-BY-SA
unless otherwise noted.