"
I wanna say something it's just... I think I might be hypnotized.
"

— Riley
Click here to see more quotes.
"Knowing Me, Knowing You" is the 12th episode in Season 4 of The Next Step and the 106th episode overall. It aired on April 29, 2016.
Synopsis
"Amanda tries to figure out Noah's true feelings for her. LaTroy and Sloane get into a fight after he receives an invitation he can't refuse."[1]
Plot
A-Troupe is waiting in Studio A for Riley to tell them of her big announcement. Riley enters the room and explains that they will be doing anonymous peer reviews to discover their strengths and weaknesses in preparation for the upcoming small group qualifier. Riley hands everyone an envelope with the name of a fellow dancer in each. Richelle confesses that she is excited for the peer-reviews as, since she has no weaknesses, it will be a good confidence-booster. Riley tells everyone to write their reviews and return them to her so that she can reveal the feedback.
As Riley is eating candy in her office, Richelle enters to hear her peer review. Riley tells Richelle that she completely agrees with the review, but confesses that she is not looking forward to telling her what it says because Richelle can get passionate when she's upset. Riley reads the review, which states that "Richelle is a technically skilled dancer and an asset to the team, but sometimes she can be a challenge to work with. In my experience, Richelle has difficulty taking criticism." Richelle is furious, as predicted, but tries to cover it up by only commenting on the complimentary part of the review and disputing the latter. Eventually, Richelle leaves the room, silently fuming, and Riley confesses that it went a lot better than she expected. Noah is holding a bottle of juice in Java Junction, which he hands to Amanda when she enters. Amanda confesses that she wonders how Noah feels about her due to him using their feelings for each other as a cover-up for his injury. Noah asks Amanda out on their first official "pre-date" to ensure that their real date is the most magical perfect thing ever. Noah asks Amanda what her favorite food his and she replies with sushi, but Noah tells her that they'll have pizza instead so that on their real date the sushi will be that much better.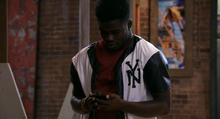 In the Rehearsal Room, Sloane is helping LaTroy come up with his solo for the upcoming qualifier audition after which LaTroy will assist her. Suddenly, LaTroy receives a text from his dad who he confesses he does not see much. He does not tell Sloane who the text is from because Sloane does not like his dad. Instead, he claims that girls are texting him. Sloane asks if they can work on her solo and LaTroy concurs, but leaves to get juice first.
In Riley's office, Riley is hypnotized by Henry's finger-tutting. After snapping out of her daze, Riley finally tells him of out his review which states that Henry is "inscrutable" or, rather, hard to read. Henry continues to tut and spews a confusing analogy about the presented review.
LaTroy is purchasing juice when he gets another text from his dad which states that he wants to meet for lunch in an hour. Too excited to see his dad to return to Sloane, LaTroy gives Skylar the juice that he ordered.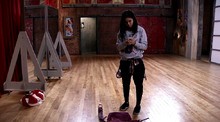 Sloane is still warming up in the Rehearsal Room when Skylar enters the room to give her the juice. Sloane is confused that LaTroy hasn't returned, then gets a text from him revealing that he's not coming back. Angry, she packs up for belongings and storms out the room, confessing that she can't believe he's doing this to her.
Amanda and Noah are on their pre-date. Amanda confesses that she wants to throw Noah off his game. Seeing as, in theory, a series of not real things could have happened in their relationship so far, Amanda begins talking about what transpired when Noah "pre-met" her parents. She tells him that it didn't go well, as he never complimented her mother's pierogis, causing her cat, Snuffy, to bite him. Noah is frazzled and asks for advice on what to do when he actually meets her parents, causing Amanda to tell him to just make sure he compliments the pierogies for goodness sake. Amanda confesses that while she wants to believe that Noah is being sincere, he just doesn't know.
LaTroy is waiting for his dad in Java Junction, who still hasn't shown up. Sloane enters and asks if he bailed on her for some girl. Not wanting Sloane to know the real reason he bailed, LaTroy concurs. Sloane angrily leaves, but confesses that she knows who this is really about.
Riley is bidding online in an attempt to avoid the peer reviews when, ironically, Cassie enters her office for her peer review. Riley confesses that Cassie's card probably says that she always says exactly what's on her mind and that she has no filter. Riley finds Cassie's card and tells her that she has two criticisms: that she is too tall—which Cassie admits that she gets a lot—and that she tends to be a bit blunt. Cassie agrees wholeheartedly, even when Riley comments that sometimes her comments hurt other people's feelings. Eventually, the conversation is somehow brought to Riley and Cassie confesses that not only did Riley lose the qualifier, but that she is always sleeping in her office, always bidding online, and that she eats way too much candy and... Riley eventually tells Cassie that she can leave and confesses that she doesn't understand how peer reviews, an idea that she got from the never-wrong internet, could not be working.
On their pre-date, Noah begins asking Amanda a series of pre-written questions. Now that they are talking seriously, Amanda interrupts him and asks him why he made her lie for him and goes on to say that she feels as though he is taking advantage of her feelings for him. Noah feels awful and confesses that taking advantage of her is the last thing that he'd ever want to do. Noah takes Amanda's hand, apologizes to her for hurting her, and tells her that he meant everything he said to her before. Amanda tells him that she was questioning how he feels about her and Noah assures her that he has never felt the way that he feels for her for anybody else, that she is the most amazing girl he has ever met, and that he never wants her to doubt his feelings for her. Amanda confesses that while Noah is saying everything she wants to hear, that he has a habit of saying things to get himself out of trouble, therefore leaving her still unsure of if he is being genuine.
LaTroy's dad still hasn't shown up or texted him. Sloane re-enters Java Junction, knowing that LaTroy has been waiting for his dad. She sits across from him and comforts him after which LaTroy apologizes for lying to her. LaTroy tells her that he doesn't want her to be ashamed of him and Sloane assures him that she would never be ashamed of him. LaTroy apologizes once more and Sloane tells him it is okay and places a hand on his cheek. LaTroy confesses that he doesn't know what he did to deserve a best friend like Sloane and doesn't know what he would do without her.
Noah and Amanda enter Riley's office after having been beckoned by her through text. Riley tells the two that he called them into her office because they got each other for their peer reviews and didn't offer each other any genuine criticism. Riley reads Noah's review of Amanda which reads, "My main criticism of Amanda is that she is too beautiful. And she steals... my heart." Amanda believes the message to undeniably sweet and, since the review was written in the morning before she confronted him, is reassured of his feelings for her. According to Amanda's review of Noah, it is too easy to get lost in his eyes. Jokingly, Noah assures Amanda that he'll get sunglasses with UVA, UVB, and UVC protection. Riley is driven insane and tells the two that they cannot leave her office unless they give each other genuine criticism. Riley starts with Amanda who claims that Noah works on his music so much that... he is just so amazing and that she doesn't know how he does it. Noah jokes that her comment stings (but immediately assures Amanda that it doesn't) and Amanda confesses that Noah is such a sweetie. Riley orders the two to get out of her office.
Sloane enters the Rehearsal Room as LaTroy is rehearsing a new solo. Sloane loves the solo and compliments LaTroy on it when he finishes. LaTroy reveals that he made it for her for the upcoming audition in order to make it up to her. LaTroy begins to teach Sloane the routine.
Riley enters her office to find an anonymous peer review on her desk that reads, "Your dedication to the team is unparalleled. My only criticism is that you are too hard on yourself. Mistakes are our best teachers. Don't be afraid about making them." Just then, Alfie enters Riley's office to ask if she needs anything, although she assures him that she has everything that she needs. Alfie turns to leave but before turning the corner, looks at Riley one last time. Riley confesses that being a leader isn't easy but that she is learning and getting better. She also confesses that a little encouragement can go a long way.
Trivia
Continuity
Cultural References
The title of the episode refers to a song by ABBA of the same name.
Errors
Production Errors
The colour of Amanda's top changes throughout her pre-date with Noah; her shirt is purple at the beginning, but later turns pink.
Cast
Main
Absent
Featured music
Transcript
Main article: Knowing Me, Knowing You/Transcript
Quotes
Main article: Knowing Me, Knowing You/Quotes
Aftershow
Main article: Knowing Me, Knowing You/Aftershow
Gallery
"Look at that painting!"

To view the Knowing Me, Knowing You gallery, click here.
References
↑ The Next Step Season 4 Episode 12 - Knowing Me, Knowing You - Zap2it TV Listings. Zap2it. Retrieved on March 19, 2016.
Community content is available under
CC-BY-SA
unless otherwise noted.