"
I hope these guys can pull it together, otherwise we're going home...
"
Click here to see more quotes.

"Livin' on a Prayer" is the 39th episode in Season 4 of The Next Step and the 133rd episode. It aired on May 5, 2017.
Synopsis
"The team compete in the duet round of Regionals. However, with Sloane disqualified and Michelle injured, the Next Step doesn't have enough dancers to dance in the final—if they make it there."[1]
Plot
Alfie is dancing in his private studio in Bern. He confesses that part of him keeps hoping that Riley will walk through the doors. Instead, James arrives, telling him that they need to talk.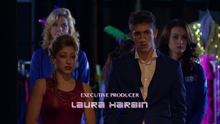 Day three of Regionals commences with SNR Network's coverage. The duet round has begun, with The Next Step Dance Studio's competitors, Sean Boutilier Academy of Dance, taking the stage. As Richelle and Noah watch the performance from the wings, Richelle finds herself uncharacteristically nervous to compete. Noah suggests that she pretend as though she is dancing her bedroom when she performs, which she appreciates. Once the dancers from Sean Boutilier Academy of Dance finish their duet, Richelle and Noah take the stage and perform their duet. They win the round, taking the team to the semi-finals. Meanwhile, James speaks to Alfie. James tells Alfie is a great guy, it is he who is the love of Riley's life and vice versa and that he has to accept it.
The small group round is commencing. Upon Amanda's inquiry, Riley tells Amanda that James is not answering any of her texts or calls. Still deciding whether to go on the tour or not, Amanda asks Riley if she ever misses dancing competitively, which she admits she doesn't. Amanda retreats to the lobby, where Noah finds her. Noah comforts Amanda during her bout of panic before leaving to rehearse the small group. Noah's support only makes her eventual decision harder to make.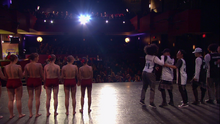 Gemini performs their semi-finals routine, which Tanisha commends for its choreography and use of a basketball. She deems the team unmatched in the competition and predicts that they will win the whole thing. Riley tells Amanda how she cannot believe she pulled the team out of the second qualifier for fear of losing Alfie to Gemini, when he is not even there when they need him. Gemini wins against Rhythm Plus, moving to the finals. Meanwhile, James tries to convince Alfie to return after revealing the team's ineligibility for the finals, but Alfie angrily refuses. Before admitting defeat, James assures Alfie that he has friends in the members of The Next Step and that, without friends, his life is meaningless.
The Next Step's competitors, Dance Extreme, perform their semi-finals routine. Amanda confesses that, watching them perform such a beautiful routine, Amanda realizes what she needs to do. Amanda leaves, confusing Riley. Amanda finds Giselle in the lobby and tells her that she isn't going on the tour because she needs to be there for the team. Amanda returns to the wings just as Dance Extreme completes their routine. Henry, Noah, Piper, Skylar, and LaTroy (in replacement of Sloane) take the stage.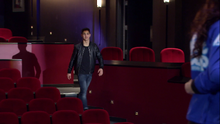 The routine commences. While LaTroy confesses that he is nervous since he just learned the routine the day before, seeing Sloane in the crowd reassures him. As Amanda watches Noah's section of the routine, she realizes that she is ready to tell Noah how she feels. Tanisha is impressed by the dancers' use of canons. The Next Step wins the round and moves on to the finals. After the win, Amanda pulls Noah back-stage and reveals that she will be staying. Amanda finally tells Noah that she loves him more than anything, which results in a kiss. Riley speaks to the team on-stage after the day's competition. With only nine dancers, Riley says that they can forfeit and go home now or dance in the finals despite it meaning that they will lose anyway. Amanda assures Riley that all nine of them will dance, which the team concurs with. James arrives then with Alfie, who has decided to return after all. Amanda confesses that now that they can actually win, staying was the best decision she could have made.
Trivia
Continuity
Cultural references
The title refers to a song of the same name by Bon Jovi.
Cast
Main
Recurring
Absent
Featured music
Transcript
Main article: Livin' on a Prayer/Transcript
Quotes
Main article: Livin' on a Prayer/Quotes
Aftershow
Main article: Livin' on a Prayer/Aftershow
Gallery
"Look at that painting!"

To view the Livin' on a Prayer gallery, click here.
References
↑ Watch The Next Step Season 4 Episode 39: Livin' on a Prayer | TVGuide.com. TVGuide. Retrieved on May 5, 2017.
Community content is available under
CC-BY-SA
unless otherwise noted.