Click here to see more quotes.

"London Calling" is the 6th episode in Season 4 of The Next Step and the 100th episode overall. It aired on March 18, 2016.
Synopsis
Sloane turns to the Zero Percent Club for support. Amanda tries to decipher her feelings for Noah.
Plot
West
is sitting in
Java Junction
with a closed black box before him.
James
joins him and asks him what's up, causing West to explain that he is nervous as to what is in the box and
confess
that he got the box in the mail with no return address. West expresses his fear that the box could contain
Schrödinger's cat
in accordance with quantum theory, although James does not understand. James opens the box despite West's objections and finds a USB key which James proposes that they plug into a computer.
Amanda enters the Rehearsal Room get some practice time, but finds Noah already there with music equipment. Amanda inquires as to what he is doing and Noah explains that he usually plays music at home but had to "vamoose" because his mom had a book club meeting. Amanda asks Noah who the other members of his band are, but Noah admits that he is a solo act. Amanda finds this to be cool, pleasantly surprising Noah as nobody has ever said that what he does is cool. Noah then asks Amanda if she needs the space and since she does, they compromise by dividing the room with an invisible line with one side being Amanda's and the other, Noah's. Amanda confesses that she knew Noah was great at dancing, but not that he was such a talented musician.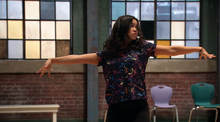 Sloane is dancing in Studio A to clear her head since she is still in disbelief about being kicked off of her trio. She confesses that it was her worst fear come true; she wasn't good enough and everyone saw it. When she finishes dancing, she confesses that when she usually dances everything goes away, but that such isn't the case this time. Meanwhile, Amanda is rehearsing when she find herself dancing to Noah's music. Noah stops singing and tells Amanda that she crossed the line, resulting in her immediate apology. Suddenly, Noah says that he could use a female singer like her, as she is an amazing singer to which Amanda disagrees. Noah urges her to sing and tells her that all she has to do is say "Yeah" after he says "Wooh". After Amanda demonstrates the word, Noah convinces her to say it as he records the song. Eventually Amanda gets into the song, and confesses that she is having a good time. As the song continues and Noah proceeds to play a multitude of instruments during the process of recording the song, Amanda realizes that Noah is a rock star. After the song is recorded, Amanda tells Noah that it was amazing and hugs him, confusing Noah. When Noah asks her why she hugged him, Amanda runs away, not knowing why she hugged him either. Simultaneously, Riley is on her laptop in her office when West and James rush in, claiming that they need to use the computer. They eventually plug in the USB key, resulting in an unusual video featuring a a man in a mask from the Bangers & Mashups International Hip-Hop Extravaganza. West is invited to the competition held in England, sited as the most elite hip-hop competition in the world. In order to compete, West must create a team with two other dancers. A button appears on the screen which, if clicked, means that they have agreed to attend. Wishing to go, West clicks the screen frantically until Riley points out that it is not a touchscreen — causing James to finally click the button with the mouse. Riley reminds the boys that they need to find one more dancer and both boys immediately think of Eldon. James rushes out to tell the band and West rushes the other way to try and find Eldon.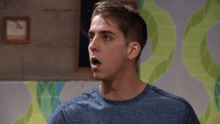 Eldon is being interviewed by the manager of Java Junction for a job at the store. He tells her of how much heartache he felt after Thalia's departure and that he wants to get a job so that he can move on. As the manager begins asking him questions, West interrupts and tells Eldon that he needs to speak to him. Eldon tells him that he is in the middle of an interview, resulting in West telling the manager all the reasons as to why she shouldn't hire him. West says in Talking Heads that Eldon was once fired for eating on the job, to which Eldon says he was eating free samples and West subsequently reveals it was at a pet store. Eldon pulls West aside and tells him that he ruined his future, but West says that he has a better future for Eldon in London with himself and James. West exits the room and Eldon follows him after telling the manager to keep his resume on file.
The Zero Percent Club is in Studio A as Sloane called a meeting. Cassie is talking about shopping, when Amy interrupts, asking if Sloane is okay as she isn't talking even though she called the meeting. Sloane reveals that getting kicked off of the trio is bothering her and Piper advises her to speak to Michelle because she has been in a similar situation.
Noah is waiting for Theo in Java Junction, since he is the individual who is finishing off his song. Suddenly, Theo races into the store and orders Noah to call him Big Dipper, while he will call him Constantinople, confusing Noah. Theo then orders Noah, who he suddenly dubs as Amazon, to move to the seat to his left. Theo moves to the seat to his right and tells Noah to reach under the table for the track. Once Noah retrieves the song, he thanks Theo who shushes him, tells Noah to close his eyes and count to eight, sneaks up behind Noah, tells him to enjoy the song, and leaves. Meanwhile, James, West, and Eldon are in Studio A. James orders Eldon to do 30 pirouettes to which Eldon declines, although James persists by telling him that while he was doing them for Thalia before, he is doing them for himself now to see if he is ready for London. Eldon ends up doing 31 pirouettes, causing him to realize that he is ready to go to London.
James, West, and Eldon rush into Riley's office once more to submit their names for the hip-hop competition on her computer. After they have done so, the Masked Man reappears on the monitor and says that the message will self-destruct, causing West to hurl himself over Riley's desk and lay on the ground. Of course, neither the laptop or the USB self-destruct, but instead a digitized explosion occurs on the screen. Meanwhile, Sloane enters the Rehearsal Room, where Michelle is and talks to her about her situation. Michelle tells Sloane that she may feeling worthless or like she doesn't belong on A-Troupe, sentiments that Sloane does harbour. Michelle then tells Sloane that she cannot hear the positive unless she first wants to accept the negative and goes on to say that Sloane will be faced with disappointment in the future, but needs to persevere. Sloane realizes that she doesn't want to give up.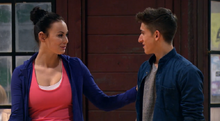 Noah pulls Amanda into Studio A. Noah confesses that she wants Amanda to see how incredible her voice is and therefore asked James, West, and Eldon to choreograph a dance to their song. As Amanda watches the routine, she tells Noah that their song sounds amazing and Noah tells her that he is glad she likes it. Amanda confesses that nobody has ever done anything like that for her before. Amanda confesses that she can't stop thinking about why Noah would go to so much trouble for her and then realizes that she has feelings for Noah.
Trivia
Continuity
Cultural References
The title of the episode refers to a song by The Clash of the same name.
Errors
When West and James are counting Eldon's pirouettes, they count the first 7 faster than Eldon's spinning, and actually counted one extra. Therefore, Eldon only hit 30 pirouettes, not 31.
Cast
Main
Recurring
Absent
Featured music
Transcript
Main article: London Calling/Transcript
Quotes
Main article: London Calling/Quotes
Aftershow
Main article: London Calling/Aftershow
Gallery
"Look at that painting!"

To view the London Calling gallery, click here.