Click here to see more quotes.

Lucien is the former studio owner and head choreographer of Elite Dance Academy.
Once the head of The Next Step Dance Studio's arch-rival, Lucien is increasingly involved in dastardly schemes to enact the downfall of The Next Step.
Biography
Before the show
Lucien somehow knew Kate's mother and subsequently, Kate.[2]
He somehow gained ownership of Elite Dance Academy as well and has been to Absolute Dance Regionals at least thrice and Absolute Dance Nationals at least thrice with his team.[3]
Allegedly, two years before Season 3, he went bankrupt.[4]
Lucien, the owner and head choreographer of Elite, lets Michelle audition for his studio. He later calls Kate to brag that Michelle is leaving The Next Step Dance Studio for Elite (although this is untrue, unbeknownst to him).[5]
He later lets Emily audition, with the sole plan of kicking her out right before Regionals in an attempt to foil The Next Step's chances of going to Regionals.
He discredits Kate, her mother, and her studio at Regionals during an interview with Lisa Thompson.[6] He is infuriated when Elite loses and The Next Step wins the competition.[7] As a result of his team's loss, he concocts a plan...
Lucien "kicks Amanda out of Elite,"[8] later revealed to actually be a hoax; the scenario was a part of a plan to get Michelle to feel sorry for Amanda and let her into the studio so that Amanda could prevent the studio from getting to Nationals.[9]
He manages to get Elite into a Regionals competition in another region and the team wins, meaning that they will be at Nationals.[10]
He and Amanda later converse in the mall about the course of their plan, and Amanda reveals that it is going extremely well.[11] He welcomes Amanda back when the plan seems to be working.[12]
At Nationals, Lucien enlists Tess to make sure that Michelle doesn't get back to the venue in time for her solo so that Amanda is guaranteed to win. The plan seems to work at first, as Michelle has still not returned immediately after Amanda performs, but it ultimately backfires; Michelle returns in time for her solo and wins, meaning that Elite is eliminated.[13] Despite the loss, Lucien, Tess (and Amanda) stick around to see The Next Step perform and hopefully lose due to Emily having been injured in the finals. When Lucien sees Amanda dancing with The Next Step in the place of Emily, he is infuriated.[14] It can only be imagined what rage he feels when The Next Step also ends up winning.
Lucien secretly buys The Next Step with the intention of building a new faction of Elite. He proposes to Kate that since he has a studio, The Next Step and Elite merge for Absolute Dance Internationals.[14]
Lucien finally reveals that he is the new owner of the building to Kate and Phoebe after giving them a week of extension in the building. Later, Lucien sees Daniel in the park and presents him with an opportunity to dance with Elite.[4]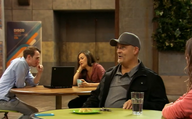 As time runs out, he urges the Phoebe and Kate to agree to his terms and they finally do. His terms are: twelve dancers' names from both Elite and The Next Step will be put in a hat (one of Lucien's, naturally) with two names being picked at a time. Those two dancers must then go head to head with the winner earning a spot on the Internationals team, meaning that two members from the same studio may be candidates to compete against one another. He adds that if seven or more The Next Step dancers win, Phoebe and Kate can keep the studio. Although, if Elite gets seven or more dancers on the Internationals team, he gets ownership of the building.[15]
When James's name is picked during the battles, Lucien, Daniel, and Tess commence their plan: Lucien declares that he is going to be ordering pizza, snagging everybody's attention. Meanwhile, Daniel and Tess switch the hat to an identical one with all of the names being Riley's. After the plan concludes, James subsequently picks Riley's name which Lucien believes will tear the team apart.[16] Despite James being knocked off of the team, The Next Step quickly rebounds and ultimately gets seven dancers. Angry, Lucien leaves but confesses that it will not be the last that Kate sees of him.[17] Nonetheless, Lucien shuts down Elite.[18]
Lucien somehow manages to become a judge for the final round of Internationals, meaning that he will be judging The Next Step.[19] Although, after a video of him making plans to destroy The Next Step surfaces, Lucien is fired and taken away by security guards.[20]
Personality
Lucien is a malicious and selfish sadist who has actually asserted to enjoy scheming, as he believes that it relieves his stress.[15] He will stop at nothing to get what he wants, often going to drastic and implausible measures merely to inflict chaos upon others, particularly The Next Step Dance Studio, and garner success for himself. Despite his attachment to his studio, he will even discard the rights of his own dancers if it means that he will come out triumphant.
He is extremely conceited (even bringing a mug bearing the slogan World's Best Judge to the judges' table at Internationals[21]), and often brags about the success that he does gain, particularly to Kate. He lacks all forms of proper manners, shown in how he barges into areas without invitation and does not offer any form of proper salutation.
Physical appearance
Lucien is quite broad and is revealed, later, to be bald.[14] His baldness is often hidden by a baseball cap (he also wears a flat cap at Regionals) or, on some occasions, a porkpie or trilby hat.
Appearances
Trivia
Quotes
Main article: Lucien/Quotes
Gallery
"Look at that painting!"

To view the Lucien gallery, click here.
References
Community content is available under
CC-BY-SA
unless otherwise noted.