"
I'm coming here hoping for a fresh start somewhere new.
"

— Lola
Click here to see more quotes.

"New Girl Lola" is the 12th episode of The Off Season: Season 1.
Synopsis
"Piper, LaTroy and Amy meet Lola in Studio A."[1]
Plot
LaTroy
, allegedly being the master of the style, is teaching
Amy
and
Piper
pop and lock and animation moves in
Studio A
, to prepare for upcoming
A-Troupe
auditions. As the session continues, a
girl
enters Studio A and peers in 
Kate
's
office
. Amy notices this and offers the girl some help, to which she asks where the 
studio head
is. Piper informs the girl that she just left. The girl, Lola, 
confesses
that she is planning to switch studios and was hoping to see
Kate
, so that she could make a good first impression. As Lola turns to leave, Piper asks if she is a dancer, to which Lola replies that she is and is currently a member of
Encore Dance Studios
.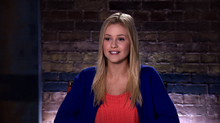 Amy is aware that the studio is very competitive and asks Lola why she is leaving there, to which Lola asserts that it is good but she is looking for something more challenging for the upcoming dance season. Lola confesses that Encore is challenging enough, and that she is actually leaving because she doesn't have any friends there and wants a fresh start. Amy invites Lola to join in on the pop and lock session. Despite her thankfulness, Lola declines the offer, saying that she needs to rehearse for auditions. Lola confesses that she thinks
The Next Step
could be a good place for her.
Trivia
Cast
Main
Featured music
Transcript
Main article: New Girl Lola/Transcript
Quotes
Main article: New Girl Lola/Quotes
Gallery
"Look at that painting!"

To view the New Girl Lola gallery, click here.
References
↑ Family App - Family - Episode Details. FamilyGo (May 12, 2017). Retrieved on June 17, 2017.