"Only You"
is the 27th episode in
Season 4
of
The Next Step
and the 121st episode overall. It aired on November 25, 2016.
Synopsis
"Sloane helps Jude from Lost & Found with his music video. Emily and Riley choose a Dance Captain. Noah struggles with being reassigned the Qualifier duet."[1]
Plot
Michelle rehearses her Regionals solo to "Mountains," under Riley and Emily's watch. Michelle confesses that she feels great and is dancing at her old level. Riley confesses that since her break-up with James, she is not thinking of James or Alfie but, instead, of the qualifier. Riley admits her newfound confidence to Emily about Regionals, and Emily says that, with Noah taking Piper's spot in the qualifier duet, everything is checked off. Emily deems Michelle's solo to be great, but admits that it will prove futile if they do not qualify to Regionals. Emily suggests that Riley choose a dance captain for future predicaments. When Michelle finishes her routine, Emily and Riley approach her with the offer, but she refuses so that she can focus on her dancing. Riley is left wondering who to choose.
Alfie waits for Noah in Studio A so that they can begin rehearsal. When Noah returns, he begins provides the odd idea of a velociraptor fighting a lemur as the concept for their duet, confusing and concerning Alfie. In Java Junction, Riley thanks Skylar, Richelle, and Amy for volunteering to be dance captain. Richelle asserts that they should have a dance off to determine who will be dance captain, as Richelle confesses that the victor will be obvious. Although, Emily assures the candidates a good dancer a dance captain does not make; a good dance captain needs to be knowledgeable about her teammates, caring, compassionate, and, above all, competitive. Amy, now acting silly due to her nerves, deems these traits as "K Triple C." In the Rehearsal Room, Sloane listens to Jude's verse on "The Music Made Me Do It," since he asked her to star in his music video for the song. Sloane ultimately assures Jude that the track actually is "tight." The first task in the bid for dance captaincy is a question round; Riley will ask a question and if Skylar knows the answer she rings a bell, if Richelle knows the answer she will squeezes a ball, and if Amy knows the answer she will light up a light bulb, much to her childish excitement. Each question is worth two points, and the first person to reach 10 points wins. Riley asks a series of questions: name the strongest hip-hop dancer (LaTroy, although Richelle begs to differ in her favour), name the dancer with the shortest temper (Richelle), name the dancer with the highest kick (Amanda), name the two dancers with the most complementary dance styles (Richelle and Noah), and name the dancer who is most likely to be late to rehearsal (Sloane and Noah). Skylar easily answers each of the questions correctly. Back in Studio A, Alfie shows Noah the final parts of the duet's choreography. For a reason unknown to him, Noah feels as though something is holding him back from dancing and flees from the room.
Emily stands on a platform at the front of Java Junction and tells Skylar, Amy, and Richelle that they have to speak to the crowd, as a good dance captain should be able to rally her troupes. Amy presents first, although her uninspired speech is read entirely from a paper. Emily confesses that Amy will never be the dance captain. Richelle presents next, although her speech proves to be authoritarian and even scares Riley. Finally, Skylar presents an uplifting speech about her unwavering belief in dance and in the team, which pleasantly surprises her peers. Meanwhile, Noah walks in on Amanda Van Damming in the Lounge, which pleasantly surprises him. Noah and Amanda both realize that they do Van Dammes at the Jewish Community Centre and Noah vows to join Amanda's class since the Goldbergs are going south for the winter. The conversation soon evolves into a serious analysis of why Noah can't bring himself to dance. Amanda realizes that Noah's mind and body just aren't in sync and that the best way to overcome his hesitance is to simply dance.
Sloane and Jude produce their music video for "The Music Made Me Do It." Sloane's stellar choreography proves to make the music video a success. Sloane is excited to show it to LaTroy. Noah finally re-enters Studio A, unaware that Alfie has invited Riley and Emily to watch them rehearse. Despite his initial confidence, Noah eventually admits that he cannot do the duet.
Emily, Riley, and Noah discuss Noah's situation in Riley's office. Surprisingly, Emily understands why Noah is unable to the duet, due the knee injury she had that ended her dance career. Noah vows to focus on his Regionals dances but admits that he will have to ease into practicing, which Emily fully understands. Later, Emily approaches Skylar with one last test; Emily lies to Skylar that Richelle has been picked as dance captain. Although she is disappointing, Skylar assures Emily that if she believes that to be best for the team, then it is fine by her. Realizing that Skylar is meant for the title, Emily tells Skylar the truth and provides Skylar with the dance captain diary.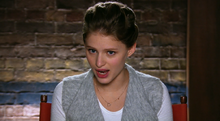 LaTroy watches the music video which Sloane sent to him. LaTroy loves the video and is sure that it will be a large success. Although, watching the video makes LaTroy miss dancing. Meanwhile, Emily and Riley announce Skylar as the dance captain to the members of A-Troupe. Skylar tells the team that she is sure they will win Regionals after the qualify. Henry asks about the qualifier duet, although Emily assures him that it is a work in progress. Emily confesses that the team is running out of time.
Trivia
Cultural References
The title refers to a song of the same name by The Platters.
Cast
Main
Recurring
Absent
Featured music
Transcript
Main article: Only You/Transcript
Quotes
Main article: Only You/Quotes
Aftershow
Main article: Only You/Aftershow
Gallery
"Look at that painting!"

To view the Only You gallery, click here.
References
↑ The Next Step Season 4 Episode 27 - Only You - Zap2It TV Listings. Zap2It (November 15, 2016). Retrieved on November 15, 2016.
Community content is available under
CC-BY-SA
unless otherwise noted.