Click here to see more quotes.

Phoebe is Kate's older sister. She is the former choreographer at The Next Step. She currently resides in Ecuador, in the Galapagos Islands.[2]
Biography
Before the show
Phoebe danced at The Next Step Dance Studio when her mother was the owner. Phoebe competed at the 7th Annual Absolute Dance Nationals competition for which she was in fifth place.[3] At one point in her dance career, she got cut from her studio after The Challenge.[4]
According to Kate, she used to be very competitive until she got lost and wandered into a yoga class.[5]
Before the events of the second season, Phoebe worked to help save dolphins.[4]
Phoebe becomes the head choreographer of A-Troupe, after Chris leaves. She is introduced to the team while performing a yoga routine and assures the dancers that she will come to love them, although not as much as she loves dolphins.[4]
Phoebe choreographs a difficult routine for the second round of The Challenge that effectively weeds out a few of the dancers.[6]
Phoebe brings in her friend, Winston, to perform for Camille, Giselle, Noah, James, Becca, and Chloe in the hopes that they will see that dance can be fun as opposed to always serious. She proposes that they do the 24 Hour Challenge in which three of them create a song to which the other three will dance to.[7]
At Nationals, Phoebe is disappointed to discover that adults can not do the scavenger hunt in order to be able to go to Shawn Desman's concert.[8] She is devastated when Emily injures her knee[9] and even attempts to energetically straighten out her ligaments to no avail.[10] When Amanda turns up to replace Emily in the finals, Phoebe accompanies Sandra to see if the circumstance is allowed.[11]
Phoebe hopes that the owner of the building is a kind soul, and is shocked to discover that it is Lucien. After calling every vicinity in the city, Phoebe helps Kate realize that they must take part in the dance battles against Elite Dance Academy.[12]
When Cierra suggests that the new A-Troupe members take part in duets to bond, Phoebe loves the idea.[13] She is immensely disappointed when Shantel and Giselle's duet doesn't go well, especially since all the other ones went smoothly.[13]
Phoebe is inspired by Max and Richelle's win at a small duet competition and decides to have members of A-Troupe do duets with B-Troupe members; she pairs Cierra and Jake, Richelle and Noah, and Stephanie and Beth together. When Richelle tries to convince her to give her a new partner, Phoebe refuses, knowing that she and Noah have chemistry.[14]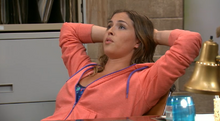 While A-Troupe is in Miami for Absolute Dance Internationals, Phoebe receives a call from Kate about the team having trouble registering since James didn't sign his form. Phoebe feels guilty, believing that the reason this scenario has arisen is because she hadn't cleansed the team nor the space before they departed. Phoebe vows to fix the situation and asks Richelle and Skylar to perform a duet in order to cleanse the studio.[15]
Phoebe leaves The Next Step for the Galapagos Islands to swim with the turtles and walk with the tortoises.[2]
Phoebe straps WiFi solar panels onto the backs of tortoises, making way for a 4th generation wireless system.[1]
Phoebe receives a call from Noah about the negative vibes in the studio, which she immediately taps into. Phoebe tells Noah to discuss inspirational dance stories, but warns that bad vibes and good stories often do not mix. Phoebe also warns Noah not to mention the qualifier and to dispose of all electronic devices.[1]
Personality
Phoebe is a very eccentric and odd woman who values peace, equality, respect, and free love. She is shown to be one with nature, as when Kate called her, she was swimming with dolphins.[4] She is shown to do very odd dance moves at times, and has non-conventional methods of teaching.
She gives good advice, which she often does for Kate. She can also read people well, as she can tell that Emily is hurting after her break-up with Eldon.[4] Despite her peaceful nature, she is terrible at keeping secrets and is also seen to be able to put her foot down when she needs to.
Physical appearance
Characteristics
Phoebe has light skin and is tall. Unlike her younger sister, Kate, she is a brunette; her hair is long and wavy.
Attire
Phoebe's clothing is very Bohemian and often incorporates designs that reflect nature, such as leaves and floral designs. Her clothing is also very vibrant.
While speaking to Noah on the phone from Ecuador during "Rivalry", Phoebe wears a traditional safari outfit complete with hat.
Relationships
Main article: Phoebe/Relationships
Appearances
Trivia
Phoebe loves dolphins.
Phoebe's Plan B is to move to Tennessee and become a horse whisperer.[12]
Quotes
Main article: Phoebe/Quotes
Gallery
"Look at that painting!"

To view the Phoebe gallery, click here.
References
↑ 2.0 2.1 "One More Time." Wikia. Retrieved on February 15, 2016.
↑ The Next Step Souvenir Book. Wikia. Retrieved on March 6, 2017.
↑ The Next Step - Behind the Scenes: The Final Cut. Youtube (April 2, 2014). Retrieved on December 29, 2015.
↑ "Ready to Start." Wikia. Retrieved on November 28, 2015.
↑ "The Truth Comes Out." Wikia. Retrieved on April 24, 2016.
↑ "You Love Me." Wikia. Retrieved on July 10, 2016.
↑ "Danger Zone." Wikia. Retrieved on April 24, 2016.
↑ 12.0 12.1 "Coming Home?" Wikia. Retrieved on August 26, 2015.
↑ 13.0 13.1 "Your New Beginning." Wikia. Retrieved on September 27, 2015.
↑ "Today I'm Getting Over You." Wikia. Retrieved on October 22, 2015.
↑ "Lost at Sea." Wikia. Retrieved on April 23, 2016.
Community content is available under
CC-BY-SA
unless otherwise noted.