Piper is a contemporary dancer on A-Troupe.[2]
Piper auditions for A-Troupe upon James leaving the studio, hoping that she can finally dance away from her brother's shadow. Despite James's assertion that A-Troupe is too vicious for her, Piper makes it onto the team.[3][4]
Although, James proves to be right as Piper struggles with Michelle's competitive tactics and eventually witness Riley cheating on James.[5][6] Piper is able to eventually move on, forgive, and forget.
Piper auditions for A-Troupe, and makes it, but struggles with the difficult and acro-oriented choreography.[7][8] When Amy is pulled out of the studio, Piper succeeds in getting Amy onto TNS East, but at the cost of her own spot on the team . Therefore, Piper joins TNS West.[9] Her initiative in suggesting a dance-a-thon causes her to be given the title of dance captain,[10] which she eventually loses to Noah.[11]
Biography
Before the show
Piper dreamed of attending The Next Step Dance Studio, but never did because she feared that she would dance in her older brother James's shadow.[3]
Piper arrives at The Next Step's open house and approaches James, wondering where auditions for A-Troupe will be held.[12] She is pulled aside by James and advised not to audition as, according to him, the competition is cutthroat and he won't be there to look out for her.[3] Despite James's rebuke, Piper still decides to audition.[4]
When Piper makes the team, she is excited, although incredibly nervous. Realizing that her fellow newbies Sloane, Cassie, and Amy are just as nervous as herself, she creates the Zero Percent Club in the hopes of getting their nerves to plummet to 0%.[4]
When Piper realizes that Sloane is wary about auditioning for the Regionals trio qualifier with her and Noah due to a lack of technique, Piper motivates her.[13] She is ecstatic when their group is picked to be the trio qualifier, even though it means that Richelle will be dancing in place of Sloane.[13] She is incredibly excited to dance at the qualifier, causing her to be all the more heartbroken when Noah's faltering results in them not qualifying.[14]
Piper is determined to be in the small group in the next qualifier. When she is pitted against Michelle for the final spot in the group, she is shocked at Michelle's antagonistic ways, so shocked in fact, that she completely messes up her solo and misses her chance at competing. After hearing Michelle's explanation though, Piper realizes that Michelle did what she did because the teams at Regionals will be even worse.[5]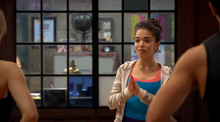 With Noah's status up in the air, Piper is eager to re-audition for the qualifier duet with Alfie. She is angry and confused when Riley takes the opportunity from her so that she can dance in the duet, believing it to mean that Riley has no faith in the team. She is happy when auditions for the duet are re-instated.[15]
While rehearsing the duet with Alfie, Piper is shocked when Michelle pulls Alfie aside and orders him to be her duet partner. Piper confronts her and refuses to let her take Alfie as a partner, effectively deterring Michelle. Piper auditions with Alfie and is granted the opportunity to perform it at the qualifier, thrilling her.[6]
At night, Piper enters Studio A, only to see Riley and Alfie kissing. She is in disbelief and wonders how Riley could do such a thing to James.[6] Piper becomes closed off and reserved around the studio and refuses to be in the same room as Riley or Alfie.[16] When keeping the secret becomes too much, Piper finally confronts Riley; she tells her that she saw the kiss and that if Riley does not tell James about what she did, she will.[1]
Piper continues to struggle with the secret and accidentally tells Michelle about Riley and Alfie's kiss. She later receives a video call from James during which she breaks down into tears and tells him that she wishes he were there with her.[1]
Piper struggles to do the duet with Alfie.When she is confronted about this by Emily, she is sure that Alfie will be kicked off of the duet and replaced with a partner she deems as better. Piper is furious when she is taken off of the duet instead, and believes that Emily is rewarding a jerk.[17]
Piper realizes that Alfie and Riley's relationship is actually none of her business and apologizes to Alfie.[18] Additionally, after James and Riley get back together and Riley grants her an apology, Piper finally forgives Riley.[19]
Piper struggles to fill Alfie's shoes in the small group routine, but eventually pulls it off.[20][21]
Piper encounters Heather in Neutral Grounds and immediately recognizes her from Regionals but dismisses it after being falsely informed by Heather that she got the wrong person.[22]
Piper auditions for A-Troupe and although she makes it, she is saddened that Amy doesn't.[7] Piper struggles with the troupe's choreography, much of which is acro-based.[8] Piper gets help from Amy with the choreography with her, in turn, becomes complicit in Amy lying to her mother about which troupe she belongs to.[23]
Although, after being punished by Emily for teaching Amy the troupe's choreography, Piper refuses to lie for Amy anymore and tells her that she will not talk to her until she tells her mother the truth.[23] Piper continues to avoid Amy when she is able to be in Leon Blackwood's dance and she isn't.[24]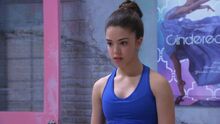 Piper takes pity on Amy upon discovering that her mother found out the truth and pulled her out of the studio. Despite Emily's opposition to alternates, Piper is sure that she can get Amy to be one on TNS East. Piper teaches Amy some of Daniel's choreography and performs it for Daniel and Emily with Amy. Piper is elated when Amy makes it onto the troupe, although her happiness devolves into devastation when she is cut. Piper approaches Michelle in the hopes of getting onto TNS West and is instantly allowed onto the team.[9]
Piper discovers that Heather is a dancer and attempts to enlist her as a part of TNS West, seeing as the team is two members short. Piper is saddened to learn that Heather can no longer dance because her parents cannot afford it. Piper tells Michelle about Heather's situation and suggests that they hold a dance-a-thon to raise money to lessen the cost of dance for those who cannot afford it. Her initiative causes her to be granted the title of dance captain and be tasked with planning the dance-a-thon.[10] Piper gets the most pledges for the dance-a-thon, but is unable to dance after twisting her ankle. She convinces Heather to dance in her place.[25] Piper comes to dislike newcomer Elliot and believes that his disrespect warrants his removal from the team.[26] To Piper's misfortune, she is paired with Elliot for the duet that is to decide which studio the dance battle will be held in. Piper is forced to go along with Elliot changing West's choreography. Despite winning with the choreography, Piper comes clean about her feelings about Elliot with Noah's help, effectively taking him off of the team.[27]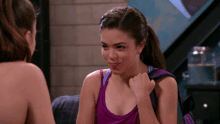 Piper is disappointed when her team loses the dance battle to TNS East,[28] but even more so when the entire studio is disallowed from competing at Regionals.[29] Upon overhearing Michelle and Emily's new agreement to completely segregate the two teams, Piper enlists Amy into a plan to get the opposing teams to merge and create a routine to convince Kate to change her decision.[29] The plan proves successful,[30] but Piper ultimately loses her dance captaincy in favour of Noah.[11] Unused to being a regular dancer on the team, Piper tries to convince Heather to audition with her for the female hip-hop solo but realizes, upon Heather's assertion against it, that she didn't care about the solo herself; she merely misses exercising the power she had as dance captain.[31]
Piper bonds with Josh in creating a concept for the qualifier video and comes to realize that she has feelings for him.[32] Sure that he feels the same way, Piper ultimately confesses her feelings to him and is mortified to discover that he actually only sees her as a friend.[33]
Piper is ecstatic when the team qualifies for Regionals.[33]
Piper auditions for the Stacy Carpenter Scholarship and dances about 'embarrassment'. She is determined to focus on dance and not on relationships.[34]
Piper performs alongside A-Troupe to 'Work'. She confesses that Josh has left A-Troupe, and is secretly relieved after embarrassing herself in front of him. Along with the rest of A-Troupe, Piper is shocked at how mean the new studio head, Miss Angela, is. She is criticised for looking "stunned". When Miss Angela asks A-Troupe to perform a short solo to assess the dancers' weaknesses, Piper is called out for her lack of acro abilities, while Lily, is praised highly. After advice from Emily and Michelle to stand up for herself, Piper does so. She learns that Lily is Miss Angela's daughter and is subsequently benched. This, coupled with the other dancers being forced to do planks while Piper tries to get her aerial, is the start of Piper's anxiety whilst dancing.[35]
"I'll get to you when I get to you!" - The missing information in this section of the article is to be added.
Personality
Piper is sensible, according to Riley.[3] She is kind, eager, and determined. She is a people person, much like her brother, and is able to motivate others easily.
Piper is initially quite naive, but overcomes this trait after Michelle tricks her into ruining her audition for the second qualifier.[5]
Piper is very sensitive, and too often lets emotions rule her life. Such is evident in the lengthy anger and avoidance she meets Riley and Alfie with after seeing them kiss.[6] Likewise, Piper tends to hold grudges, proven when she refuses to speak to Amy after she gets her into trouble with Emily.[24]
After Piper unintentionally forces A-Troupe do planks for a really long time under Miss Angela for failing to perform an aerial, she suffers from anxiety and a lack of confidence.[36] This anxiety eventually causes her to vote Noah off the team[37] and betray Davis and perform an aerial when they are auditioning for the contemporary routine for Regionals.[38]
Physical appearance
Characteristics
Piper resembles James, in that she has dark eyes, dark hair, and light skin. She is fairly small and short.
Attire
Piper likes vibrant clothing. While dancing, she usually wears a tank top and shorts. Occasionally, she wears leggings. Her streetwear consists of various prints, designs, and items; Piper can be found wearing pants or a skirt, as well as wearing cheetah print or rhinestones.
Abilities
Dancing
Ballet: Piper is proficient at ballet. She can dance on pointe. She pulls off a ballet/hip-hop duet with Elliot at the competition for the home studio advantage.[27]
Contemporary: Piper's dominant style of dance is contemporary. She is very proficient at the style and has flawless technique.
Relationships
Main article: Piper/Relationships
Appearances
Dances
Solos
Duets
Trios
Group dances
Trivia
Quotes
Main article: Piper/Quotes
Gallery
"Look at that painting!"

To view the Piper gallery, click here.
References
↑ 1.0 1.1 1.2 "Rumour Has It." Wikia. Retrieved on October 15, 2016.
↑ "Summer Lovin'."The Next Step. CBBC IPlayer. Retrieved on July 17th, 2018.
↑ 3.0 3.1 3.2 3.3 "Stir It Up." Wikia. Retrieved on February 19, 2016.
↑ 4.0 4.1 4.2 "Welcome to the Jungle." Wikia. Retrieved on March 4, 2016.
↑ 5.0 5.1 5.2 "The Game Belongs to Me." Wikia. Retrieved on May 6, 2016.
↑ 6.0 6.1 6.2 6.3 "Heat of the Moment." Wikia. Retrieved on June 24, 2016.
↑ 7.0 7.1 "The New Regime." Wikia. Retrieved on May 27, 2017.
↑ 8.0 8.1 8.2 "Go West, Young Michelle." Wikia. Retrieved on July 6, 2017.
↑ 9.0 9.1 "No Good Deed." Wikia. Retrieved on July 6, 2017.
↑ 11.0 11.1 "Stand and Deliver." The Next Step. Family Channel. Retrieved on November 4, 2017.
↑ "One More Time." Wikia. Retrieved on February 15, 2016.
↑ 13.0 13.1 13.2 "Square One." Wikia. Retrieved on March 11, 2016.
↑ "Simple Twist of Fate." Wikia. Retrieved on April 3, 2016.
↑ "How Deep Is Your Love." Wikia. Retrieved on June 20, 2016.
↑ "Kiss and Tell." Wikia. Retrieved on October 15, 2016.
↑ "Karma Police." Wikia. Retrieved on November 26, 2016.
↑ "Nobody's Perfect." Wikia. Retrieved on May 18, 2017.
↑ "Taking Care of Business." Wikia. Retrieved on July 6, 2017.
↑ "The Edge of Glory." Wikia. Retrieved on July 19, 2017.
↑ "Livin' on a Prayer." Wikia. Retrieved on July 6, 2017.
↑ "Dance Secrets." Wikia. Retrieved on August 22, 2017.
↑ 23.0 23.1 "Dance, Lies and Hoverboards." Wikia. Retrieved on May 27, 2017.
↑ "12 Hour Party People." Wikia. Retrieved on July 21, 2017.
↑ "A Tale of Two Eldons." Wikia. Retrieved on July 28, 2017.
↑ 27.0 27.1 "United and Divided." Wikia. Retrieved on August 23, 2017.
↑ "East Meets West." The Next Step. Family Channel. Retrieved on November 4, 2017.
↑ 29.0 29.1 "TNS: Civil War." The Next Step. Family Channel. Retrieved on November 4, 2017.
↑ "This Changes Everything." The Next Step. Family Channel. Retrieved on November 4, 2017.
↑ 31.0 31.1 "Oh Brother! Why Art Thou Here?" The Next Step. Family Channel. Retrieved on December 24, 2017.
↑ "I Have a Vision." The Next Step. Family Channel. Retrieved on December 24, 2017.
↑ 33.0 33.1 "Pointe of No Return." The Next Step. Family Channel. Retrieved on December 24, 2017.
↑ "Piper's Audition." Wikia. Retrieved on June 26, 2018.
↑ "Grave New World". Wikia. Retrieved on June 15, 2019.
↑ "Grave New World." Wikia. Retrieved on December 26, 2018.
↑ "All the Marbles." Wikia. Retrieved on December 26, 2018.
↑ "Contemporary Contempt." Wikia. Retrieved on December 26, 2018.
↑

"

Audition Subtraction

". Wikia. Retrieved on October 31, 2018.

↑

"

Pas De Don't

". Wikia. Retrieved on November 22, 2018.
Community content is available under
CC-BY-SA
unless otherwise noted.