"Pointe of No Return"
is the 20th episode in
Season 5
of
The Next Step
and the 154th episode overall. It aired on December 13, 2017. It is the finale of Season 5.
Synopsis
"The Next Step's hope of going to Regionals hinges on today. Richelle makes a horrifying discovery. Piper tries to work up the courage to ask out her crush."[1]
Plot
It is the day of filming for the qualifier video and the dancers make last minute preparations in Studio A. Michelle and Emily both confess that together, they have accomplished much. West and Daniel oversee Noah and Jacquie practicing their lift, the latter still upset about Noah embarrassing her about the choreography. West is optimistic about their upcoming video, although Daniel is much more pessimistic, confessing that anything that can go wrong will go wrong. Just then, Richelle discovers her broken pointe shoe in her locker and immediately suspects who the culprit is.
Richelle angrily approaches Zara in Studio 1, sure that she broke her pointe shoe out of jealousy of Richelle getting her solo. Richelle ignores Zara's pleas of innocence and asserts that Zara will be through at The Next Step Dance Studio after she speaks to Emily.
In Neutral Grounds, upon Amy noticing how happy Piper is, Piper reveals to her that she likes Josh. Although, Piper is unsure of whether or not he reciprocates her feelings and after Amy provides some advice, Piper hopes that she will be able to gauge them.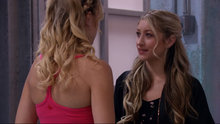 Richelle paces in Studio 1 with her broken shoe in hand, waiting for Emily. When Lola enters, Richelle immediately asserts how eager she is to tell Emily what Zara did to her shoe. Knowing Zara can't take the fall for what she did, Lola admits to Richelle that she is the one who broke her shoe. Shocked at Lola's betrayal, Richelle orders her out of the studio. Lola realizes that she might have just lost the best friend she's ever had, while Richelle is in disbelief that Lola could do such a thing to her.
Jacquie enters Studio A to rehearse the choreography, even though she still believes that it should be hip-hop instead of contemporary. As she rehearses, Noah approaches her, still not having spoken to her since their fight. Noah attempts to make amends, but Jacquie brushes him off in favour of rehearsal. Quietly, the two rehearse the choreography.
At the ballet barre in Studio 1, Richelle rehearses her solo without pointe shoes on, which Daniel inquires about when he enters the studio. Richelle vaguely reveals that one of the shanks broke, worrying Daniel. Once he calms down, Daniel tells Richelle that he can show her how to fix it with duct tape. Just before he enters the office, he hears an audible snap as Richelle dances. Despite Richelle's affirmations that she is okay, Daniel, having been injured during a crucial time as well, knows that Richelle is injured.
Finding him still in Studio A, Piper helps Josh tie the tie on his costume. Josh hugs Piper in gratitude, leading Piper to reveal to Josh that she likes him after voicing the assumption that he feels the same way. Although, Josh admits to her that he only likes her as a friend. Mortified, Piper rushes out of the studio.
Daniel enters Studio 1's office where a flustered Emily searches wildly for the film permit. After locating the permit in Emily's purse, Daniel reveals that Richelle has snapping hip syndrome, despite denying it. While initially in shock, Emily eventually refutes it due to the need to film the video that day and the fact that Richelle did not openly admit it. Michelle enters the office and inquires about the conversation, but Emily quickly ends it and the three leave for the venue.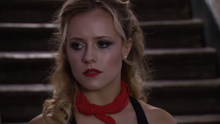 A-Troupe arrives at the venue. Lola notices that Richelle is not present and believes that her plan worked. Although, at the last minute, she discovers Richelle reinforcing her shoe with duct tape and proclaiming her adamance about dancing.
The time to shoot the video has come. The video's premise is based upon TNS East and TNS West's formal rivalry; both teams arrive to the site amidst a storm in order to have a dance battle.
Michelle and Emily put away the equipment used for the video. Emily admits to Michelle that she is proud to be her co-studio head, which Michelle resounds.
A-Troupe, Daniel, and West anxiously await the judges' verdict in Studio A. Despite it having been their idea to all be together for the announcement, both Michelle and Emily are absent. Richelle is also absent, having left directly after the filming of the video and no longer answering Lola's texts. Josh confesses that he has not spoken to Piper since her admission of feelings for him. Jacquie confesses that after seeing the video, she has come to realize that Noah was right about the choreography, with Noah confessing that he thinks they're going to be okay. It is officially time to view the results, with Michelle and Emily still nowhere to be found. It turns out that they have entered Studio 1's office upon Kate's insistence of an emergency. Kate reveals that Richelle is in the hospital and chastises the two for letting her dance despite knowing that she was injured. Kate asserts that she cannot have two studio heads who do not put the safety of their dancers above everything else and that she needs to rethink The Next Step Dance Studio's future. A-Troupe, West, and Daniel discover that they have qualified to Regionals. As the group celebrates, Kate confesses that the road to Regionals has just gotten more complicated, as she is about to change the game entirely.
Trivia
Continuity
Errors
There is no way that Kate should know that Emily and Michelle know about Richelle's injury. Further still, Michelle does not know about Richelle's injury at all unlike what Kate suggests.
Daniel confesses that one thing after another is going wrong when he discovers that the shank of one of Richelle's pointe shoes is broken, but in actuality, it is the first thing to go wrong with the filming of the qualifier video.
Production Errors
Ben Jaremko is on the cast list despite not being in the episode.
Cultural references
This episode's title alludes to a song by Exposé entitled "Point of No Return."
Cast
Main
Recurring
Featured music
Featured dances
Quotes
Main article: Pointe of No Return/Quotes
Aftershow
Main article: Pointe of No Return/Aftershow
Gallery
"Look at that painting!"

To view the Pointe of No Return gallery, click here.
References
↑ TV Listings Grid, TV Guide and TV Schedule, Where to Watch TV Shows - Screener. Zap2It. Retrieved on October 28, 2017.
↑ https://twitter.com/vicbalde/status/801154313238102016?lang=en. Twitter. Retrieved on May 10, 2018.
Community content is available under
CC-BY-SA
unless otherwise noted.