"
Right now, I'm at my favourite pointe shoe shop, buying my new pair of pointe shoes. I want to make sure that I get them now, so I can work them in, and they fit my feet perfectly.
"

— Richelle
Click here to see more quotes.

"Richelle on Pointe" is the 10th episode of The Off Season: Season 1.
Sypnosis
"Richelle shops for pointe shoes."[1]
Plot
Richelle is at her favourite pointe shoe shop to buy a new pair of pointe shoes. A clerk at the store helps Richelle find a new pair. Richelle confesses that in order to find the perfect shoe, you must look at the length, then the width (which is measured in Xs). She also confesses that pointe shoes have a limited life span, and the biggest culprit is breaking the shank. Richelle confesses the importance of the perfect pointe shoe at such a competitive level, as ill-fitting ones could result in injury. Richelle finally finds her new pair of shoes, much to her excitement.
Trivia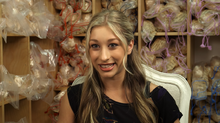 This episode features unique Talking Heads segments, which are shot not in the normal filming areas of Studio A or Studio 1 but what appears to be the pointe shoe shop's storeroom.
Cast
Main
Featured music
Transcript
Main article: Richelle on Pointe/Transcript
Quotes
Main article: Richelle on Pointe/Quotes
Gallery
"Look at that painting!"

To view the Richelle on Pointe gallery, click here.
References
↑ Family App - Family - Episode Details. FamilyGo (May 12, 2017). Retrieved on May 12, 2017.