"
That's funny because when I went to the mall a few days ago I put four quarters in a photo booth and those pictures are probably gonna do more for me than he's gonna do.
"

— Stephanie, about the photographer
Click here to see more quotes.

"Road to Joy" is the 10th episode in Season 1 of The Next Step and the 10th episode overall. It first aired on May 10, 2013.
Synopsis
To spend more time with Riley, James accompanies her to pick up costumes for the troupe. Meanwhile, Stephanie has a photo shoot in Studio A.
Plot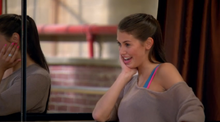 Kate is stressed out, as she let Chris have the day off and now has to take everything unto herself. Seeing this, Riley agrees to get the costume samples, and Kate stresses the importance of getting them before closing time; the store owners are going on vacation and won't be back for three weeks. Meanwhile, James is practicing his backhand-backtuck in Studio A, as he can't seem to land it, under Beth's watch. Seeing Riley, James greets her and asks her where she's going. Riley tells him and James offers to join her, although Riley denies and leaves. James secretly follows Riley on her task for Kate, despite Riley's wishes.
In Studio A, Tiffany, Stephanie, and Chloe are practicing a trio for an upcoming competition. Just as they finish, Kate informs Stephanie that a photographer will be arriving shortly for her head shots. Tiffany decides to help Stephanie with wardrobe as well as managing her shoot and Chloe agrees to assist with make-up.
To her horror, James follows Riley onto the bus and sits beside her, then goes onto a rant about his entire life story. After thoroughly irritating Riley, James insists that he and Riley purchase a shawarma because, as revealed in Talking Heads, James wants to spend more time with Riley.
At the studio, Stephanie is preparing for her photo-shoot. Suddenly, Chloe inquires as to how much such a thing costs and Stephanie reveals that she doesn't know, but her dad is paying for it anyway. Upon further inquiry, she also reveals that her parents will not be watching, as she doesn't even think they are in the city. Chloe confesses that she and Stephanie are opposites: Stephanie has money and non-present parents, while she has supportive parents and little money. Meanwhile, James and Riley are about to board the bus to go collect the costumes, when James realizes he has misplaced his transfer. Realizing that Riley has hers, James 'accidentally' rips the transfer in two, rendering it invalid and leaving the pair having to get off.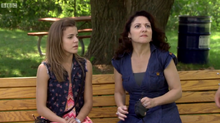 Stephanie is in the midst of her photo-shoot and is very uncomfortable, causing it to go terribly. Meanwhile, James has taken Riley to the park and insists that they sit down and eat. James and Riley are about to leave the park when James's favourite aunt Kathy appears. Kathy insists that James dance for her, much to Riley's annoyance, and he performs an unsuccessful backhand-backtuck. Meanwhile, Stephanie is discouraged, especially as the photographer tells her the photo-shoot isn't going too great. James and Riley finally make it to the store, which is called Sal's Costume Warehouse, although it is closed, angering Riley — who points out to James that the troupe now won't have any costumes for Regionals, and will end up dancing in their underwear! Realizing that he messed up, James vows to resolve the problem.
Kate comes out of her office, and the photographer and the girls admit that the photo-shoot is not going well. Kate suggests that Stephanie dances during the shoot. She does, and the shoot takes a turn for the better. Meanwhile, James tries to get the owners to open the store by doing the backhand-backtuck, but still cannot land it. Riley finally gives him advice as to how to perform it correctly and he ultimately does it right. Now having the owners' attention, the two dance in front of the store. Amused, the owners eventually let them in. Despite everything, Riley admits that she had fun and now sees James in a new light. On the bus ride home, she grabs his hand and they hold hands on the ride back.
Trivia
E-Girl rule #13 is: always help another E-Girl in need.
Continuity
As proclaimed in later episodes, Stephanie is becoming a triple threat.
Errors
James has been seen doing a roundoff, back handspring, back tuck (referred to him as "backhand-back tuck") before and has landed it perfectly.
Riley and James successfully pick up the costume samples, but neither of them can be seen carrying them on the bus back.
Cultural References
The title refers to Bright Eyes' song by the same name.
Cast
Main
Recurring
Michelle Suzanne as Kathy
Absent
Featured music
Featured dances
Quotes
Main article: Road to Joy/Quotes
Aftershow
Main article: Road to Joy/Aftershow
Gallery
"Look at that painting!"

To view the Road to Joy gallery, click here.
References
↑ "Put You First." Wikia. Retrieved on December 3, 2015.
↑ "Song for Riley." Wikia. Retrieved on December 3, 2015.