Click here to see more quotes.

"Secrets" is the 3rd episode in Season 3 of The Next Step and the 67th episode overall. It aired on March 17, 2015.
Synopsis
Emily receives news about her injury from her doctor.
Plot
Kate and Phoebe find Lucien in Kate's office and discover that he has rearranged all of her personal items, irritating Kate. Eventually, Lucien allows her to have a designated area of the office, but Phoebe does not believe that will be the last of their conflicts.
Lucien goes over his plan to destroy The Next Step with Tess and Daniel, who records the entire conversation for a good laugh. Meanwhile, Stephanie and Emily are at the doctor's office to find out if Emily's knee has recovered so that she can dance. Stephanie tries to comfort her. Emily is then called into the doctor's office.
At Hidalgo's, Michelle admits to Chloe that she cannot compete for Internationals because she will be in Madison with her mom. Chloe tells her to have hope, nonetheless.
Later, Elite is practicing a dance routine in Studio A that will be used with the intention of intimidating The Next Step. Meanwhile, the doctor tells Emily that she can't dance because her knee is not completely healed yet; the doctor tells her that if she tries to dance on it, she could permanently damage her knee and would need a knee transplant. Emily is also told that she will probably be unable to dance for an entire year; she refuses to listen to the doctor's wishes because she wants to go to Internationals.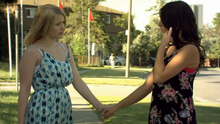 As Stephanie and Emily are walking back from the doctor's office, Emily admits that she can't dance on her knee and makes Stephanie promise that she won't tell anyone. Stephanie secretly believes that it is a bad idea.
Richelle confronts Kate about why Noah was put on A-Troupe rather than her, and believing that Noah is the better dancer, Kate leaves with a mere apology to Richelle. In the Music Room, Chloe and Riley are seen conferring about their solos for the competition, when Riley receives an urgent text from Stephanie. She meets with her in Hidalgo's, and Stephanie tells Riley the truth about Emily's knee.
In Kate's office, Michelle tells Kate—and Lucien by default—that she can't compete because she will be in Madison during the dance battles. Lucien offers Michelle a spot on the team because she has been Miss National Soloist twice, but on the condition that she counts as an Elite win, already acting as one out of the seven dancers Lucien needs to kick Kate and Phoebe out. Kate agrees because she knows that they need Michelle on the team, but Michelle feels guilty that she's putting The Next Step at risk.
As Emily enters Studio A, Riley confronts Emily and tells her that she knows her knee isn't healed and that she therefore shouldn't dance on it, but, Emily tells her that it's her life and that she will make her own decision. Emily lies to A-Troupe that her knee is completely healed and Riley subsequently reveals the truth about Emily's knee, which causes Kate to tell Emily she can't compete for a spot on the Internationals team.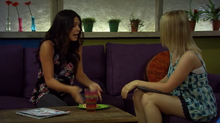 At Hidalgo's, Stephanie approaches Emily and tries to explain why she told Riley about her injury, but Emily is still hurt and refuses to listen to her. Richelle enters because Emily wanted to talk to her, and the two leave to go to Kate's office. Richelle is chosen to replace Emily for a chance to compete for a spot on the team. Although Emily is happy that Richelle gets to compete, she's still sad that it won't be her going to Internationals.
It is finally the day of the competition. Elite enters Studio A, and performs their routine from earlier which works to intimidate A-Troupe. Upon watching, Riley realizes that some of The Next Step won't be going to Internationals.
Trivia
Continuity
As professed in the previous episode, Emily goes to the doctor for her appointment for her knee.
Kate gives Lucien the advantage because she claims that Michelle is needed on the team, although, Michelle becomes an alternate in "Never There," making the negotiation ultimately fruitless.
Daniel records Lucien's speech, which is later used in "How It Ends."
Errors
Cultural references
The title refers to a song of the same name by OneRepublic.
 Cast
Main
Recurring
Featured music
Featured dances
Quotes
Main article: Secrets/Quotes
Aftershow
Main article: Secrets/Aftershow
Gallery
"Look at that painting!"

To view the Secrets gallery, click here.