"
... when I started dating Beth, I thought it would be 90% fun and 10% annoying. Turns out, it's 10% fun and 100% annoying.
"

— James
Click here to see more quotes.
"Sing" is the 14th episode in Season 2 of The Next Step, and the 44th episode overall. It aired on May 16th, 2014.
Synopsis
Michelle and Chloe hold a scholarship fundraiser for young dancers.
Plot
Michelle and Chloe ask Kate if they can hold a fundraiser for a dance scholarship for dancers with financial instability. Kate happily approves.
Chloe, Michelle, and Beth listen to James and Noah play an original song. Chloe and Michelle ask them to perform at the fundraiser, and James accepts. When the two leave, Noah voices his wariness, because he is afraid his voice will crack when he sings on-stage. Beth suggests stepping in as a singer. James confesses that dating Beth is turning out to be 10% fun and 100% annoying, and believes that Beth being their lead singer would be disastrous. Noah suggests holding auditions.
At Culture Shock, Giselle witnesses West throwing popcorn into a glass. Although West thinks his performance is exceptional, Giselle pronounces the task to be easy, and proves that she can also throw popcorn into the glass with ease.
Auditions begin for the singer in James and Noah's band. Beth goes first, and turns out, unsurprisingly, to be a horrendous singer. Thalia auditions next, and although she has a good singing voice, she performs extremely strange movements as she sings. Lastly, Amanda auditions (which she confesses is to gain the trust of the studio to perform her plan) and is picked to be their singer.
West and Giselle are having a contest to see who can throw the most popcorn into their respective glasses. When they tie, they decide to have a second contest to see who can dance with the most clothes on.
Amanda, James, and Noah are about to resume rehearsal when Amanda gets a phone call from Lucien. When James and Noah leave, she takes the call, and discovers that Lucien has found a way for Elite to compete at another Regionals.
Giselle and West have their second competition, and they tie once again.
The fundraiser finally begins in Culture Shock. Eldon performs first; for every pirouette he does he will receive an equal amount of money from every person in Culture Shock. He does 11 pirouettes, meaning that he gets $11 from every person. Meanwhile,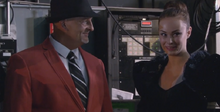 Amanda is at Regionals with Elite. She explains in Talking Heads that they found a loophole in the rules: the rules read that a team must participate in and win a Regionals competition to qualify to Nationals, but it is never specified that a team must win a competition in their region.
West and Giselle are trying to figure out what to do for their next competition and finally decide to perform at the fundraiser. Meanwhile, James and Noah (and Beth) are waiting for Amanda, and James tries to convince Noah to sing. Just then, Charlie enters with Riley. Riley confesses that the reason she is there isn't really to see Charlie perform, but to see James. Noah suggests getting Charlie to sing for them and James immediately refuses.
Charlie performs an acoustic version of "Addicted 2 U". While he is performing, James confesses that he wants to look at Riley to see if she is looking at him, but decides against it, because if she isn't looking back, it'll break his heart. Ironically, just then, Riley looks at James. Meanwhile, Elite are announced as the Regional champions, meaning that they have qualified for Nationals.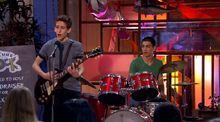 James and Noah must perform soon, and Amanda is still not there. Noah suggests again that Charlie sings, and James furiously declines. He recounts in Talking Heads that Charlie bailed on Beth for the duet competition, ultimately leading to a series of unfortunate events: him replacing Charlie as Beth's duet partner, Beth kissing him, his break-up with Riley, and subsequently, Charlie and Riley dating.
Meanwhile, West and Giselle are performing a ventriloquism act on-stage, with Giselle acting as the dummy and West as the ventriloquist. The act culminates with the pair arguing as to which one's the dummy!
Whichever act gets the most applause will win. Although it ends up being a tie once again, both parties secretly believe that they won. Noah finally agrees to sing, and James and Noah perform. All of the money needed is ultimately raised, and Michelle reveals that James and Noah really helped them to reach their total.
The next day, Amanda approaches James and lies that she had a family emergency and couldn't make it to the fundraiser. Kate then enters and angrily reveals that Elite entered another Regionals and won. James questions Amanda about whether she was aware of this, but Amanda lies once again, claiming that she doesn't know anything.
Trivia
Continuity
Errors
It is a well-known (and commonly referenced) fact that to compete at the Absolute Dance competitions, you must have a team of ten dancers.[2] However, when Elite are waiting onstage to hear if they have won Regionals, there are clearly only nine dancers on their team, making it unknown how they were able to qualify for another Regionals — though it is possible that an unseen tenth dancer was simply unable to be onstage at the time.
The announcer at Elite's second Regionals incorrectly states the region they are in to be Region 7, which is where both Elite and The Next Step Dance Studio are located.
Production Errors
Cultural references
The title of this episode refers to a song of the same name by Ed Sheeran.
Cast
Main
Recurring
Absent
Featured music
Quotes
Main article: Sing/Quotes
Aftershow
Main article: Sing/Aftershow
Gallery
"Look at that painting!"

To view the Sing gallery, click here.
References
↑ "Fancy Footwork". Wikia. Retrieved on March 28, 2020.
↑ "Get The Party Started". Wikia. Retrieved on February 3, 2020.
Community content is available under
CC-BY-SA
unless otherwise noted.