This article is about the character. You may be looking for the actress. You can find the disambiguation page here.
Skylar is an acro and contemporary dancer and the current dance captain of Gemini Dance Studio.
Skylar is initially a member of Elite Dance Academy. During the dance battles between Elite and The Next Step, she is forced to battle against her older sister Cierra for a spot on the Internationals team, but loses.[6] Skylar eventually joins B-Troupe,[7] but is frustrated with having to sacrifice her time in favour of Cierra's strenuous dance schedule.[8]
Despite initially wishing to be captain of her rugby team the following season,[9] Skylar decides to audition for A-Troupe instead.[10] Skylar makes it onto the team, and stays on it despite her sister's wishes,[11] eventually becoming dance captain.[12]
Skylar confidently auditions for A-Troupe in the next dance season, and is furious when she does not make it. Refusing to return to B-Troupe, Skylar leaves The Next Step[5] and joins Gemini Dance Studio, where she becomes dance captain.[13]
Biography
Before the show
Skylar joined Elite Dance Academy, where she danced with her older sister, Cierra. After her parents' divorce, it became all the more important for Skylar to dance at the same studio as Cierra, since their single mother would be unable to drive her and Cierra to two different studios.[14]
At one point, Skylar experienced harsh bullying that became so bad that Cierra had to walk her home from school every day to ensure her safety.[15]
Skylar is excited to compete for a position on the Internationals team, until she is pitted against Cierra. Knowing that their mother cannot drive them to two studios, Skylar and Cierra decide to forfeit the competition so that they can both dance. However, Skylar is forced to dance against Cierra anyway when Lucien proclaims that their forfeit will result in them being kicked out of Elite. Despite a promising solo, Skylar loses the dance battle.[6]
Skylar wonders what she is going to do, since she cannot dance at a different studio from Cierra. Upon Stephanie's suggestion, Skylar asks Kate if she can join B-Troupe, which Kate accepts.[7]
Skylar is excited at the prospect of being able to go to Miami with Cierra when a spot opens on A-Troupe. However, Skylar does not get the spot after her audition.[16]
Skylar begins to get angry at having to regularly wait so long for Cierra to finish rehearsal so that they can be driven home together, and she makes an agreement with their mother that she can get picked up whenever she finishes B-Troupe rehearsal, forcing Cierra to take the bus. Skylar's solution initially makes Cierra angry,[1] but the two eventually make up.[1]
When A-Troupe has trouble registering at Absolute Dance Internationals, Skylar is asked by Phoebe to perform a duet with Richelle in order to "cleanse" the studio. Despite not thinking much of the idea, Skylar participates, wanting to help A-Troupe in any way.[17] In addition, Skylar, alongside some B-Troupers, makes a leaderboard to track the competition at Internationals.[18]
Skylar is overjoyed when The Next Step Dance Studio wins Internationals.[19]
Despite initially wanting to be captain of her rugby team, Skylar instead decides to audition for A-Troupe after realising she can't balance rugby and dance. Skylar makes a pact with Cierra that either both of them make A-Troupe, or neither does.[9] When Skylar makes it onto A-Troupe and Cierra doesn't, Skylar ignores the pact and remains on the troupe.[11] However, Skylar complies with Cierra's request to convince Riley, who may become studio head and therefore leave an open position on the troupe, to give Cierra her empty spot,[11] and Skylar is angry when the spot goes to Amanda instead.[20] Skylar auditions for the first Regionals qualifier with Henry and LaTroy. Although their trio is not picked to represent the studio,[20] Skylar convinces Riley to let her trio re-audition after witnessing the botched rehearsal of the picked trio. Skylar is angry when her trio is not picked in the end,[21] which intensifies upon the studio's loss at the qualifier.[22] Skylar becomes determined to get Riley to resign as studio head by attempting to turn her fellow dancers against Riley, but is deterred by Alfie.[23]
After not being granted a spot in the next qualifier,[24] Skylar finds herself feeling defeated, which is mixed with loneliness at Cierra's absence from the studio. This is noticed by a few of her peers, resulting in being invited to join the Zero Percent Club. While appreciating the offer, Skylar refuses due to her experiences with being bullied by a clique. Despite being assured that the club is not a clique, Skylar still refuses the offer, but is happy that she isn't really alone.[15]
Skylar runs for the position of dance captain and, after successfully passing each of Emily's tasks, wins the position. She receives the dance captain diary to assist her in her new role.[12]
Skylar attends the final qualifier to support Alfie and James. After observing Alfie and James fighting over who should perform a solo when the team ties with Overhauser Dance Academy, Skylar steps in and leads the team to victory.[25]
Skylar successfully resolves a clerical error at Regionals, allowing the team to dance in the trio round.[4] Skylar also helps her team make it to the finals, being featured in the semi-final routine.[26] Nonetheless, the team loses the competition, much to her discontentment.[27]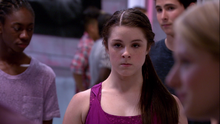 In the lead-up to the next Regionals, Skylar auditions for A-Troupe again. In her audition, she falls. Despite her confidence that she will be dance captain once more, she does not make it onto the team and is demoted to B-Troupe. Refusing to dance on the suboptimal group, Skylar angrily quits the studio in pursuit of a better one.[5] She finds herself at Gemini Dance Studio, where she becomes dance captain. After joining the Geminis, Skylar is quick to dismiss her time at The Next Step, claiming that she is glad to have left.[13]
With a girl on her team having broken her leg, Skylar offers Jacquie a spot on their team with a guaranteed featured solo at Regionals, having seen how talented she is at the A-Troupe auditions. Skylar is angry when Jacquie turns down the offer and leaves to find a replacement.[13]
Personality
Skylar is initially sweet and quiet. Unlike some her her fellow B-Troupers, she is extremely eager to assist in matters that pertain to A-Troupe, no matter how seemingly ludicrous, such as delivering a jumbled message[14] or cleansing the studio.[17] She is rarely angry, the only time which she showcases frustration being when she has to wait for Cierra to finish rehearsal.[8]
Skylar's entrance into A-Troupe marks a shift in her character. This is initally seen in Skylar's refusal to step down from the troupe for Cierra's sake, exemplifying a newfound determination.[11] However, Skylar's determination verges on pride, as seen in her anger at not being able to dance at the first qualifier[21] and her subsequent quest to get Riley to resign as studio head.[23] Skylar also becomes more assertive, as seen in the way she convinces the security guard to let her past the doors when he is so determined to stop her.[4] Nonetheless, Skylar remains loyal to her teammates, making her bout as dance captain successful.[12] Despite her newfound assertiveness, she still struggles with speaking to strangers, which she is able to overcome with Cassie's help.[2] Skylar also can be quite friendly and polite, seen through her gratitude (albeit reluctant) to the security guard for letting her through the doors to fix a clerical error.[4]
The progression of time only strengthens Skylar's aptness to rage, as shown in her reaction to being cut from A-Troupe[5] and to Jacquie when she refuses her offer of a spot at Gemini.[13] Skylar also becomes quite cocky, deriding those who are in B-Troupe despite having been in the troupe before, and expressing her initial certainty that her not making it onto A-Troupe is a mistake.[5]
Physical appearance
Characteristics
Although Skylar bears some resemblance to Cierra, sharing her straight hair and pale, freckled skin, she is noticeably shorter and more cherubic. Her hair is also a darker brown than Cierra's, and her eyes are brown, while Cierra's are grey.
Attire
While dancing with Elite, Skylar wears a black tank top and leggings. After joining B-Troupe, Skylar continues to wear tank tops and leggings, but begins wearing brighter colours like purple and pink, and with varying prints. Around the time Skylar is admitted into A-Troupe, her dance wear becomes a bit more muted in colour, ranging from dark red to dark grey.
Skylar's street wear is quite feminine, usually consisting of dresses, fitted jackets, and accessories like scarves. However, Skylar occasionally dresses down by wearing a simple top and leggings.
Abilities
Dancing
Acro: Acro is one of Skylar's dominant styles, at which she is very proficient.
Contemporary: Contemporary is one of Skylar's dominant styles, at which she is proficient.
Other
Physical
Rugby: Skylar is a commendable rugby player, considering that she was aiming to be team captain.[10] However, it is assumed that Skylar has since quit the sport to focus on dance.
Relationships
Main article: Skylar/Relationships
Appearances
Dances
Solos
Duets
Trios
Group dances
Trivia
Quotes
Main article: Skylar/Quotes
Gallery
"Look at that painting!"

To view the Skylar gallery, click here.
References
Community content is available under
CC-BY-SA
unless otherwise noted.