"I think Kate and Chris's dance is great for two old people."

This article needs to be updated. This page is currently out of date and needs to be infused with recent information.
Click here to see more quotes.
Stephanie is a jazz dancer and a former member of A-Troupe and B-Troupe. She is currently in Los Angeles in order to pursue her acting career.
Biography
Before the Show
Stephanie was in J-Troupe when she was younger and moved right up to A-Troupe, skipping B-Troupe.[3]
Stephanie became a member of A-Troupe, Emily's best friend and a part of E-Girls.
Stephanie wishes to become a triple threat[4] and goes through countless auditions over the course of the season. She is granted an agent at one point, as well.[5]
Stephanie, being mindlessly devoted to Emily, is the only person to vote for her as Dance Captain.[6] She unfriends Tiffany for voting against her, and stands by Emily's side regardless of her actions. At this point though, having all of the E-Girls except herself and Emily leave the group, she comes to realize that the much-loved group's reign is over.[7]
When Emily loses her captaincy and both of them are placed in the back row for the Regionals routine, they decide to leave the studio to audition for Elite Dance Academy.[8] She feels betrayed when Emily gets in and not her, and joins the studio regardless. Stephanie returns to The Next Step, all of the members angry that she left without notice. Regardless, they let her rejoin and she tearfully thanks them.[9]
Tiffany and her reconcile, and when Emily returns to the studio, so do they. Later, Stephanie receives the offer to take part in a television show which unfortunately starts filming during Regionals. After a lot of thought, she decides not to take the role.[10]
Stephanie arrives late on the day that the choreography is taught for A-Troupe auditions and misses the tutelage. Unfortunately, this results in her not making it and being demoted to B-Troupe.[11] Realizing that she can only accept what is happening, she decides to make the most of being B-Troupe.[12]
Stephanie accompanies Emily to get the verdict about her knee at the doctor's office. Emily makes her promise not to tell anyone that her knee is still unhealed, but concerned, she notifies Riley; Emily is forced to leave the studio.[13] This causes Stephanie and Emily to temporarily fall out.
After overhearing their predicament, Stephanie suggests that, instead of Skylar having to quit dance due to Cierra and Skylar's mum being unable drive the two to different studios, that Skylar join B-Troupe. Stephanie accompanies then in asking Kate if Skylar is allowed to join B-Troupe, and is happy for the sisters when Kate agrees.[14]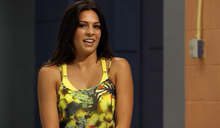 Stephanie is content with her position in B-Troupe and does not consider auditioning for A-Troupe when Chloe leaves, due to her confidence plummeting after she was demoted. Although, after some convincing from Emily after the two make up, Stephanie decides to audition for A-Troupe; she realizes that the troupe is where she belongs and is overjoyed when she gets in, therefore giving her the opportunity to attend Absolute Dance Internationals.[15]
Kate originally picks Stephanie to be in a five person dance for Absolute Dance Internationals. She is excited to prove herself, but is wary of the fact that Michelle is in the group, since she is hardly present. She loses the amazing opportunity due to Michelle's absence and tardiness, and grows angry with her.[16] However, Stephanie is later granted the position in a new group dance alongside Cierra, Giselle, Riley and Michelle. Stephanie also makes up with Michelle off-screen, as she works hard to comfort her about being an alternate.[17]

When Stephanie is paired with Beth to do duets, she is wary; she is trying very hard to be focused, but Beth isn't. When Beth somehow convinces Stephanie to go get mani-pedis as opposed to rehearsing, Stephanie asks Giselle to help them stay on task. When faced with yet another obstacle, Stephanie finally confronts Beth and tells her that they need to practice. Thankfully, Beth understands, and the two concoct a stellar duet.[18]
Stephanie becomes terrified of performing on the Internationals stage, but after some encouragement from Michelle, becomes more confident.[19] This enables her to be able to perform the two to seven person, blindfolded routine that ends in the team's qualification to quarter finals.[20]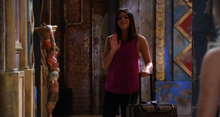 Having accomplished everything that she has wanted to with her dancing, Stephanie moves to Los Angeles to pursue her acting career, and move towards becoming a triple threat.[21] Before leaving, Stephanie acts as the guest choreographer for the afternoon A-Troupe auditions.[22] Afterwards, she tearfully says goodbye to Michelle and Riley, then leaves for the airport.[22]
"I'll get to you when I get to you!" - The missing information in this section of the article is to be added.
Personality
Stephanie is, at first, somewhat of a vapid and superficial character. She is also sarcastic, bossy, opposed to change, and judgmental. She has been shown to be pretty conceited, as she is always sure that she will get what she wants because of her talent and ties to the dance captain. Despite this, she is undoubtedly ambitious, as she has her eyes set on being a famous triple-threat.
She is very protective and unceasingly devoted to her loved ones, as she has stated on countless occasions that she will never let anything happen to Emily on her watch. This also calls her to feel easily betrayed, which is the case when she does not make it onto A-Troupe.[11]
As the show progresses, Stephanie's character becomes more well-rounded as opposed to surviving solely on superficiality. She is shown to be more open-minded and willing to make new friends, as when she is demoted to B-Troupe she makes an effort to get along with Beth. It is revealed that her dancing has also improved and that she has been working hard during her time in B-Troupe. This hard work and change of heart results in her being in A-Troupe again.[15] Despite her transformation, she still retains much of her sarcasm and bossiness.
Physical appearance
Characteristics
Stephanie has dark wavy hair, green-grey eyes, and a tan complexion.
Attire
Stephanie often wears pink, white, and purple, but wears darker colours on occasion. She almost always wears shorts in the studio, which alternate between white, grey, and black. Her dance-wear drastically changes in Season 3; as opposed to pinks and whites, Stephanie wears tops of floral print coloured in bright yellow or blue. She also trades in her shorts for black tights with yellow patterning.
Relationships
Beth

Stephanie considers Beth to be her best friend, although admits that Beth is very much like her, which is not the best during serious situations.
Emily
Stephanie is best friends with Emily. Other than the occasional fallout, she and Emily have a pretty solid friendship.
Kate
Due to the near-absence of her parents, Kate acts as Stephanie's surrogate mother. Kate is the one she always turns to and confides in, and is the one that helps her on her journey towards becoming a triple-threat.
Michelle
Stephanie originally detests Michelle, merely because Emily does. Although, Stephanie warms up to Michelle and is there for her when Michelle is struggling with her parents' divorce.
Tiffany
According to Tiffany, she is Stephanie's best friend. Tiffany is extremely supportive of Stephanie on her journey toward becoming a triple-threat. When Tiffany votes for Michelle instead of Emily as Dance Captain, Stephanie unfriends Tiffany,[7] but they later make up and resume their friendship.
Appearances
Dances
Solos
Duets
Trios
Group dances
Trivia
Quotes
External links
Gallery
"Look at that painting!"

To view the Stephanie gallery, click here.
References
Community content is available under
CC-BY-SA
unless otherwise noted.