"
Anybody who's not here in time is out of luck.
"

— Kate
Click here to see more quotes.

"Stir It Up" is the 2nd episode in Season 4 of The Next Step and the 96th episode overall. It aired on February 19, 2016.
Synopsis
A-Troupe auditions begin amidst big decisions for two key dancers. In an attempt to prevent future arguments, Skylar and Cierra make a pact.
Plot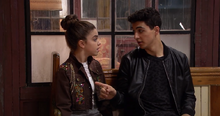 At the open house, James pulls Piper aside and tells her that she can't audition, although Piper doesn't want to hear it; she confesses that she has wanted to dance at The Next Step for years, although not in her brother's shadow. James tells her that now that Internationals is over, the competition is cutthroat, and that he won't even be able to watch her back. She tells him that while he is right, it will not stop her from auditioning.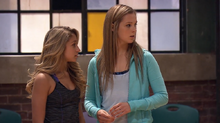 Auditions for A-Troupe are about to close, and Kate confesses that anybody who isn't there in time is out of luck. Just then, Skylar enters Kate's office, wondering if she is too late; Kate assures her that she isn't, and directs her to the sign-up sheet. Richelle, who is warming up in Studio A, notices Skylar signing up for auditions, and tells Cierra that she was unaware that Skylar was auditioning. Cierra is shocked too, as Skylar had told her that she was focusing on rugby instead of dance. As Michelle is warming up, Ben enters with his boyfriend, Nick. Michelle is uncomfortable at the sight of Nick, not wanting more Elite drama, although Nick reveals that after their loss at Nationals, Lucien shut down Elite. Reassured but surprised that Lucien would quit, Michelle wishes the two good luck, and confesses that while she is happy that Elite is gone, this only means that the competition will be more fierce. Kate and Skylar exit the office, and Skylar hands out envelopes to each of the dancers to split them into morning and afternoon groups. When Skylar hands Cierra's envelope to her, Cierra asks Skylar what happened to her wish of being captain of the rugby team, and Skylar assures her that she will fill her in later. Skylar hands Kate the two remaining cards, which are Eldon and Amanda's; Kate asks where they are, and Michelle, not wanting to reveal that Amanda is auditioning for a professional dance tour, Michelle takes their cards. Kate moves along, telling the dancers to open their envelopes; all dancers with white cards will be a part of the morning auditions, and dancers with black cards will audition in the afternoon. The first round will be a choreography round, and the second will be a freestyle round, although the songs for the morning and afternoon rounds will be different.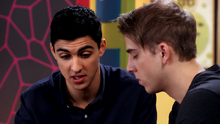 James finds Eldon in Java Junction, although Eldon is supposed to be auditioning. Eldon reveals that he is unsure if he wants to audition and asks James how he knew he didn't want to be on A-Troupe anymore. James tells him that he cleared his head, closed his eyes, and focused on what his heart wanted, which is the band. James tells Eldon to close his eyes and focus on what his heart wants; Eldon retorts that his heart is crowded with Thalia, but James tells him to look deeper than that, and asks him if he wants to be on A-Troupe. Eldon opens his eyes, having made his decision.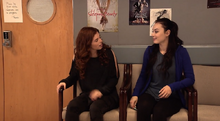 At auditions, Giselle and Amanda wait in the waiting room. Amanda receives a call from Michelle who tells her that A-Troupe auditions are beginning in an hour. Amanda tells Michelle that she will be there, and relays the predicament to Giselle, who tells her not to worry. Then, none other than Tiffany walks out of the audition room. She embraces Giselle and reveals that she is helping out with the tour. She tells Giselle that it is her turn to audition, causing Giselle to ask if Amanda can go before her, although Tiffany says that that could ruin her chances. Amanda realizes that she'll just have to hope.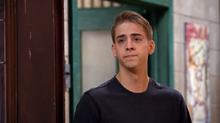 Eldon enters Kate's office and tells her that while the studio has changed him as a dancer and as a person, his heart is no longer in it. Kate hugs him and tells him of how incredible it has been watching him grow. Eldon suggests that instead of saying goodbye, she says "I'll see you tomorrow", to which she obliges and begins to cry. Eldon leaves the office but stops in the doorway, now crying, and thanks Kate.
In the Rehearsal Room, Riley approaches Piper to see how she is doing. Piper tells Riley what James said to her, and asks if she has what it takes; Riley tells her that she hasn't seen her dance in a while, but knows that she is sensible, and Piper thanks her.
Giselle and Amanda are still at auditions, with Amanda still waiting for her turn and getting more nervous by the second.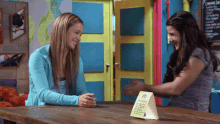 Cierra and Skylar are sitting together in Java Junction, and Skylar confesses that while she could balance rugby and dance the previous year, she can't this year. Cierra, not wanting the two to fight about dance anymore, proposes a pact: either both of them, or neither of them makes A-Troupe. Skylar concurs.
A-Troupe auditions are about to begin. Kate notices that Amanda isn't there, but Michelle assures Kate that she will be there, despite being unsure. Kate moves on and tells the dancers that it is time for the choreography portion of the dance, and introduces their choreographer, Daniel. Kate confesses that in the end, Daniel did help them win Internationals. Daniel teaches contemporary choreography which everybody, especially Sloane and LaTroy since they are hip-hop dancers, find difficult.
Giselle is waiting for Amanda to finish her audition. When Amanda exits the room, Tiffany arrives, telling everybody that they have callbacks...now. Amanda doesn't know what she is going to do.
Group 1, with Richelle and Sloane, takes the floor for the choreography round. Richelle says that her whole dance career has led up to this, and Sloane hopes that her dancing is enough. Group 2, which Riley and Piper are in, auditions, with Alfie enamoured by Riley's dancing. The final group, with LaTroy, Amy, and Cassie, auditions. LaTroy switches up some of the moves to make them his own, and Sloane hopes that it will be appreciated.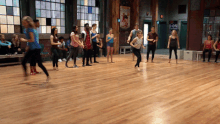 The freestyle portion of the audition ensues. By the end, Kate is astounded.
Amanda finally arrives to the studio, and reveals to Michelle that Giselle was picked for the tour instead of her. Michelle accompanies Amanda to talk to Kate; when Amanda asks if she can audition, Kate refuses. Amanda wonders what she is going to do now.
Trivia
Continuity
Michelle watching Amanda ask Kate to audition is reminiscent of an almost identical scenario in "My Boyfriend's Back."
Cierra telling Skylar that she kind of missed her and Skylar saying that she kind of missed her too is reminiscent of an almost identical scenario in "It's My Party".
Cultural References
The title of the episode refers to a song by Bob Marley of the same name.
Cast
Main
Recurring
Featured music
Transcript
Main article: Stir It Up/Transcript
Quotes
Main article: Stir It Up/Quotes
Aftershow
Main article: Stir It Up/Aftershow
Gallery
"Look at that painting!"

To view the Stir It Up gallery, click here.