"
See, I think you wanted to hang out with Sloane more than you wanted to hang out with Amy.
"
Click here to see more quotes.

"The Edge of Glory" is the 36th episode in Season 4 of The Next Step and the 130th episode. It aired on April 14, 2017.
Synopsis
"The team prepares to leave for Regionals. Cassie is made an alternate dancer. Giselle drops by on a break from her tour and gives Amanda a special invitation."[1]
Plot
Riley goes over the rules for this year's Regionals with A-Troupe, as it is coming up soon. Eight teams will be competing at the competition. The first round is the solo round, which Michelle will compete in. Michelle's victory would move the team forward to the quartet round, which Sloane, Piper, Cassie, and Skylar will compete in, and victory in the quartet round would send the team straight the semi-finals, thus giving them more time to rehearse. However, if Michelle loses, the team must move to the trio round, which Amy, Amanda, and Michelle would compete in and would have to win to not be eliminated. After the trio round would be the duet round, which Richelle and Noah would compete in. Only after that would the team move to the semi-finals, where Sloane, Henry, Skylar, Noah, and Piper, replacing Alfie, will compete. Piper confesses that she is happy about being given a spot in the small group, but is worried about having to fill Alfie's shoes. The finals would be the last round. Amanda reminds Riley that she hasn't decided the line-up for the final routine, and Riley reveals that Cassie will be the team's alternate. Cassie is left feeling terrible.
Noah, Henry, Skylar, Sloane, and Piper rehearse their quintet, with Piper struggling profusely. Piper and her peers are worried since the complex choreography was originally meant for Alfie and Regionals is just around the corner. Cassie oversees the rehearsal; although she is still in the quartet dance, she is left with nothing else to do since Sloane and Skylar are rehearsing their quintet dance. When the routine ends, Piper assures her fellow dancers that they have to change the choreography, since she is not Alfie. The conversation devolves into pessimistic jargon, which Skylar tries to dispel. Cassie, seeing this, realizes that if she gets Alfie to return, everything will sort itself out.
In Java Junction, Michelle tells Amanda that she is in disbelief that they are going to Regionals. Michelle is especially excited since the two of them were mere alternates at Internationals and she is the soloist. Amanda supports Michelle but confesses that she only has the trio and group dance to show for her entire year, and will not even be performing the trio unless Michelle loses the solo round. Just then, Giselle, who has a few days off from her tour, appears in the doorway. The three girls embrace and Giselle asserts that she came to wish them good luck. Michelle leaves to rehearse her solo, and Giselle pulls Amanda aside to tell her some news. Meanwhile, Riley is sitting in her office, stressing about the impending competition and compulsively eating jellybeans. James sees this and comes up with an idea to help everyone calm down, including Riley.
Sloane cools down in the Rehearsal Room during her break and is joined by LaTroy. It turns out that it is their "friendiversary," an annual occasion commemorating the day they met. Sloane and LaTroy recount how they met, which was by Sloane throwing a toy truck at LaTroy's head. The two continue to recount different periods of their relationship when Michelle enters. Michelle apologizes for interrupting their date, immediately causing Sloane and LaTroy to assure her that they are not dating. Uncaring, Michelle just asks to use the space to rehearse. Sloane and LaTroy agree, wondering why Michelle would think they are dating when LaTroy is clearly dating Amy.
Giselle tells Amanda about the tour, revealing that they have already been to Berlin, Paris, and Rome. Amanda is left astounded and envious. Giselle tells Amanda that there is an open spot on the tour and that the tour manager wants her to fill it; Amanda is ecstatic and instantly accepts, but becomes subdued when Giselle reveals a catch; for Amanda to go on the tour, she would have to leave on the same day as the Regionals finals. Amanda is left conflicted; she recognizes that the tour is an amazing opportunity, but also feels that she can't let down the team.
Feeling guilty about his friendiversary, LaTroy waits for Amy in the Lounge with chocolates and flowers. Amy is confused as to what the occasion is, and LaTroy reminds her that it is their ten-week anniversary. Seeing as LaTroy can't even remember his birthday let alone such a meaningless anniversary, Amy realizes that LaTroy feels guilty about his friendiversary. Amy assures LaTroy that she is totally okay with his friendiversary, seeing as he and Sloane are so close. Nonetheless, LaTroy still feels guilty.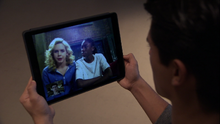 Cassie and Henry, whom Cassie invited because of his friendship with Alfie, video chat Alfie in the Lounge. Henry asks Alfie if him being a prince is the reason he left, but Alfie assures him that the only thing stopping him from returning is a broken heart. While Henry understands, Cassie is shocked that Alfie's reason for departure was a break-up, seeing as Riley claimed he left to attend to royal business; she angrily tells Alfie to get over himself and come back. Despite understanding Cassie's frustration, Alfie refuses to return and ends the call.
Noah notices LaTroy sulking in Java Junction and asks him what is wrong. LaTroy tells Noah that he hung out with Sloane and, feeling guilty about it, tried to do something nice for Amy, yet still feels guilty. Since Amy wasn't even mad about the occurrence, Noah deduces that LaTroy wants to hang out with Sloane more so than with Amy. LaTroy confesses that ever since his return to the studio, he is confused about his relationships with Amy and Sloane.
Cassie asks Henry what they are going to do about Regionals since Alfie is gone. Henry assures Cassie that they will be okay. Cassie shortly assures Henry that she knows and admits that she wants to help the team since she is now an alternate. Henry tells Cassie that while Alfie chose to leave, she and the rest of the team chose to stay and they will all take part in helping the team win. Cassie realizes that perhaps everything worked out how it was supposed to.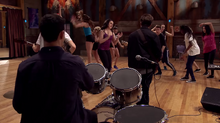 Riley leads the team into Studio A, where James and his band are waiting in order to send off the team. The band begins their performance of their song, which everyone dances to. Amanda is distracted by the thought of Giselle's offer, which Noah notices. After Amanda lies to Noah that she is okay, the two dance together. Noah wonders what will become of their relationship if she leaves. Amy and LaTroy dance together, with Amy excited about going to Regionals with him. Amy briefly dances with Sloane, only for Sloane to eventually dance with LaTroy. As they dance, LaTroy wonders what it means if he likes both Sloane and Amy. James confesses how proud he is of Riley as he plays, while Riley confesses that the send-off is exactly what the team needed. Riley hopes that the team is ready for Regionals.
Trivia
A studio will only compete in the trio round at Regionals if they lose the solo round, and if they also lose the trio round, they are eliminated.
If a studio wins the quartet round at Regionals, they get a bypass to the semi-finals.
Cassie will be the alternate for Regionals.
This is the first appearance of Giselle since "Heads Will Roll".
Amanda has been offered an open spot in Giselle's touring dance company.
This episode takes place ten weeks (a little over two months) after "I Only Have Eyes for You"; thus, it can be presumed that this episode takes place in April.
Errors
Cassie is presumably selected as the alternate because she is only in one featured dance. However, she is not the only A-Trouper to only be in one dance; if this was the logic behind her being picked, then Amanda, Amy, Henry and Richelle could all have been the alternate based on how many dances they are in, and it is never explained why Cassie was apparently the obvious choice out of this group. Furthermore, LaTroy is in no featured dances at all, yet the idea of him being the alternate is bypassed entirely.
Continuity
Errors
When announcing the dancers performing in the small group round at Regionals, Riley fails to announce Skylar as one of the five dancers in the routine.
This is one of many occasions when a character incorrectly states that it has been a year since the previous season; in this episode, Amanda claims that if she is unable to perform her trio at Regionals, she only has one group dance to show for her "entire year", implying that it has been a year since the start of Season 4 - though based on the show's timeline, only four months at most should have passed. 

This inaccuracy is further highlighted by LaTroy celebration of his and Amy's ten-week anniversary, which confirms that ten weeks have passed since "I Only Have Eyes for You".
Cultural references
The title of this episode refers to a song of the same name by Lady Gaga.
Cast
Main
Recurring
Featured music
"I'll get to you when I get to you!" - The missing information in this section of the article is to be added.
Featured dances
Transcript
Main article: The Edge of Glory/Transcript
Quotes
Main article: The Edge of Glory/Quotes
Aftershow
Main article: The Edge of Glory/Aftershow
Gallery
"Look at that painting!"

To view the The Edge of Glory gallery, click here.
References
↑ TV Listings Grid, TV Guide and TV Schedule, Where to Watch TV Shows - Screener. Zap2It (February 25, 2017). Retrieved on February 25, 2017.
Community content is available under
CC-BY-SA
unless otherwise noted.