"
Whatever happens next, I am ready to face it.
"

— Piper
Click here to see more quotes.

"The Game Belongs to Me" is the 13th episode in Season 4 of The Next Step and the 107th episode overall. It aired on May 6, 2016.
Synopsis
Michelle's competitive side is on full display when she's pitted against Piper to compete at the qualifier. LaTroy seeks out Amy's help to be the best dancer he can be.[1]
Plot
Tryouts to compete in the small group for the upcoming qualifier are underway. Piper explains in Talking Heads that everybody votes for the best dancers and the top five make the team. After auditioning, LaTroy confesses that he is sure he is going to make it. As Alfie auditions, Riley confesses that Alfie is such a beautiful dancer, but quickly attempts to cover it up by claiming that everybody is amazing, but that she just feels great about his audition. During her audition, Piper confesses that she is having fun and doing the best that she can. As the auditions continue, Sloane confesses that she has no idea who she is going to vote for. As Noah auditions, he confesses that although his back has been sore lately, he is feeling really good as he performs. Michelle confesses that although the competition is intense, nothing is going to stop her from making it. Amy confesses that the audition is exactly what she needs to let everybody see what she can do; as Amy auditions, LaTroy confesses that she is a little powerhouse. When the auditions conclude, Riley tells A-Troupe that it is time to vote and instructs the dancers that they must write down the top five dancers in order on a piece of paper for her to tally up. She thanks the dancers, then retreats into her office.
LaTroy enters the Lounge, where Sloane is reading a book on the couch. LaTroy sits with her and proclaims how cool it would be if they both make it onto the small group; Sloane asserts that while it would be sick, it is a group competition, not a solo competition. LaTroy prods and Sloane explains that there will probably be a lot of contemporary, which is not his strong suit. LaTroy is in disbelief and tells her that he is pretty sure that everybody will vote for him and Sloane tells him that she voted for who would make the best group, not the best five individual dancers. LaTroy realizes that Sloane did not vote for him and he storms out angrily, telling her that he voted for her.
A-Troupe regroups in Studio A, where Riley tells them of the results. The most voted for dancer was Alfie, followed by Noah, Amy, and Richelle. The final spot is a tie between Michelle and Piper. Sloane feels bad for LaTroy, who leaves the room after realizing that he did not make. Riley proclaims that the only fair way to break the tie is if Piper and Michelle have a dance-off; she tells Piper and Michelle that they have an hour to prepare.
Michelle and Piper are stretching in Studio A in preparation for their dance-off. Piper approaches Michelle and wishes her good luck, although Michelle retorts that Piper is the one who needs good luck seeing as Michelle is Miss Nationals Soloist. Nonetheless, Piper prods on and offers Michelle a friendly handshake, which Michelle declines with a laugh. Piper is shocked at Michelle's coldness.
LaTroy approaches Amy in the Rehearsal Room for help with a contemporary combo. Amy accepts the offer, flattered that LaTroy would ask her. LaTroy performs an odd stretch that he proclaims is a warm-up in hip-hop, causing Amy to realize that she has her work cut out for her.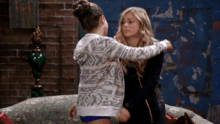 Piper approaches Michelle in the Rehearsal Room and tells her that she didn't appreciate the way Michelle treated her earlier. Michelle pretends to be remorseful for her actions and claims that she is upset since she has been at the bottom of her game since her parents' divorce. Piper consoles her, not seeing through Michelle's guise, and hugs her. Michelle confesses that this is a competition, which Piper will have to figure out the hard way.
The dance-off is about to take place. Piper, thinking that the situation between herself and Michelle is resolved, wishes Michelle good luck; Michelle tells her that she is going to destroy her, shocking Piper. When Riley asks who wants to go first, Michelle tells Riley that Piper wants to go first. Piper performs in disbelief that Michelle was so underhanded. Her anger causes her to mess up her routine, much to Michelle's delight. Riley is disappointed in Piper's performance when she finishes. Michelle asks Piper how her audition went and Piper tells her that it didn't go well because she is mean, although Michelle claims that she isn't mean but just played her.
Amy is attempting to teach LaTroy a contemporary combo, but he is confused. Amy decides to give every move an action or a word, such as "squishing apples" or "reaching for the soap". Amy continues with her unorthodox teaching methods, which LaTroy dubs as charades.
Michelle performs her solo beautifully, angering Piper. When she finishes, she tells Piper that she got schooled and that she hopes she learned her lesson. Michelle gains the final spot on the team, and Piper comments that it hurts to see Michelle celebrating and that she was wrong to think that they were all friends.
LaTroy performs the completed contemporary combo as Sloane enters the room. Sloane is shocked that he is performing contemporary and is thrilled that he took her words to heart. When he finishes, Sloane commends him, although LaTroy tells her that it is all thanks to Amy. Amy confesses that the day has been incredible; she gained a spot on the team and, even better, got to spend time with LaTroy which has been nice.
The Zero Percent Club is in the middle of a meeting, with Piper having told them what Michelle did to her. Michelle saunters into the room and instead of apologizing or acknowledging that she was wrong, claims that she did what she had to in order to win; she tells the girls that the reason Riley did not perform her solo at Internationals is because another team stole her choreography and instead of packing their bags and going home, they continued. She goes on to say that she is just trying to make the team stronger and that she taught all of them a lesson. She tells them to "zero percent that" and leaves the room. The girls come to realize that Michelle is right.
After hours, Piper performs her solo in Studio A the way that she should of done it while competing against Michelle. Piper confesses that she understands why Michelle did what she did; she is ruthless because she has to be. She goes on to say that if she cannot deal with Michelle's drama, she won't be able to deal with opposing teams. When Piper finishes, she proclaims that James was right about A-Troupe being cutthroat and that, thanks to Michelle, she is stronger and will never let anybody play her again.
Trivia
Continuity
Production errors
At the beginning of the episode, when Henry is about to perform his solo, Noah is seen on the left of LaTroy, who is on the front side of Studio A, but when Henry finishes his solo and Noah is about to perform, he is seen on the right of Michelle, who is on the right side of Studio A.
Cultural references
The title of the episode refers to a song by UGK of the same name.
Cast
Main
Absent
Featured music
Transcript
Main article: The Game Belongs to Me/Transcript
Quotes
Main article: The Game Belongs to Me/Quotes
Aftershow
Main article: The Game Belongs to Me/Aftershow
Gallery
"Look at that painting!"

To view the The Game Belongs to Me gallery, click here.
References
↑ The Next Step Season 4 Episode 13 - The Game Belongs to Me - Zap2it TV Listings. Zap2it. Retrieved on March 14, 2016.
Community content is available under
CC-BY-SA
unless otherwise noted.