"
Daniel betrayed our friendship, and he's gonna pay for it.
"

— Giselle
Click here to see more quotes.

"The Times They Are A Changin'" is the 6th episode in Season 3 on The Next Step and the 70th episode overall. It aired on March 20, 2015.
Synopsis
Dancers from The Next Step and Elite vie for the final spots on A-Troupe.
Plot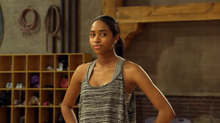 Mackenzie, an Elite dancer, is competing. At this point, The Next Step is leading Elite 4-3, with 5 more dance battles to go. Although, Mackenzie opponent is fellow Elite dancer, Shantel, meaning that a tie is imminent and that a new face will be on A-Troupe. Shantel's concentration is clear as she competes and, despite a close battle, she wins the most votes. With the teams now tied, Jen from Elite takes the floor, competing against Chloe. Chloe is nervous as she watches Jen dance. After Jen finishes, Chloe takes the floor. As her dance continues she confesses that "something takes over." Chloe is the obvious victor and is voted as such. Next, Nick from Elite competes against Thalia. Thalia grows nervous as Nick dances, especially when he performs a layout, as she cannot do one. Nick finishes and, before Thalia takes the floor, Eldon wishes her good luck. As Thalia dances, Eldon confesses that he wants Thalia to make it because, not only is she an amazing dancer, but it is nice having her around. Thalia wins, giving The Next Step a 6-4 lead over Elite. Therefore, if one more TNS member wins, the studio is Kate's. Thalia picks Tess's name from the hat and she picks Amanda's.
Tess competes and dances well. Amanda takes the floor when Tess finishes and dances amazingly; Riley confesses that she has never seen Amanda dance so well. When Amanda finishes the solo it is apparent that Amanda is the winner; knowing that the vote will clearly be in Amanda's favour, Tess races out of the studio. The members of The Next Step celebrate, Kate content that the studio is officially back in her custody. Despite the object of the competition being reached, Giselle and Daniel are still left to compete.
Emily sits in Hidalgo's, putting her finishing touches on the dance captain diary. Since it is a secret diary between dance captains, Emily hides it when Riley sits with her. Riley expresses the oddity of her and James' absence from the studio. When Riley leaves, Emily continues to write in the diary, which is in act of catharsis for her departure from A-Troupe.
The dancers reassemble for the final dance battle. Before he performs, Daniel wishes Giselle good luck, which she ignores, seeing it as nothing more than a mind game. Daniel dances excellently, but Chloe confesses that while he is a great dancer, he is not a team player, and that she hopes that Giselle wins. Giselle takes the floor after Daniel and performs a dance that surprises everybody, due to its never-before-seen intensity and power. Giselle finishes the dance right in front of Daniel. With a unanimous vote, Giselle wins and she confesses that it is a great feeling, as after being through so much, she feels that it is her time. With the competition over, Lucien angrily leaves the studio with his team, confessing that it isn't the last Kate has seen of him. The Internationals team celebrates.
As Thalia and Eldon are leaving the studio, Eldon congratulates Thalia. Eldon confesses that ever since Nationals, something has been different between them. Eldon tells Thalia that he would have been bothered if she didn't make it and she reveals that she feels the same way. Emily approaches Richelle in Studio A. She gives Richelle the dance captain diary, as she can see that Richelle will one day be dance captain. Richelle thanks Emily and departs. Emily tearfully bids the studio farewell and turns off the lights before departing.
Trivia
Cultural references
The name of the episode refers to a song by Bob Dylan called "The Times They Are a-Changin'."
Cast
Main
Recurring
Absent
Featured music
Featured dances
Quotes
Main article: The Times They Are A Changin'/Quotes
Aftershow
Main article: The Times They Are A Changin'/Aftershow
Gallery
"Look at that painting!"

To view the The Times They Are A Changin' gallery, click here.