Click here to see more quotes.

"This Is How We Do It" is the 29th episode in Season 1 of The Next Step and the 29th episode overall. It premiered on December 27, 2013.
Synopsis
The Next Step studio must face Seeds in the semi-finals round of Regionals.
Plot
Lisa Thompson interviews Michelle and Emily about The Next Step Dance Studio snagging the coveted wildcard. Lisa asks them about their co-captaincy, and the two admit that although it was a turbulent sail, they are now friends.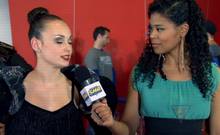 The Next Step overhears Lisa interviewing Amanda, as Elite has won their semi-final round against Dance Inc., and will therefore be in the finals. Amanda admits that their team is so confident, that they have already purchased tickets for Absolute Dance Nationals. Later, The Next Step is practicing their routine when Elite walks through their formation. Amanda taunts the team and Emily, who is so hurt that she storms off. Riley urges Eldon to talk to her since they are dating, and he finally does, although he reveals in Talking Heads that he forgot he was her boyfriend. Meanwhile, James laughs at the situation and his lack of maturity irritates Riley. James confesses that he is tired of her being so serious and that she needs to loosen up. Eldon advises Emily to ignore Amanda and tells her that she is strong. Newly comforted, Emily goes in for a kiss, but Eldon dodges the kiss and simply hugs her. Eldon confesses that he likes Michelle more and doesn't want to kiss Emily and make her think he still likes her.
Seeds is dancing in the semi-finals, while The Next Step nervously waits to perform. Seeds scores 91 points, the first time their team has scored in the 90s and the second 90 in the competition. During The Next Step's pep talk, James fools around again resulting in Riley chastising him. James confesses that he finds it annoying and feels like she just doesn't get him.
Finally, The Next Step goes on stage, excited since they have never qualified to the semi-finals before. They perform. After their next to flawless performance, Riley apologizes to James for being hard on him and they make up. The studio is called back onstage, and they score 93 points. As the team is celebrating, Emily witnesses Eldon lifting Michelle and spinning her around and is immediately suspicious.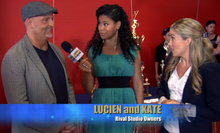 Later, Lisa interviews Kate and Chris and they both state their confidence that their team will beat beating Elite. Following this, Lucien is interviewed. He says that his studio has better dancers and discredits The Next Step, saying that it must be bad, as Kate's mom quit being the owner. This angers Kate to the point that Chris has to carry her away.
The Next Step has time on stage to discuss and practice for finals. They are nervous because they used their best routine first and are left with a mediocre routine that needs a lot of work. Their anxiety worsens when Emily reveals that Elite has an airplane prop in their final performance. Kate decides to move Eldon and Michelle's duet to the beginning and forefront of their routine, upsetting Emily. Emily voices her concern at the two showing off their obvious feelings for each other to their friends and family onstage.
Trivia
Cultural References
The title is a reference to a song of the same name by Montell Jordan.
Cast
Main
Recurring
Guest
Absent
Featured music
Featured dances
Quotes
Main article: This Is How We Do It/Quotes
Aftershow
Main article: This Is How We Do It/Aftershow
Gallery
"Look at that painting!"

To view the This Is How We Do It gallery, click here.