"It's a tree, just like this one."
"Mmm—that's broccoli."

This image or image(s) on this article need to be replaced or added. The infobox image needs to be an official image.
"
I'd like to see anyone who tumbles.
"

— Phoebe
Click here to see more quotes.

"Tumbling Audition" is a deleted scene from The Next Step which was removed from "The Final Cut," due to there not being enough time in the episode.
Synopsis
"In a deleted scene, the dancers show off their flips and other acro tricks! Will the non-acro dancers be able to compete?"[1]
Plot
Phoebe, in the auditions, asks if there is anybody who tumbles. Riley, Morgan, Chloe, Tiffany, Daniel, Richelle, Hunter, Jake, Giselle, James, West, and Eldon make their way to two corners of Studio A to take part. Phoebe confesses that she wants to see people tumble because she thinks that they have more endurance and that it will be a bonus at Nationals. Kate warns the dancers that it is optional and that it can affect whether or not they get into A-Troupe. 
Kate asks Riley to go first. Riley confesses that while she is not an acro dancer, James taught her how to do an aerial and she wants to show Kate and Phoebe that she is not just a contemporary/hip-hop dancer but that she can do other things too. Riley does her aerial and everyone applauds. After, Morgan performs a long tumbling series of an aerial back handspring layout into aerial .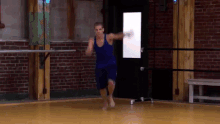 Chloe is next and she confesses that not a lot of people know that she is good at acro and says that she can't wait to show everyone what she has been working on. She performs a back walkover into back-handspring into an aerial. Tiffany auditions, followed by Daniel. Richelle does a difficult tumbling routine. Hunter, Jake, Giselle and James do their tumbling series. West does a difficult tumbling routine, causing Phoebe to ask Kate if he has springs in his feet. Last, but not least, is Eldon who does a long tumbling series that concludes in a full-twisting layout.
Kate confesses that she is blown away at how acrobatic the dancers are and that it will definitely help them at Nationals.
Trivia
12 dancers take part in this audition: Riley, Morgan, Chloe, Tiffany, Daniel, Richelle, Hunter, Jake, Giselle, James, West and Eldon.
Cast
Main
Recurring
Featured music
Quotes
Main article: Tumbling Audition/Quotes
Gallery
"Look at that painting!"

To view the Tumbling Audition gallery, click here.
References
↑ The Next Step - Extended Dance: Tumbling Audition. Youtube (April 9, 2015). Retrieved on June 2, 2016.