"
This is not the end.
"

— Emily
Click here to see more quotes.

"United and Divided" is the 10th episode in Season 5 of The Next Step and the 144th episode overall. It aired on August 11, 2017. It is the mid-season finale and the final episode of Season 5.0.
Synopsis
"Piper struggles to get along with her duet partner. Noah's loyalty to TNS East is tested. Henry must decide if he's ready to move on from an old heartache."[1]
Plot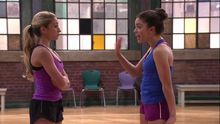 Piper and Richelle argue over whether their dance battle should be held in Studio A or Studio 1. They decide to hold a dance off to decide this; the two best dancers from either team will create a ballet/hip-hop duet.
TNS West warms up in Studio A, awaiting Michelle. Elliot helps Kingston and Henry with their turns, but quickly loses his politeness in ordering them to move away so that he can do an acro pass, which he claims they should follow seeing as, according to him, he is carrying the team on his shoulders. Michelle enters just as Elliot performs an aerial, which she immediately commends and subsequently tells the rest of the team that they can learn something from him. Elliot lies that he is the one learning things, leaving Michelle still ignorant to his true demeanor. In a failed attempt to tell Michelle that Elliot should leave, Piper is made Elliot's duet partner for the upcoming dance off. In Studio 1, Noah and Amy rehearse their duet in front of Daniel, which Emily watches. Amy and Noah both confess that Daniel is being too hard on them, especially on Noah. Daniel and Emily are unimpressed with Noah's apparent attitude in response, although Noah confesses that he is under too much pressure.
Henry is speaking to Heather as she works at Neutral Grounds. Noah arrives and commends Henry on looking cute with Heather, but Henry assures him that they are only friends and that he doesn't move as quickly as him and Jacquie. Noah realizes that Kingston and Ozzy were wrong in telling him that Henry and Heather are dating. Sensing the tension, Heather retreats. Noah ultimately tells Henry that he'll be around when he learns to grow up. Meanwhile, West and Michelle oversee Elliot and Piper's rehearsal, with Piper noticeably unhappy. West and Michelle leave Elliot and Piper alone to clean up the partner work, and Elliot confesses that West's choreography is as bland as a piece of toast. Noah enters the studio, looking for Kingston to tell him that ballet class is cancelled so that he can rehearse with Amy, and is astounded at how quickly Elliot shuts him down. Noah tries to deter Elliot from changing the choreography when overhearing him talk about the concept, but is shut down once more. Piper realizes that she has to put up with Elliot, as there is no time left for otherwise.
The duet dance-off commences, which is to be judged impartially by Michelle and Emily. Noah and Amy compete first in Studio 1. Amy and Noah's duet is astounding. Meanwhile, realizing that Noah is right, Henry approaches Jacquie in Neutral Grounds. Henry apologizes to Jacquie and Jacquie also apologizes to him for saying he was a bad dancer, since she believes he isn't. They catch up with each other, laughing and smiling, happy that they are friends again.
Piper and Elliot perform their duet, which makes Emily and Daniel nervous. Michelle commends West on the last minute changes to the routine, but West reveals that it isn't his choreography; his dance had far more hip-hop. When Piper and Elliot finish, Emily admits that Piper and Elliot won and that the dance battle will be held in Studio A. Although, Emily assures Michelle that winning the dance off doesn't equate winning the ultimate battle. Emily and Daniel leave the studio, Amy and Noah trailing behind them, both congratulating Piper and Elliot. Noah lags behind as West confronts Piper and Elliot about changing the choreography. Elliot assures West that the change was a collaborative agreement but Noah comes to Piper's defense, telling West that Piper had no choice and Elliot forced her to go along with the changes. Upon Michelle's interrogation, Piper finally snaps and reveals that she can no longer take Elliot's behaviour. Elliot comes clean, saying that there wouldn't be a team without him, deeming the choreography horrible and claiming that he carried the entire duet. Realizing the type of person Elliot is, Michelle orders him to get his things and leave, taking him off the team. Elliot complies, but confesses that the team is going nowhere without him.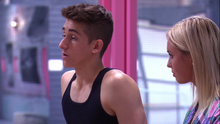 Noah sits in Neutral Grounds, wondering if Emily would have taken an amazing dancer off her team for the sake of another dancer's feelings like Michelle did. Henry approaches Noah and apologizes, and the two finally resume their friendship. Later, Piper approaches Michelle about her worry for the team being short a dancer again, although Michelle assures her not to worry. Michelle confesses that she will have to ask Emily to push the battle. As Noah dances in the studio to try to shake off his odd feeling, Michelle enters the office to tell Emily that she needs the battle postponed by two weeks, which Emily refuses. Michelle realizes that perhaps she will have to forfeit. Upon overhearing Emily accuse Michelle of stringing her dancers along, Noah interrupts their conversation and tells Emily that he will be joining Michelle's troupe. Michelle realizes that the battle won't have to be postponed after all and leaves with Noah upon Emily's insistence. Alone in the office, Emily angrily throws her pen on the desk, but confesses that Michelle is mistaken if she thinks taking her best dancer will stop her.
Trivia
Continuity
Cultural references
The title of the episode refers to a song by Fuzigish named "United & Divided."
Cast
Main
Recurring
Absent
Featured music
Featured dances
Quotes
Main article: United and Divided/Quotes
Aftershow
Main article: United and Divided/Aftershow
Gallery
"Look at that painting!"

To view the United and Divided gallery, click here.
References
↑ TV Listings Grid, TV Guide and TV Schedule, Where to Watch TV Shows - Screener. Zap2It (June 3, 2017). Retrieved on June 3, 2017.